Modded Controller Buying Guide [Updated 2022]
The modded controller guide will walk you through the best features on the market. Learn everything about mods, smart triggers, and back buttons in less than 10 min.
You are about to read the most complete, yet fluff-free guide on modded controllers in 2022. If you want to become a better player, last longer, shoot better and just have more fun while playing, you want to know about mods and other features you can get on your PS5 or Xbox controller.
This read will help you understand what upgrades are available in today's market; which of them will help you improve your K/D or be a waste of time (and money).
Let's check it out.
Modded Controllers
A modded controller is a gaming controller that has special modifications installed on it that help you play better. You can mod a controller in 3 ways - by upgrading its hardware, software, or both. The hardware upgrades include remappable back buttons, and smart triggers and allow you to:
Remapping stock button functions
Get more hand use
Increase in-game control and precision
Optimize buttons movement range
The software upgrades come in the form of mods and macros. These are functions that become available with an installation of a modchip inside of a controller. What they do is add new, cool abilities to your character's skill set.
In other words, a mod makes you a better player without spending hundreds of hours on practice. Installed upgrades help you shoot faster, and play better so you can last longer.
Modded controllers are not bannable, and neither can they get your account with Sony or Microsoft suspended.
How come mods won't get you banned?
There are different kinds of hacks available on the market. Mentioned modifications help you get a gaming advantage via increased hand use. There is no hacking game code involved - this will get you banned (say hello to a popularized aimbot).
Is modding cheating then?
Modifications do help you get the max out of your controller, but they won't do the job for you in other areas like strategy, teamwork, maps knowledge, etc.
PlayStation 5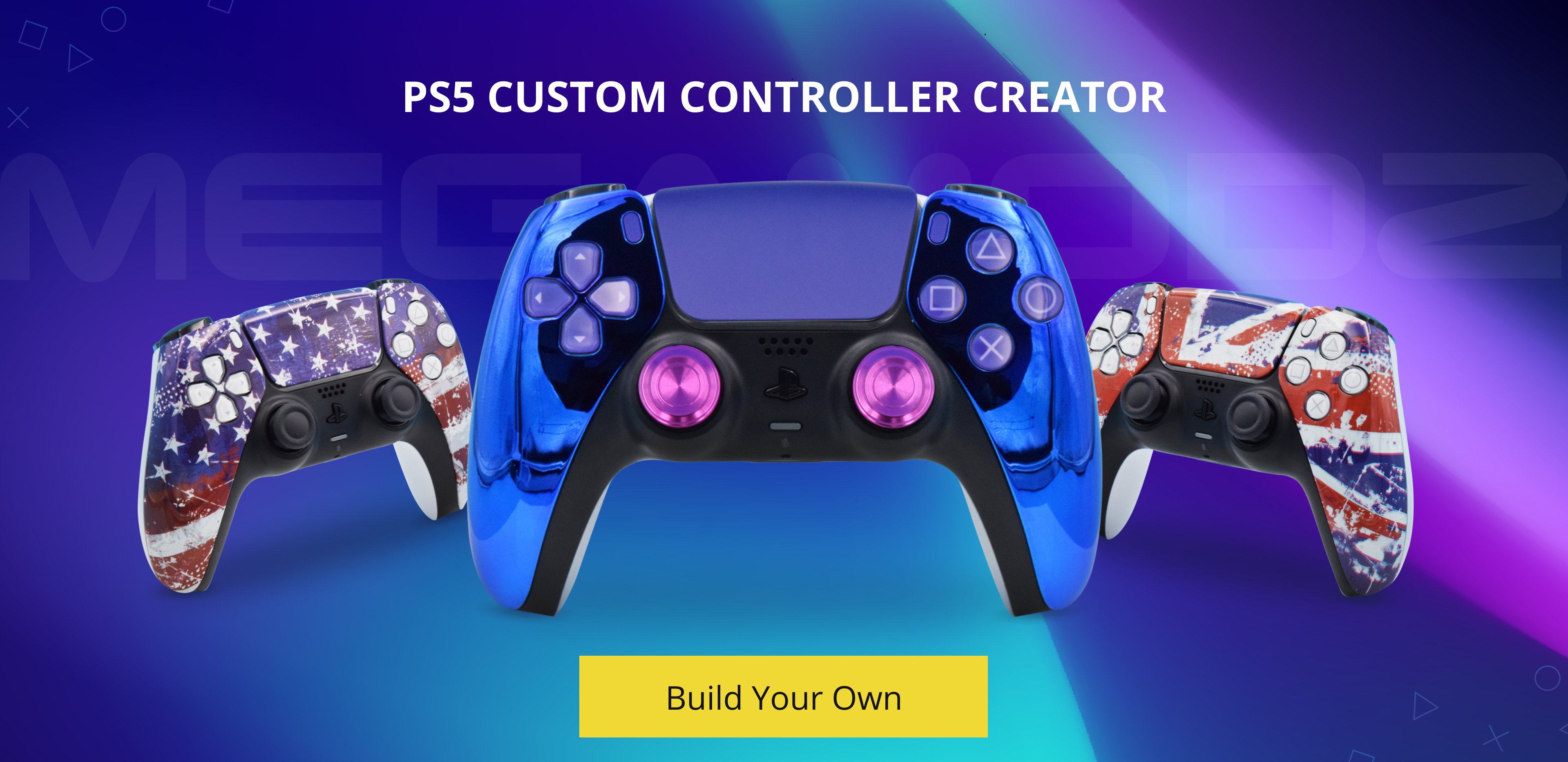 Modded controllers work on PS5. You connect it to a console the same way you do with an unmodded controller - either wirelessly or through a USB cable. The next step is to get familiar with the features you've added to your remote, starting from the easy ones (mechanical buttons, smart triggers) and moving to more advanced ones (back buttons, mods, macros).
Video instructions and written step-by-step tutorials will help you be on top of every feature in no time.
The most popular requests for a PS5 controller are:
Aim assist - we are offering the option, more on this in the Mods section.
NBA 2k games - Mega Modz Macro Remap PS5 controller offers Auto Green Shot mod.
Rapid Fire - it's the father of all mods, the feature that got the industry started. Mega Modz PS5 Rapid Fire comes with standard and tactical options so you can toggle the mod on/off instantly.
Another benefit of the PS5 Rapid Fire is its anti-recoil power. It becomes effective when used with fully automatic weapons.
PS5-modded controllers for MW2 2022 and Warzone are also super-demanded by the fans. This is where pre-configured Call Of Duty mod packages, offered by the store, come into play.
Xbox Series X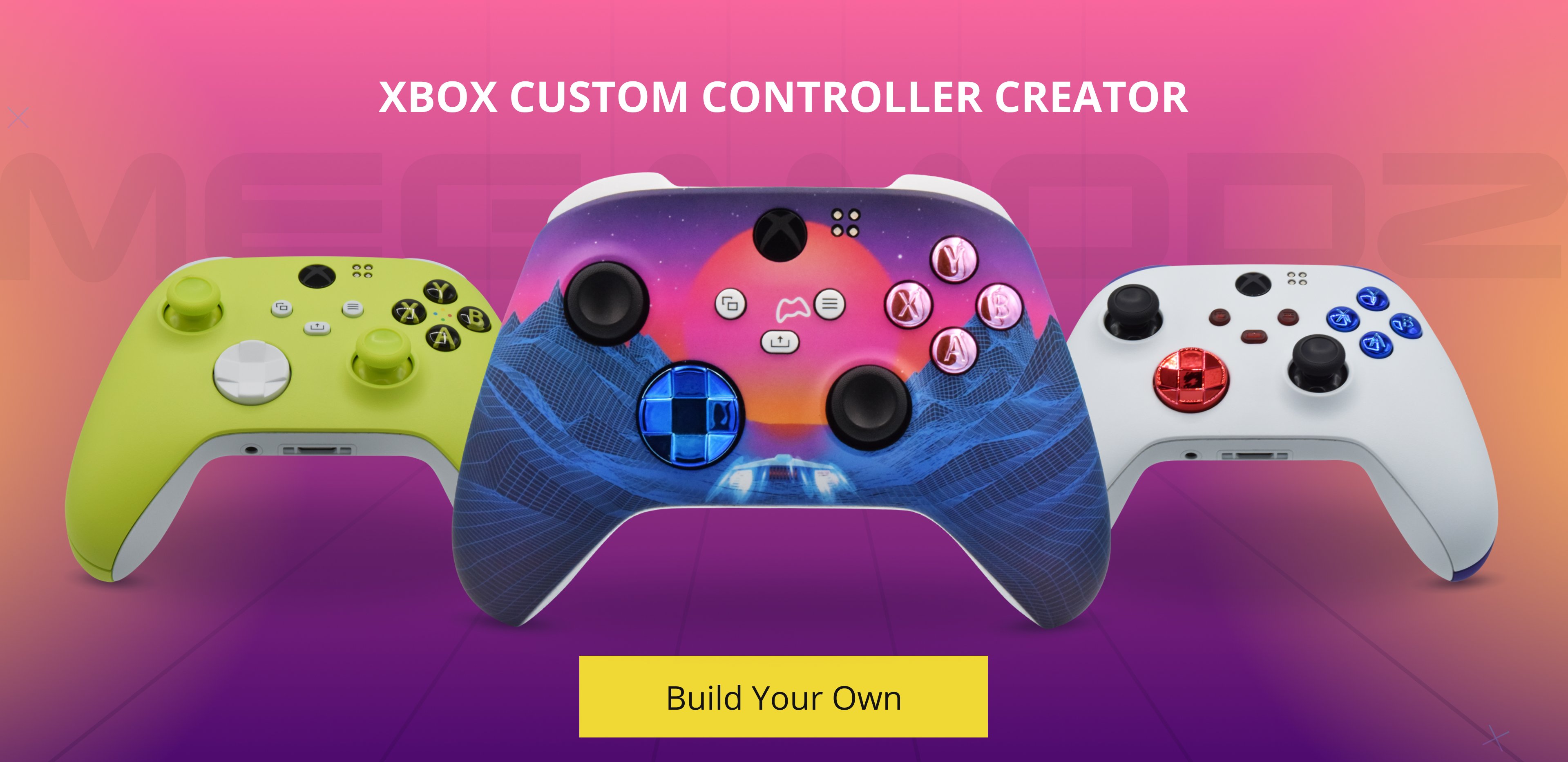 You can load your Xbox Series X controller with hardware upgrades - mechanical shoulders, back buttons, and smart triggers (more on this in the next paragraph).
Xbox Rapid Fire, anti-recoil, and other popular mods work the same as on the PS5 system, except for the back buttons. Their functionality is different from the Playstation.
Back Buttons
Gaming controller back buttons are two or four buttons installed on the remote's back. They come in the shape of paddles or buttons.
What do they do? Back buttons' standard functionality is remapping which allows you to map button stock commands to them. So every time you press a remapped back button, the controller will press the assigned stock button for you while your thumb stays free.
It is the case with the 4 back remap buttons offered for the Xbox Series X controller. But Mega Modz technology went a step ahead for the PlayStation system and offers two more functionalities for Dualshock and DualSense controllers.
Advanced Back Buttons for PS5 deliver Traditional Remap and Turbo (button mashing) options. You can use mods (Rapid Fire etc) with these back buttons as well.
Macro Remap for PS5 and PS4 comes with 5 pre-set simple macros (Traditional Remap, Turbo, Continuous Press, Auto Double, and Triple Taps). These can't be used with mods, as macros are installed via a special kind of modchip.
Jump to the last article paragraph to skip the rest of the reading and find out which mods, macros or buttons are the right choices for your gaming needs.
Do pro gamers use back paddles?
Yep, modded controllers with paddles are allowed in tournaments. The Standard remap option is perfectly fine to be used in e-sports, however, more advanced macros such as turbo, continuous press, and others are not legal for tournament use.
Smart Triggers
Mechanical shoulder buttons also called "Smart Triggers" and face buttons, are a popular hardware add-on, allowed in esports.
How do they work?
Smart triggers manipulate the movement range of regular triggers, they make a travel distance shorter which results in X2 faster press for bumpers, and X5 faster input for triggers. Being compatible with any game on the market (except for racing games, this is the only genre limitation), they make a big difference in performance, as you get better precision and control.
Controller Mods
Each of the popular mods comes with a skill to be added to the performance of your gaming character and has to be used in certain games and situations. To learn more about how our mod options work and how they help you increase your K/D ratio, check here.
Here is a summary of all available mod options and what they do:
Programming Mode
In addition to default settings, most mods offer a programming mode to enter custom settings for speeds/unit delays.
Custom Led Indicator
All modded controllers come with a custom LED indicator with four LEDs showing Player 1 through 4. Player 1 LED always shows the shooting mods only (Rapid Fire, Akimbo, etc.), each producing a certain color to let the user know which mod has been activated at any time. Player 2 through 4 LEDs indicate other special mod options (Dropshot, Quickscope, etc) with a specific color associated with each of them. You can have three special mod options activated at the same time in addition to one shooting mod thus making a total of 4 mods that can be enabled on a controller at one time.
Controller Mod Switch
A mod switch is an additional button installed on the back of the controller that is used to activate/deactivate mods, scroll between sub-modes and create custom settings. All mod options are operated through remote stock buttons during the gameplay.
Customizations
You can easily customize your PS5 or Xbox controller via the Controller Creator platform. It makes your buying journey so much fun!
The best way is to start with body designs that are divided by the material and theme to make it easier for you. And continue moving down the page trying custom colors for the back, trim, touchpad, triggers, bumpers, d-pad, analog sticks, and other available components.
You can customize the buttons you like or leave them in stock.
Options like "Share Your Artwork", "Save to Your Wishlist", and "Let Us Suggest" help you do more with your design.
Compatible Games
With Mods:
Standard popular mods are compatible with FPS, battle royale games mainly. For your convenience, mods can be added via mod packs or one by one.
For all COD ( MW2 2022, Warzone, and others) fans, the best choice is the Juggernaut pack that combines the 14 mods mentioned above. All of them are compatible with the Call of Duty series.
Apex, Fortnite, and Destiny mods are Rapid Fire, Auto Burst, Quick Scope, and Jumpshot. These are added one by one via the Mods tab in Controller Creator.
There is no need to buy a separate controller for each game. If you play COD and Fortnite, for example, getting Juggernaut would be the ultimate choice as it covers both games.
With Macros:
Back Buttons, and Smart Triggers: These upgrades are non-game specific and can be used with absolutely any genre - sports, shooters, or adventures.
So what controller options do you need to buy ultimately?
If you are looking for a modded PS5 controller for Call of Duty MW2, Warzone, and others - go with a Juggernaut pack + Advanced Back Buttons + Smart Triggers combination. This is the most loaded setup you can get.
If you play sports, racing, and other non-shooting games - Back Buttons (choose which option is better for you) + Smart Triggers will help you get better results.