MegaModz PS5 Edge Controller - New Powerful Gaming Tool
Introducing the game-changer, highly anticipated by the community - Mega Modz PS5 Edge Pro controller! Check out the controller's capabilities to see how it can help you play better.
New Arrival

You Save: (14%)
buy now
Eligible For Free US Shipping
As soon as our team got their hands on the PS5 Edge controller, we were instantly hooked. It was clear that Sony had seriously thought about creating a powerful gaming accessory, but we knew we had to take it a step further. Our gaming community is always looking for that extra edge, so we couldn't resist the urge to modify this incredible controller.
Don't get us wrong; the PS5 Edge controller is already loaded with some impressive features straight out of the box. It's Sony's first attempt at creating a pro controller, and they've done great. The device is loaded with great features, including remappable back paddles, trigger locks, swappable thumbstick modules, enhanced grips, a powerful app, and much more.
But here's the thing: we know our community inside out. You guys are always on the lookout for that extra oomph, that unique customization that will set you apart from the rest. That's why we couldn't resist the temptation to mod the PS5 Edge controller and unlock its true potential.
The Mega Modz PS5 Edge controller allows you to select from several performance upgrades, covering the needs of any gamer type out there, no matter your skill level or play style. Whether you're a casual player looking to improve your game or have a controller personalized to your gaming style; or a hardcore gamer seeking the best pro controller loaded with unmatched functions, the Mega Modz PS5 Edge has got you covered. It's all about customization, allowing you to personalize the controller to your precise needs and preferences.
Why Mega Modz
A couple of words about the company:
Founded in 2011, Mega Modz has a rich history of creating top-tier custom, modded, macro, and esports-ready controllers for a wide range of gaming platforms, including PlayStation 3, 4, and 5, Xbox 360, One Series X/S, and Nintendo. The brand offers an assortment of mods that, when applied, automatically add additional user input to the controller without the user having to do so. These mods can be beneficial for individuals with disabilities or beginner players looking for an edge in performance.
At Mega Modz, we don't believe in the one-size-fits-all controllers but aim at engineering a gaming tool that is tailored to you. That's why the Mega Modz Edge comes with all factory-built controller features, plus it allows you to upgrade it further with one of the 3 powerful configurations: Mods, Macro Remap, Advanced Custom Paddle Inputs + Mods.
DualSense Edge + Mods Configuration
Offers the Mega Modz Juggernaut multi-mod pack, which includes 14 mods such as Rapid Fire, Drop Shot, Quick Scope, and more. The mods are mainly compatible with FPS games, such as Call of Duty, Battlefield, Fortnite, Destiny, Fortnite
This configuration features a mod button on the controller's backside and a custom LED indicator on the back right side. If you want to get an instant competitive edge in FPS games with extra pre-programmed functions requiring zero or little learning curve, this is the perfect solution for you.
Click here for more info and detailed instructions.
DualSense Edge + Macro Remap
Allows users to utilize repeatable and continuous button presses in-game through simple macros. Macros can be applied to the existing Edge back paddles and are compatible with all video game genres. Custom Macro Remap inputs can be mixed with the Edge standard back paddle assignments, allowing for binding 2 controller stock buttons to one paddle.
This configuration includes a mod button on the back of the controller and a custom LED indicator on the back left side. If you're all about having complete control over customizing your Edge performance and don't mind a bit of a learning curve, then you will fall in love with the upgrade.
DualSense Edge + Advanced Custom Paddle Inputs and Mods
Combines all the mods from the previous configurations and adds three additional back button sub-modes to choose from: Straight Remap, Turbo function, and Quick On-Off Switch for the mods. The advanced paddle inputs allow you to bind multiple stock controller buttons to a single back paddle.
This configuration includes a mod button at the back of the controller and two custom LED indicators on the rear left and right sides.
Want to enjoy hassle-free pre-programmed mods performance, but also add a custom touch to your performance here and there? Then this is the option that will sparkle your interest.
Click here for more info and detailed instructions.
* This configuration is reviewed and explained in the video below.
Advanced Custom Paddle Inputs - How They Work?
The Mega Modz Edge controller features the original built-in product paddles with standard manufacturer functionality, as well as additional modified custom inputs. Sounds confusing? Not at all.
The standard paddle inputs and the Mega Mods' advanced custom inputs are two separate functions and act independently. You can configure the back paddles for standard functionality directly from the app, while also being able to assign custom inputs to the paddles from the controller itself. This unique feature allows you to have dual inputs assigned to a single paddle, giving you, even more, control and versatility during gameplay.
For example, you can make your character jump, shoot, and perform Rapid Fire all at the same time by pressing one paddle! We'll cover how easily this can be done in the next few paragraphs.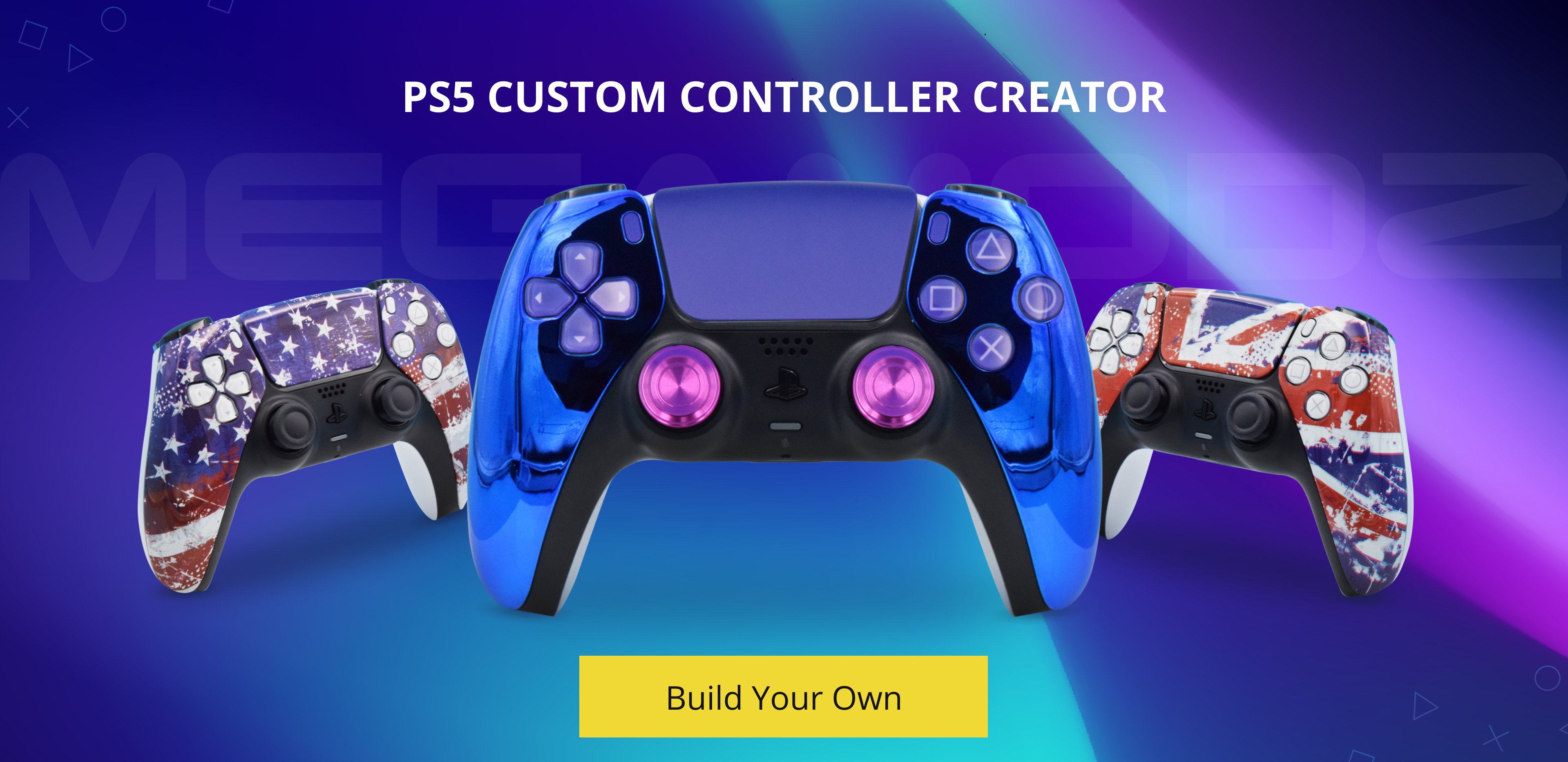 How To Pair The Back Paddles Through The Modchip Interface
To pair the paddles directly from the controller's mod chip, you will follow a simple set of instructions that involves pressing the controller button you want to map, a paddle, and a mod switch button. The latter is an extra button installed on the right handle of the Mega Modz PS5 Edge controller, along with the two custom LED indicators placed at the top rear of the product.
The LED indicates you have completed steps correctly by showing a certain color, as each stock controller button is color-coded for easy use.
You can turn custom paddle inputs off on the fly whenever a gaming situation requires doing so to get a better outcome.
How To Change Advanced Paddles Sub-Modes
There are two sub-modes to choose from: the first one is a Straight Remap, where the paddle will mimic the stock button function, and the second one is the turbo function, where if you press and hold the paddle, it will continuously press and release the assigned stock button. Changing sub-modes is done with the same components as in the previous step.
The Mega Modz Edge paddles can also be configured as an on/off switch for the mods (config 1), which is needed in situations where you don't need a mod (Rapid Fire, Dropshot, etc) active. This feature brings a whole new dimension of versatility into play.
Standard Back Button Assignments and Advanced Paddles Inputs Interaction
We got to the most interesting part. Remember that you can remap the stock buttons using the app and directly from the controller's mod chip, allowing for two independent inputs on one paddle.
For example, you want your character to jump and shoot at the same time with just the press of a paddle. A piece of cake! The video below shows how easily you can configure the stock right paddle to jump using the app and utilize the controller's mod chip to remap the right paddle input to fire.
But that's not all - you can push the product capabilities even further by applying a sub-mode to the button that you mapped with the mod chip. This opens up a whole new level of performance.
Here comes the example mentioned earlier about making your character jump, shoot, and do Rapid Fire simultaneously by pressing one paddle. To get it done, you just apply a turbo sub-mode to the fire button, which has been mapped to the paddle with the mod chip.
You can do more amazing things with the custom paddles inputs such as setting up custom timing etc. The customization capabilities are endless, except for the one thing you want to avoid - binding two contradicting buttons to one paddle, such as jump and crouch for example, as it will confuse the controller.
More shell skin designs and custom-colored components for the Edge PS5 controller are coming soon. However, the fully customizable pro gaming experience is already at your fingertips. Prepare to redefine your gaming experience with the new Mega Modz PS5 Edge controller's capabilities.