Thrustmaster Eswap X Pro Controller Review: Born To Be Rank
The Thrustmaster eSwap X Pro controller is under the microscope in this review, as we take a detailed look at its features to evaluate how it stacks up against the competition. Does it hold its own, or is it past its prime?

You Save: (10%)
buy now
5-Day Delivery
If you're a gamer, you've probably heard of Thrustmaster, the legendary company that's been making gaming peripherals since 1990. From racing steering wheels and flight simulator equipment to joysticks, Thrustmaster has been supplying fans with the tools they need to dominate for decades.
While Thrustmaster's controller lineup welcomed their latest controller, the eSwap S Pro, in the spring of 2022, this review will shift its attention to its predecessor, the Thrustmaster eSwap X Pro, as a more premium and intriguing device.
Compared to the S Pro version, the Thrustmaster eSwap X Pro offers more in-depth module customization, two more back buttons, and an audio adjustment option. Its customizable modules place it on par with fierce competitors such as the Xbox Elite Series 2, Scuf Instinct Pro, Razer Wolverine V2, and Victrex Gambit.
Released at the beginning of 2021 at a price of $170, it is officially licensed by Xbox and is compatible with the Xbox Series S/X and the PC.
Let's have it unboxed to delve into its design and capabilities.
Packaging and Included Accessories
The packaging of the eSwap X looks very similar to Thrustmaster's licensed Xbox products. It comes in a sleek black box with signature Xbox green color accents and a ton of product info plastered all over it.
A magnet holds down the lid, and to get inside, just pull up on the green tab. Once you open the box, you'll notice that the packaging has an incredibly premium look and feel, given the price point of the controller. Just wow.
On the top of the lid, we can see the social media handles along with the product name. I was delighted to see foam pads for additional support there as well. After removing the paper Quick Guide from the top of the box, you'll find the controller nestled in cozy foam padding, complete with additional boom support that holds the thumbsticks and d-pads in place. The material feels soft and velvety, like suede, and removing the controller requires a bit of effort.
Moving on to the other contents of the box, you'll find replacement thumbsticks at the center, while at the bottom there's a box containing a handy pouch for storing your accessories, a 10-foot long micro USB cable, and a screwdriver.
For those of you who love to customize your controllers, fear not! The brand website offers a wide range of color packs, including a racing module and fighting pack, all priced at a reasonable $50. These kits include two thumbstick modules that can be easily swapped, each with a different color, as well as a d-pad and triggers. This provides better value as it comes with the two swappable modules, which are their improved "mini sticks."
As per the Thrustmaster site, these sticks offer 33% better physical resistance, 66% better re-centering precision, and twice the lifespan compared to the original thumbsticks. While the validity of the claims has yet to be checked, it is more worthwhile to spend $55 and receive all of these features instead of spending $25 for just one module sold separately.
I personally opted for the Blue Crystal color pack, which came in its own individual box with foam padding to keep the accessories secure. The warning label upfront reminded me to update the controller firmware to take advantage of the LED lights.
Inside the box, you'll find all the kit components, and at the bottom of the box, there's a user manual and spare screws for the triggers.
Controller Design: Modular Ecosystem & Customization
As you unwrap the packaging from the eSwap X Pro controller, you can't help but feel a sense of excitement. And let me tell you, the first impression is a good one. The eSwap eSwap X Pro has the appearance of a 100% well-crafted device with a premium look and feel.
The controller is made from hard plastic that produces no squeaky sounds when pressed. It's bulkier and wider than the Elite Series 2, but that extra size is put to good use.
The thumbstick bases feature a sandstone color that extends to the triggers, adding a nice design accent. The face buttons have a completely flat design that takes some time to get used to. However, once you've adjusted, you might actually prefer them over rounded buttons. They're also more grippy than stock buttons, thanks to their matte finish, which seems to hold your thumb a little bit better. Using them is pure joy.
The handles of the controller feature large rubberized grips, ensuring a comfortable and secure hold. At the bottom of the controller, you'll find a panel with a 3.5-millimeter headphone port, along with buttons for mic volume, mic mute, profiles, and mapping.
The bumpers at the top are slightly smaller, compared to the normal Xbox Series X controller ones, but remain responsive, while the triggers come in standard size and feature a trigger lock function. The controller's back also housing four remappable buttons that can be easily configured on the fly, as well as a sunken-in micro USB port for charging.
The attention to detail is evident throughout the eSwap X Pro exterior, even in the use of soft rubber material to plug the screw holes at the bottom back of the controller. This ensures that the controller looks and feels premium from every angle.
Modular Build
One of the most impressive features is the controller's modular design, which allows you to swap out the d-pad and thumbstick modules. The ecosystem offers the perfect playground for customization and is a major selling point for the controller.
On top of the customization abilities, the modular build takes care of gamers' most dreaded issue - a stick drift. So if your controller starts having its way with you, you can easily swap the module out.
Furthermore, you can change the d-pad for symmetrical PlayStation sticks instead of offset Xbox sticks layout. It's worth noting, that on most modular Xbox controllers offering both thumbstick layouts, the sticks are placed closer together by about a quarter of an inch, unlike on the native PlayStation controller. This difference comes into play as you may experience a bit of friction when your thumbs bump against each other. It's cool to have the option, but do note that your thumbs may get a little too close for comfort.
Features and Specs
Weighing in at 329 grams, the eSwap X Pro has some serious heft to it. If you're holding it out for too long, you might feel the burn. But don't worry, there are solutions. If you're playing on a computer at a desk, you can simply rest your hands on the desk and let the X do its thing. And if you're lounging on the couch, just grab a pillow to prop your hands up and counteract the weight of this mighty controller.
The Thrustmaster controller still uses the old-school Micro-USB connection but makes up for it with a 10-foot braided cable. It's got a far-right bead on one end and a thick plastic housing on the other end that locks securely to the controller.
The eSwap X Pro comes with T-MOD technology and a Hot Swap feature that lets you switch out any module right in the middle of a game. This is seriously helpful when you need to make quick changes without interrupting your gameplay.
And let's not forget about the eSwap X Pro's extremely high-precision modules that have minimal response times and mechanical switches that give you a satisfying clicking sensation. These modules are rated to last over 5 million activations, so you can game to your heart's content.
The face buttons are microswitch-style ABXY buttons that feel great to use and are super responsive. The D-pad is highly receptive and features a mechanical four-way design with four distinct steps. While there are no eight mechanical switches for diagonal inputs, you can still get them by pressing both left and up, or down and right.
And last but not least, the Input Control Panel is located at the bottom-middle of the controller and has all the buttons you need, including Mute, Volume Up and Down, Map, and Profile 1 and Profile 2 buttons. I am not sure why they added two separate buttons for profiles, but other than that, the panel lets you easily adjust your settings without having to pause your game.
Remappable Back Buttons
Now let's talk about the back buttons on this Thrustmaster controller. While they are indeed quick to respond, there are a few issues with their design that make them one of the worst ones I've used so far.
Firstly, they are small, which can make them difficult to press accurately, especially in the heat of the moment. Secondly, they are placed dead center on the back of the controller, which can make it awkward to reach them with your fingers.
In fact, the placement of the buttons is even worse than on the Razer Wolverine Ultimate, which was "the winner" prior. You end up having to extend your fingers at an uncomfortable angle, leading to fatigue after just a couple of hours of use.
And if that wasn't enough, the buttons are also very close together, both vertically and horizontally, leaving you feeling cramped and uncomfortable. You can use an altered grip with just your middle finger to cover the bottom two buttons and slide up to the top two as needed. It's not perfect, but it's definitely more comfortable than trying to reach all four buttons at once.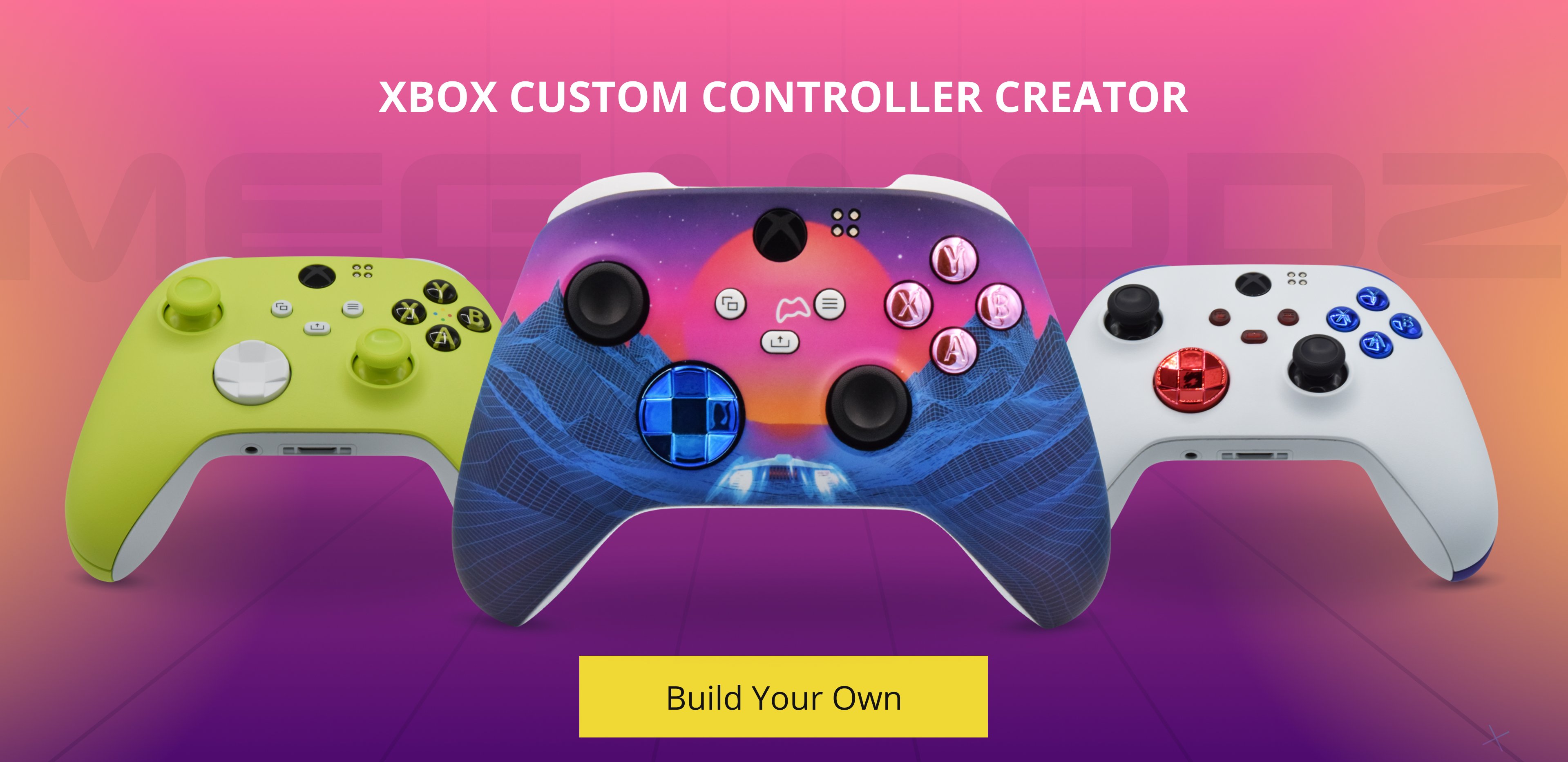 To make matters worse, the swoop or concave shape of the buttons, which you might think would be good for ergonomics, doesn't actually do much to help. In practice, your fingers don't really fit comfortably into the shape of the buttons.
I can see gamers with larger hands or long fingers being able to use the buttons, but the average person will either use the alternative grip or use only the two top buttons.
The only advantage is how easily they can be mapped.
To set up the back buttons, pick your preferred profile by looking at the light on the controller. Then, press the map button and wait for the light to blink. Press and hold the back button you want to change, and then press and hold the face button you want to use instead. You'll feel a little vibration and see the light blink, showing that the button has been changed. Do this again for the other back buttons.
Trigger Locks
The eSwap X Pro triggers are made of a plastic material almost identical to the rest of the controller and come with a textured part in the middle of the trigger for better grip, which helps during those intense gaming sessions.
There is a two-position trigger lock system in place that offers an additional level of customization to your gameplay experience. However, the trigger locks are not very effective, as they only cut out about 45% of the trigger pull, which is pretty disappointing, and feels like the option has been added for marketing purposes only.
One positive aspect of the trigger-stop system is that you can engage it in-game without having to look at the controller.
Next Generation Mini-Sticks
The thumbsticks of the Thrustmaster eSwap X Pro Controller are noteworthy as well. They feature magnetic next-gen mini stick technology that enhances their lifespan to over 2 million activations and improves their precision.
The stick caps are distinct from other controllers on the market, as they are threaded rather than just magnetized or held on with friction. The only other controller that comes to mind with similar features is the Elite Series 2, which still has swappable magnetized caps, but the stems or shafts of the thumbsticks are threaded and can be easily popped off. The anti-friction ring ensures smooth movement when the thumbstick is fully locked at the outside gates, which is not always a standard feature on Xbox controllers.
In terms of thumbstick cap options, it's interesting that there is no high option available for a pro controller. Instead, all four options are low to mid-rise sticks, with two short domed options and two concave options. The rubber or silicone compound used in the thumbsticks by Thrustmaster is quite grippy, but it can become slick if not wiped off when the hands get oily or greasy. However, they are not too soft and squishy to start breaking apart prematurely.
All things considered, the thumbsticks on the Thrustmaster eSwap X Pro are pretty good. They feel secure, work with great precision, last a long time, and provide a good grip.
Thrustmapper Controller Software: Master and Adjust All Essential Settings
Thrustmaster's software is a gamer's dream, with compatibility with the Xbox One, Series S/X, and Windows 10 and 11 PCs. Unfortunately, it's unavailable for Mac or any other console, but don't let that put you off. As soon as you open the app, you will appreciate that you can full-screen it and use either your controller or keyboard to navigate.
Out of the box, the Thrustmapper comes with two default profiles, but you can import presets from other online resources or create your own and give them custom names. Assigning them to profile one or two is simple: click on the preset you want, flash it, or load it onto the controller, and you're good to go. Renaming profiles is also a piece of cake.
The software has different submenus that you can scroll through with the bumpers or shoulder buttons. The home menu is the leftmost, where you can see your selected profiles, followed by mapping options. You can remap the rear buttons on the fly, or you can remap any of the buttons, including the face buttons and d-pad, by clicking on this submenu.
The mini sticks offer three levels of adjustment. You can fine-tune things like dead zones and maximum response curves, and you can create custom curves. It's awesome that you can drag the curve drawings back and forth on the app, but keep in mind that any changes you make will not be saved until you click save. The app separates this for the left and right sticks, so you have complete control over each.
The controller's triggers are also highly customizable. You can adjust the sensitivity and set the minimum and maximum squeeze required. There are plenty of fine-tuning adjustments you can make, which I found fantastic.
What's more, you have control over all four of the vibration motors on this controller. Two are in the palms and are the rumble force motors, while the other two are precision vibration motors in the triggers. The controller also has a diagnostic or test system where you can hold down the Y button and squeeze a trigger to test different vibration motor strengths based on how hard you squeeze it.
From the depths of my heart, the Thrustmapper app is one of the best configuration software I've seen on a pro controller so far. It does take customizations to the next level.
Elite Series 2 VS Thrustmaster eSwap X Pro
When pitted against the Elite Series 2 controller, the eSwap X Pro may fall short in some areas. For starters, the Thrustmaster has a limited selection of thumbstick choices, lacks an alternate d-pad option, and only comes with a soft carrying pouch. On top of that, this controller only uses a wired connection and an outdated micro USB port, while the Elite Series 2 boasts a more modern design with a sleek ergonomic paddle design.
While both controllers offer trigger locks, the eSwap X Pro only offers two positions, while the Elite Series 2 provides three, with its shortest distance being fairly short. In contrast, the eSwap X Pro only stops at the halfway point.
However, eSwap X Pro's modular design is where it truly shines. This controller's magnetic next-gen mini sticks and tactile buttons are a joy to use. And with the ability to purchase a replacement and enhanced modules, you'll always have the versatility you need. With these features, the eSwap X Pro is definitely worth considering for gamers who prioritize customization and flexibility.
The Verdict: Is It Worth Buying?
Wrapping up, the eSwap X Pro is a high-quality controller that has a lot going for it but also has some flaws.
For starters, it's a wired device that uses an outdated micro USB connection and lacks standard accessories.
Additionally, the controller is slightly too wide, which makes for an awkward back button placement. The back buttons themselves aren't refined, either. Thrustmaster could have made them larger, spaced them out more, and placed them closer to the contours of the controller's handles for a more ergonomic feel.
The trigger locks only stop halfway, which could be improved with a shorter throw.
As for the pros, the eSwap X Pro has some standout features that make it worth considering. Its modular design allows for optional replacement modules, making it an ideal choice for a wide variety of competitive games and play styles. Its new magnetic next-gen mini sticks increase accuracy and have a longer lifespan.
Additionally, the software app is impressively sophisticated, allowing you to really fine-tune the controller settings to gain optimal performance. Yet it's super user-friendly and easy to use, making it one of the best software apps available for pro controllers.
Since the Thrustmaster eSwap X Pro is the only one in its category to feature a modular design, I do recommend it as a solid premium controller that can be used in a wide variety of games.