Is Scuf Reflex FPS The Best Custom Controller For PS5?
Scuf is the preferred controller for most pro gamers, but why? To answer this question, we will analyze its design, ergonomics, and features and compare them with those of its direct competitors.
New Arrival

PS5 DualSense Edge Wireless Controller
Ultra-Customizable Controls
2 lever Mappable Back Buttons
Replaceable Stick Modules
Quick Access Profile Settings Menu
On-Controller User Interface
Changeable Stick Caps and Back Buttons
You Save: (8%)
buy now
Eligible For Free US Shipping
This review is dedicated to what most people consider the industry standard in esports controllers: the Scuf Reflex.
The Scuf brand was established in 2011 and swiftly became a leader in producing high-end gaming controllers and accessories for consoles and PCs. Their product features are designed to maximize hand use and improve gameplay, making them popular among both professional esports gamers and casual gamers.
Their most recent controller version for the PlayStation 5 product line, the Scuf Reflex, was made available on May 10, 2022. It uses the DualSense controller as its base, keeping all of its standard features while adding a vast array of performance features and customization options.
There are three Reflex models offered on the site, with the cheapest option starting at $199. It is named Reflex and offers remappable paddles, adaptive triggers, and onboard profiles.
The next model, the Reflex Pro, starts at $219 and includes all of the Reflex features plus added non-slip performance grips.
Last but not least, comes the Reflex FPS, starting at $249, which includes all of the Reflex Pro features plus added instant triggers and no-vibration modules.
There is a wide variety of customizations available on their site that can be done to personalize the controller's look. You can change the color of the faceplate, touchpad, trim, thumbstick, anti-friction rings, bumpers, triggers, d-pad, "create" and "options" buttons, home button, back, and rumbles.
The main competitors for this gamepad are other high-performance gaming controller brands such as Dualsense Edge, Razer Wolverine V2 Pro, and PDP Victrix Pro BFG. Yet, Scuf remains a popular choice among gamers due to its reputation for quality and innovation in the industry.
Packaging and Included Accessories
Let's start with the unboxing of the controller. The box sleeve has a matte finish with orange accents and is loaded with product information on the sides and rear. Sliding off the sleeve reveals a glossy hexagonal design, and the box retains the orange accents.
Opening up the lid reveals the controller, which is well secured in place and won't move during transport. The controller sits on a molded plastic base with thumbsticks protected by foam padding, which provides great support.
Once you take the controller out of its spot, you'll see a black plastic bag, similar to a garbage bag, sitting at the bottom of the plastic base to protect the controller, which is a bit of an awkward choice in my opinion.
Removing the plastic base reveals the sleek black accessories box and user manual. In the accessories box, you will find additional thumbsticks and a six-foot-long USB Type-C cable.
Overall, the Scuf Reflex FPS comes with well-designed packaging, which was expected. I am way more excited about feeling the controller in my hands and seeing what that beast is capable of. Let's jump in.
Controller Design and Customization Options
Pulling the controller out of the bag, you immediately feel the premium build quality, fit, and finish of the product. As I mentioned earlier, it's a standard PS5 Dualsense controller that has been upgraded for a pro gaming experience.
The Scuf and product logos can be found at the top, sides, and bottom of the thumbsticks, as well as inside the trim plate on the controller. I appreciate the subtle branding.
The controller is all about grip. The front shell features a rubberized soft-touch material that provides a comfortable grip. There is an impressive large rubber rice-textured grip at the rear of the controller, which is a fantastic way to enhance comfort. The thumbsticks are made of a high-quality silicone compound that is comfortable and grippy.
There is a four-back paddle module on the back with a sturdy and well-constructed build. All four paddles are responsive and have a hexagonal design.
The D-pad, buttons, and thumbstick modules come standard, meaning the stick layout is symmetrical.
Last but not least, there is a 3.5-millimeter headphone port and speaker with a mic mute function located at the bottom.
Overall, the Scuf Reflex exudes a premium feel, and its ergonomic design feels great to hand. For fans of the DualSense, the Reflex FPS will feel familiar and comfortable. The responsive triggers and paddles, combined with its comfortable grip, make it a joy to hold for long periods.
Features and Specs
As soon as I gripped the Reflex FPS in my hands, I felt its 300-gram weight, which added a luxurious feel to the overall experience.
But the Scuf isn't just a pretty face. It's a versatile tool that can be used with a variety of devices, including the PlayStation 5, Windows 7 and up, MacOS CATALINA + and up, iOS 6 and up, and Android. It can be used wirelessly with a range of 45 feet, or you can opt for a wired connection using the six-foot-long USB Type-C cable provided.
The front of the controller features a d-pad, face buttons, a share button, an options button, and a touchpad, all of which are stock factory OEM Sony components. Beneath these buttons lie a rubber plunger and membrane switches, which are standard and identical to those found in a regular DualSense controller that you can purchase today.
While the six-month warranty is nothing to sneeze at, I can't help but feel a pang of disappointment that it's not a year. Given the Reflex FPS's hefty price tag, I would expect nothing less than a full year of coverage. Nevertheless, this is a minor quibble when you consider the overall quality and versatility of the controller.
Scuf Reflex Remappable Paddles
We've reached the most important part of any premium or custom controller, especially one that is aimed or marketed at the esports demographic: the back buttons or paddles! These are essential for improving character movement and reaction time by allowing you to keep your thumbs on the thumbsticks and utilize their free fingers on the back.
The Reflex FPS controller has four remappable back paddles, perfectly positioned for a natural grip that aligns effortlessly with the fingers. The placement of all four of them feels intuitive and ergonomic, and their large surface area will accommodate a wide variety of hand sizes and play styles. If I loosen up my grip slightly, I can use only two fingers to activate the paddles.
I love how quietly they operate. This is especially valuable for those who livestream or create YouTube content featuring gameplay footage, as the paddles won't produce distracting clicking sounds that could be picked up by microphones.
However, I do find that the outer two paddles require slightly more force to be activated, so this might be something that can be improved on for the next Scuff controller. Also, it would be nice for the paddles to have a slightly more textured grip, but that's just me being picky.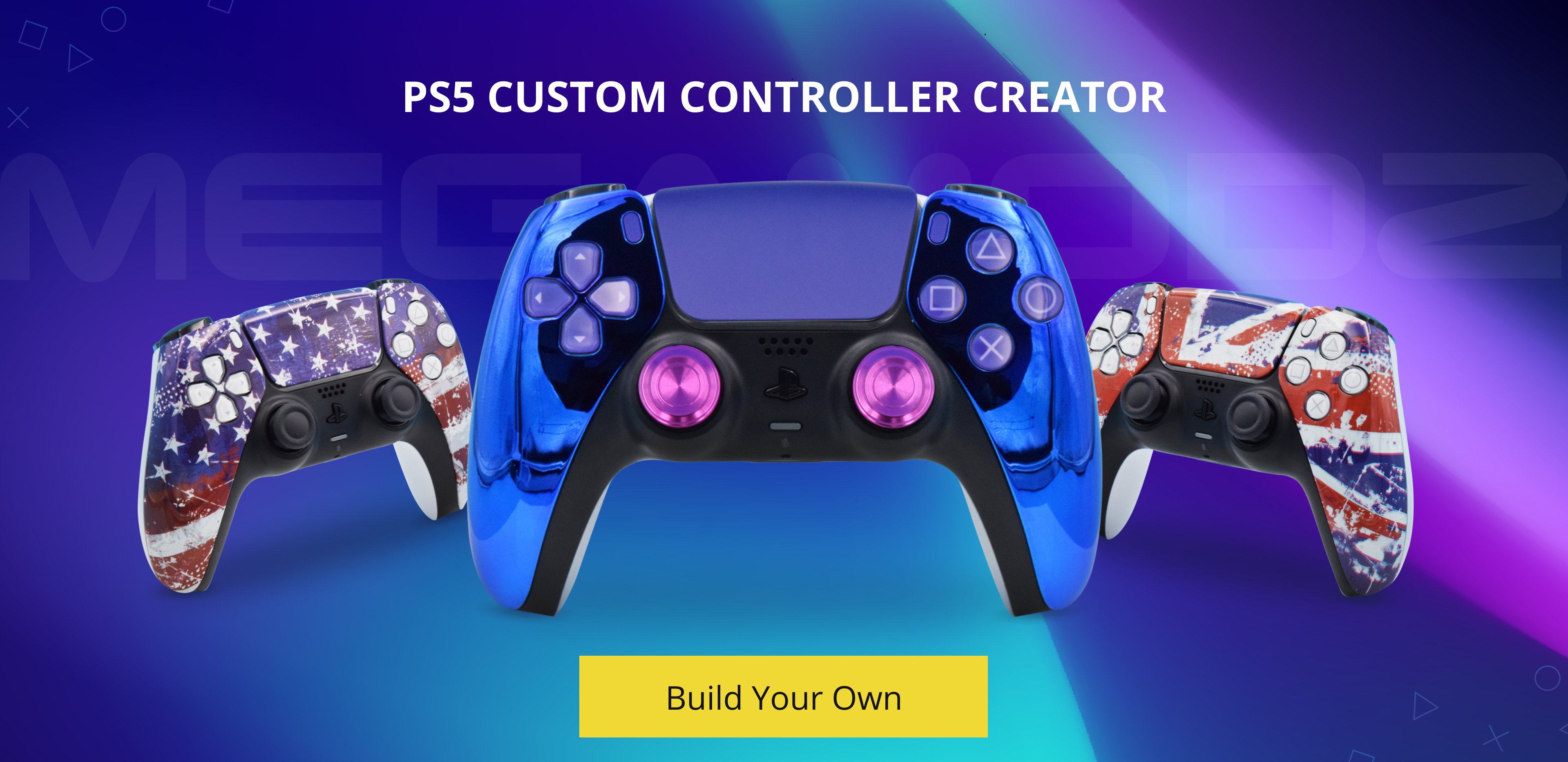 Next, I also like how quick and easy they are to remap, and you do have three different profiles that you can swap through. You can remap any paddle by simultaneously pressing the paddle and the button that you want to mimic. The profile button will flash white to indicate that the paddle has been mapped. Repeat these steps to remap the remaining paddles. When finished, press the profile button again to save your configuration.
While there may be a slight learning curve when it comes to the paddles on the Reflex FPS, as they are different than virtually any other rear panel or button system out there, they are incredibly intuitive, and you will pick them up quickly.
The only time you may need to give some thought to your button presses is when attempting to simultaneously activate two, three, or even all four of the buttons. While it's unlikely that you'll need to press all four face buttons at once, there may be instances where you need to perform a combination of actions such as sliding, jumping, reloading, and weapon swapping.
Instant Triggers: Hyper Fast Mouse-Click Action
All pro esports controllers are equipped with some sort of trigger lock system, which is an essential feature to improve reaction and response time.
I have my controller equipped with instant triggers that do not require much force or distance to activate, which is great for quick response. However, this means that I won't be able to use this controller in racing games or games that rely on trigger modulation.
Out of all the controllers I have tested so far, this one has the shortest and quickest trigger activation, which is ideal for FPS games.
Performance Grip: Ultimate Non-Slip Feel
The back grips of the Reflex FPS controller are 100% worth discussing. Upon first grabbing the controller, I immediately noticed how grippy they felt. The texture is not your average grip meant to merely prevent slipping, as seen in most competing controllers. It is an impressive hexagonal textured soft rubberized grip that covers the entire back handle section.
As you continue to use the controller and build up friction, the rubber or silicone compound of the grips evolves and becomes even more grippy. In fact, the grips are so good that you'll feel completely in sync with the controller, which is perfect for intense gaming sessions.
Additionally, having interchangeable grips is a great feature for those who prefer different types of textures or materials for their grips. Hands down, this controller offers the best grip I have ever experienced on a high-end gaming device. I can only hope that its exceptional quality is matched by its durability.
Interchangeable Sticks: Pressicion and Accuracy
The thumbsticks are a great way to further customize the controller according to your preferences. The Reflex FPS comes with two additional thumbsticks, one short-domed and one long-domed. They are made of soft, grippy rubber with a hexagonal texture around the side.
The sticks are very good for a few reasons. First of all, the anti-friction rings work very well, allowing you to glide along smoothly when at full lock. Additionally, the rubber used is incredibly grippy, not only on the concave sticks but also on the domed options that I have installed. (By the way, I made the mistake of ordering the controller with a long dome stick installed, so it's important to choose differently to maximize your stick choices.)
Secondly, the thumbsticks had zero dead zone out of the box, which I detected by doing some dead zone testing on the PlayStation 5 by turning my dead zone settings to zero in several games. This is awesome considering they're still using those standard Alps thumbstick modules that virtually every other controller uses.
And, finally, they can be swapped on the fly. To do it, remove the trim plate by lifting the corner edge and pulling it off. Pick the thumbstick you want to remove and pull it up hard. Then, grab the thumbstick you want to install, align the bottom slot, and press down hard. Finally, insert the top two "teeth" of the trim plate first, then press down on the middle and edges to click it into place.
Scuf Reflex VS Dualsense Edge And The Other Rivals
The latest Mega Modz reviews of the leading pro controllers on the market—DualSense Edge, Wolverine V2 Pro, and Victrix Pro BFG — have led me to some conclusions. These controllers each have their unique strengths and weaknesses, but if I had to pick the supreme PS5 Pro esports controller, which would that be?
The PDP Victrix Pro BFG stands out with its modular design, a new clutch trigger system, and large handle grips that provide exceptional grip. However, its lack of standard Dualsense features and refinement are notable downsides.
The Razer Wolverine V2 Pro, on the other hand, boasts an impressive battery life, new mecha-tactile buttons, and six remappable back buttons. On the other hand, its bulky design and poor back button placement make it awkward to use, plus it lacks accessories for its premium price.
The Sony DualSense Edge, in contrast, offers an impressive replaceable thumbstick module system, and ergonomic paddle placement with two style choices, and is loaded with accessories and a powerful controller software application. However, its poor battery life and lack of micro switch buttons and bumpers are significant drawbacks, plus it only has two back paddles.
With that, the Scuff Reflex FPS is the best of all worlds, combining the large, textured handle grips of the Victrix, the instant triggers and micro switch bumpers of the Wolverine, and the build quality and ergonomics of the Edge. The product stands out as the top PS5 pro esports controller with its top-notch features.
Another thing to keep in mind is that no controller is perfect, and there will be trade-offs that need to be considered when making a purchase decision.
The Verdict: Is It Worth Buying?
Scuf Reflex's most noticeable advantage is its four-back paddle system. They are large, grippy, and durable, as they can't be snapped or broken off since they're sunken in with the rear shell.
Next up, I do like how fast and easy it is to remap the four paddles and also the fact that you do have three customizable profiles for different games (or if you're sharing with your little brother, who always presses the wrong buttons).
The best back grips I've ever experienced on a controller are found on the Reflex FPS, to continue with the positives. As you create more friction with the rubberized substance, it literally warms up and stretches, finally taking on its final shape where you are one with the controller.
One more thing worth mentioning is the controller's sleek and stylish appearance. This beauty is not only skin-deep but delivers a premium feel the moment you lay your eyes on it.
It does, however, have flaws, just like everything else in life. The Scuf Reflex FPS is the priciest product in its class and doesn't include a carrying case or any other extras. Additionally, some gamers might prefer adjustments to the face buttons and d-pad. It also has no controller customization application for those who are in the market for a top-tier pro esports controller and don't mind dishing out the money.
The benefits, in my opinion, outweigh the drawbacks. This controller is in the pro league thanks to its instant triggers, micro switch bumpers, textured handle grips, and ergonomic paddle design.
And the best part? It still has all of the standard DualSense features, with the bonus of being able to customize the controller's colors. So, my verdict? Get yourself a Scuf Reflex FPS and let the games begin!