PS5 DualSense Edge Wireless Controller
Model Number: CFI-ZCP1 Manufacturer Part Number (MPN): 1000035016
About this product
The Sony Dualsense Edge is the newest PS5 controller that has a lot to offer. The product is the perfect hybrid of the DualSense gaming pad and the best pro controllers offered on the market. With the DualSense you can experience the same level of immersion, while also being able to customize hardware components and settings to your liking.
Say goodbye to drift and hello to maximum control. The freedom of replaceable stick modules, three sets of stick caps, two sets of remappable back buttons, trigger locks with three travel distances, and additional levers for switching profiles, and settings allow you to have the experience you want.
The Edge allows adjusting the stick and trigger sensitivity, dead zones, and vibration force to your exact preferences as well as saving the optimal setting to your player profiles. The special USB braided cable helps keep the cable in place, so you can game for hours without worry.
Get ready to take your gaming experience to a level you never had with a PlayStation controller before.
Product Details
| | |
| --- | --- |
| Item #: | 00434 |
| Manufacturer: | Sony |
| Country of Origin: | China |
| Product Dimensions: | 2.6 X 6.3 X 4.2 Inches |
| Shipping Weight: | 3 pounds/48 ounces |
| Product Dimensions: | 2.6 X 6.3 X 4.2 inches |
| Shipping Weight: | 3 pounds / 48 ounces |
| Customer Reviews: | 6 customer reviews |
| Date first available at Megamodz.com: | 1/11/2023 1:07 PM |
| Product Warranty: | For warranty information about this product, please click here |
| Shipping Info: | For detailed shipping information please click here |
Specifications
From The Manufacturer
What's in the Box
DualSense Edge wireless controller
USB braided cable
2 Standard caps (attached to controller)
2 High dome caps
2 Low dome caps
2 Half dome back buttons
2 Lever back buttons
Connector housing
Carrying case
Instruction manual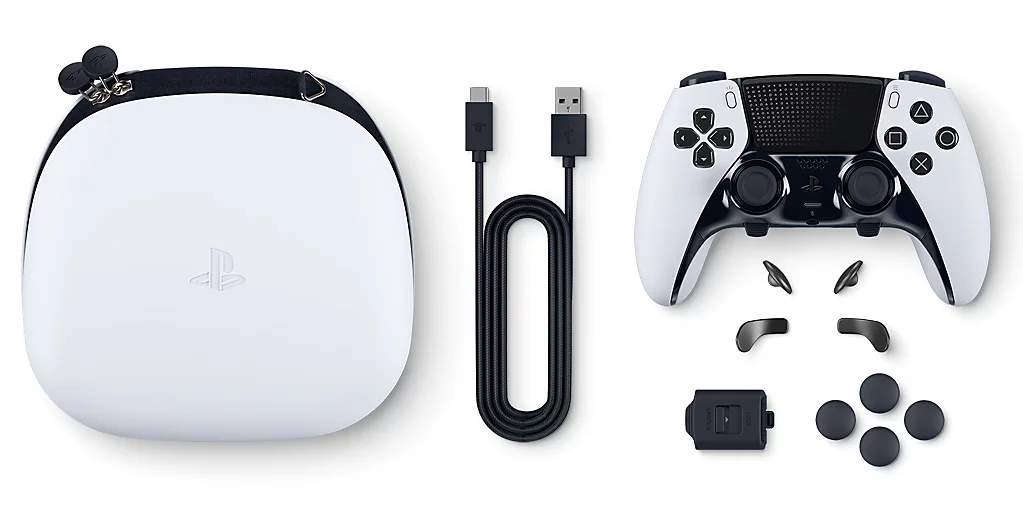 DualSense Edge wireless controller key features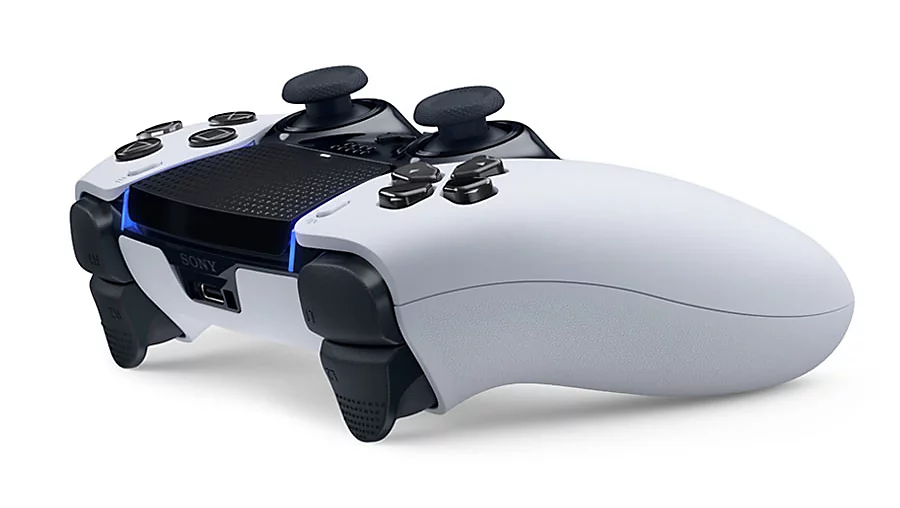 Ultra-Customizable Controls
Changeable stick caps, remappable inputs and custom settings make your DualSense Edge wireless controller uniquely yours. Fine tune your aim by adjusting stick sensitivity and dead zones, set the travel distance of your triggers for faster inputs, and quickly swap between control profiles so you're always ready for your next game.
Mappable Back Buttons
Swappable back buttons can be configured to many other button inputs, so you've always got game-changing actions and essential controls at your fingertips. Plus, with two different styles of button to choose from, you can pick an input type that feels just right for your playstyle.
DualSense™ Wireless Controller Features Built In
Enjoy all the immersive features of the DualSense wireless controller and our signature controller comfort. Experience varying force and tension at your fingertips with adaptive triggers, and feel your in-game actions and environment simulated through haptic feedback.*
Replaceable Stick Modules
Play for longer with swappable replacement stick modules available to purchase separately. *Haptic feedback and adaptive trigger features available when supported by game.