Build Your Own Xbox Series X Controller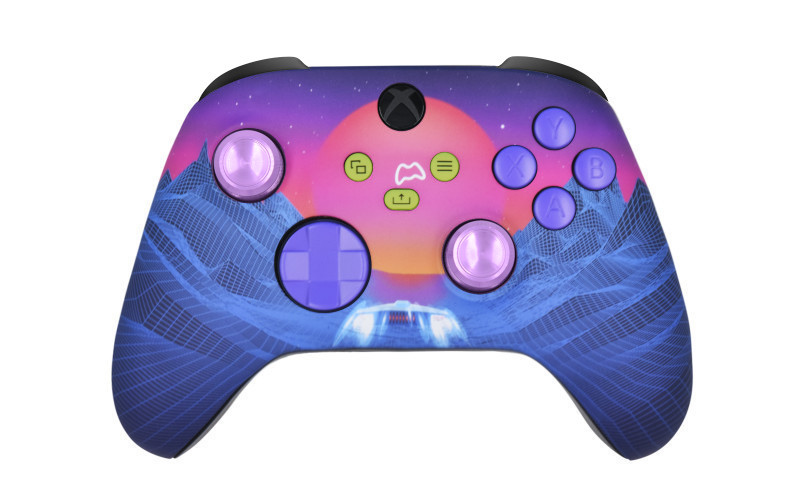 Xbox Series X Custom Gaming Controller
The Xbox Series X controller is a top-notch gaming pad developed by Microsoft for their next-gen console. With the platform's enhanced capabilities and fans' high expectations, the Xbox X controller has undergone several improvements compared to its predecessor. The product's ergonomic design has been revamped to cater to a wider range of users, regardless of hand size. The d-pad now combines elements from the standard Xbox One and facetted Elite d-pads. Cross-device connectivity and latency have been upgraded to deliver a seamless experience. Sharing achievements and memorable moments is effortlessly done through the addition of a new Share button.
Xbox Series X Modded Controllers have been upgraded with the latest Mega Modz modchip to offer new exciting ways to play your favorite shooting and battle royale games. Through the Xbox Series X Controller Creator platform, you have various ways to elevate the product's performance and appearance. You can choose from a range of popular mods like Rapid Fire, Akimbo, and Fast Reload, either as individual options or bundled in multi-mod packs put together based on their compatibility with the most popular titles on the market.
The Back Buttons upgrade features four ergonomically designed buttons placed on the back of the controller. These buttons provide a personalized and efficient way to tailor your controller to your preferred play style.
By adding Smart Triggers and Stops to your controller, you can substantially enhance the function of LT RT buttons, get precise in-game control, and lightning-fast and/or mouse click-like trigger action. There are three options available - Hybrid Triggers, Mechanical Triggers, or Trigger Locks.
Exterior improving options are laid out on the page offering endless possibilities to create a 100% customized Xbox Series X controller.
JUST IN - Xbox Series X controller-led mod is now offered via an RGB Lighting upgrade for the controller buttons. You have a choice of seven vibrant colors and two illumination patterns to make a unique RGB Xbox controller.
More components to customize the appearance of your gadget include but are not limited to the controller skin, back, d-pad, analog sticks, bumpers, triggers, and operational buttons. Wish List allows saving your artwork as is and pick it up right where you left off should it require more fine-tuning.
Xbox Series X mod is a pro controller for a serious gamer who intends to win. To stay up to date with software and hardware updates, and become very comfortable with the functions of the controller, it is recommended to join our rapidly growing online community. Welcome on board and see you there!
IMPROVE YOUR KILL / DEATH RATIO FAST
Cutting-edge modifications for Xbox XS gaming controllers
11+
Years in business
100,000+
Customers Served
180,000+
Controllers Built
20+
Performance Upgrades
14 CONTROLLER MODS FOR EXTRA SKILLS
Aim
Better
Spot the
Enemies
Maneuver+
ShooT
Easy
Quickscopes
Aim
Better
Shoot
Faster
COMPATIBLE GAMES - COD, APEX, FORTNITE, BATTLEFIELD, DESTINY, PUBG
PROGRAMMABLE BACK
BUTTONS FOR PERSONALIZED CONTROL
Traditional Button Remapping
4 Ergonomic Buttons
Custom LED Indicator
COMPATIBLE WITH ALL VIDEO GAMES
MECHANICAL SHOULDER & FACE BUTTONS FOR FASTER INPUT AND RESPONSE TIME
Increased in-game
control by 200%
4X Faster
input
More precise
feedback by 120%
4X Faster
response time
MEGA MODZ VS THE OTHERS
Hardware Upgrades Only Controller Brands
Other Modded Controller Brands
Marco's inputs including Tubo
Popular pre-installed mods
Exclusive mods (Armor Repair Assist, Auto Heal)
Hardware component upgrades
No pc or app needed to operate
Fan Community via Own Forums
Specifications
GENERAL

Product Name:

Xbox Series X Wireless Controller

Color/Design:

Choose Your Own

Compatible Platform(s):

Xbox Series X, Xbox One, Xbox One S, Xbox One X, PC, iPhone, Android

Connectivity Technology:

Wireless

Wireless Range:

40 feet

Bluetooth connectivity:

Yes

USB Receiver:

Yes

Included Accessories:

Optional

Required Battery:

2 x AA type

Haptic Feedback:

4 Rumble Motors

Rumble Vibration:

Yes

Model Number:

N/A

UPC:

N/A

FEATURES

Customization App:

Xbox Accessories app available on Xbox One/Series X, Windows 10, and 11

Headset Jack:

3.5mm

Remap Buttons:

4 Programmable Back Buttons are Optional

Paddle System/Back Buttons:

4 Back Gaming Buttons are Optional

Interchangeable Components:

Interchangeable

Thumbstics are Optional

Trigger Locks System:

2-Position Trigger Locks, Mechanical Triggers, Hybrid Triggers

Adjustable weight:

Not Available

Indicator Light(s):

4 LED Lights Mod Indicator is Optional

RGB Illumination:

LED Face Buttons & Sticks are Optional

Modified:

Optional

Mod Switch:

Optional

Rapid Fire Mod:

Optional

Special Mods:

Optional

Turbo Buttons:

Not Available

Macros:

Not Available

WARRANTY

Standard:

90 Days

Extended:

1 Year
OTHER

Choking Hazard Warning:

No

Assembly Time:

1-7 Business Days