Microsoft Elite Series 2 Core Wireless Controller for Xbox Series X, Xbox One, and Windows PCs - Red
Model Number: 1797 Manufacturer Part Number (MPN): RFZ-00013
About this product
Introducing the new Red Xbox Elite Wireless Controller Series 2 - Core, a powerhouse with enhanced and resilient components engineered for enduring performance.
It comes with a custom red front panel, buttons, bumpers, and triggers. With four paddles, a faceted D-pad, and adjustable-tension thumbsticks, it empowers you to fine-tune your aiming precision like never before. The lightning-fast firing capability provided by the shorter hair trigger locks gives you the competitive edge you've been seeking, while the wrap-around rubberized grip ensures both comfort and control during intense gaming sessions.
Strike the perfect balance between comfort and performance with the Xbox Elite Wireless Controller Series 2 - Core, weighing only 345g.
The Xbox Accessories app allows you to unlock product potential via the personalized performance options available. Seamlessly map A, B, X, and Y buttons, D-pad directions, bumpers, triggers, thumbstick clicks, and the included paddles. You are also welcome to fine-tune the haptic feedback feature delivered through impulse triggers and rumble motors and take control by adjusting the motor settings to your preference. Your creativity can be unleashed further by customizing thumbstick sensitivity curves via the app or swapping thumbstick inputs to suit your unique gaming style. We suggest you also try out the thumbstick-adjustment tool to manually modify thumbstick tension with three selectable settings.
The Xbox Elite Series 2 Core Controller in red gives you the freedom to play for extended periods with an impressive battery life of up to 40 hours. Plus, you can connect the controller to your console, Windows PC, or mobile device either wirelessly, via Bluetooth, or USB-cable connection.
Equipped with a convenient 3.5mm stereo headset jack, the device is fully compatible with the Xbox One Stereo Headset Adapter and an array of Microsoft-developed Xbox controller accessories, enhancing your gaming experience even further.
Prepare to dominate the game like never before as you embark on an unforgettable gaming journey with the new red Xbox Elite Controller Series 2 Core.
Product Details
| | |
| --- | --- |
| Item #: | 00489 |
| Manufacturer: | Microsoft |
| Country of Origin: | China |
| Product Dimensions: | 7.60 x 7.60 x 3.58 Inches |
| Shipping Weight: | 1 pound/16 ounces |
| Product Dimensions: | 6.02 X 2.4 X 4.01 inches |
| Shipping Weight: | 1.66 pounds / 26.6 ounces |
| Customer Reviews: | 1 customer reviews |
| Date first available at Megamodz.com: | 7/18/2023 10:29 PM |
| Product Warranty: | For warranty information about this product, please click here |
| Shipping Info: | For detailed shipping information please click here |
Specifications
From The Manufacturer
Play
Like A
Pro
Designed to meet the core needs of today's competitive gamers, including just the components you need to unleash your best game.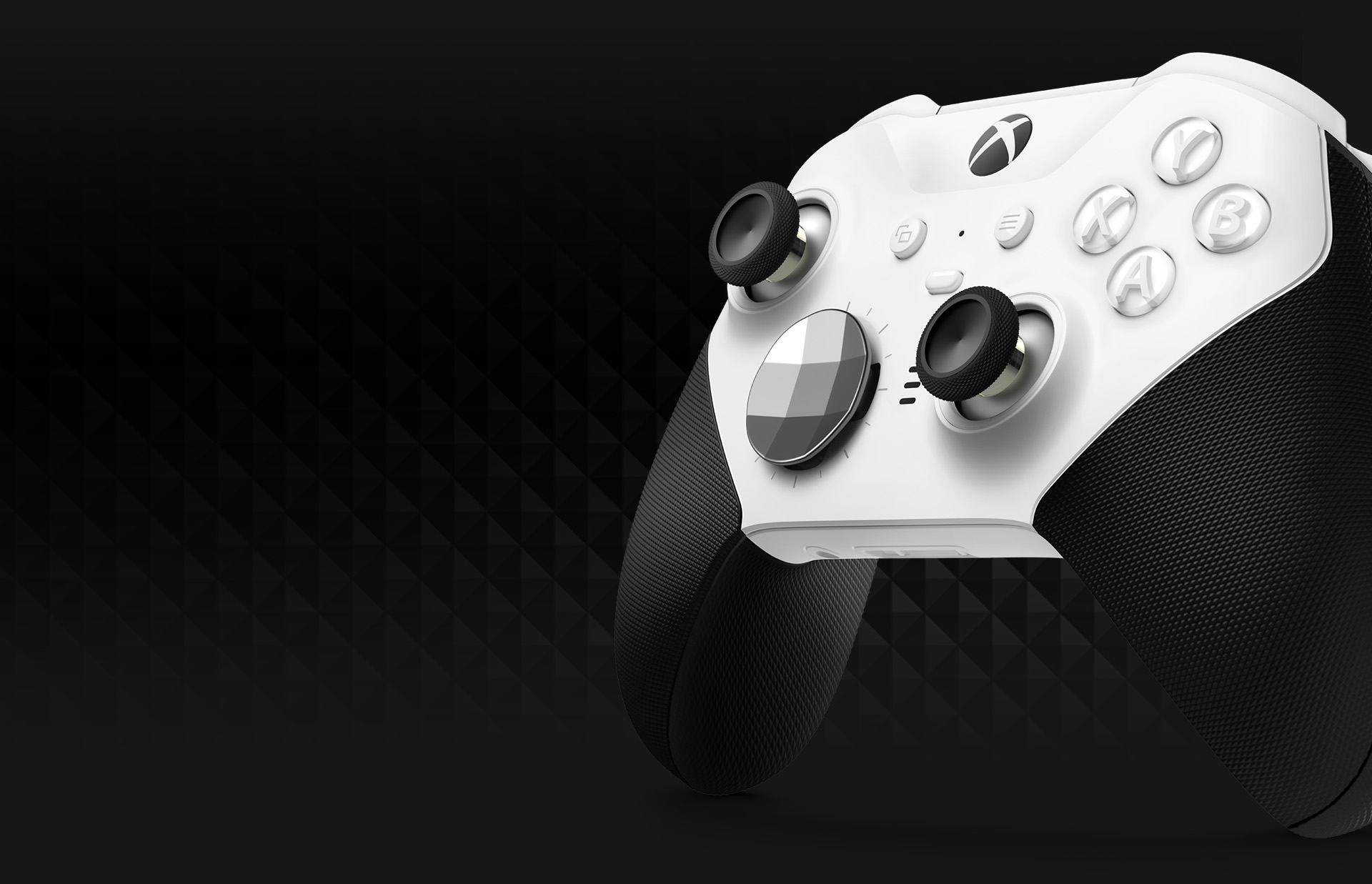 Refined components that are built to last
Built for performance
Enhance your aiming with new adjustable-tension thumbsticks, fire even faster with shorter hair trigger locks, and stay on target with a wrap-around rubberized grip.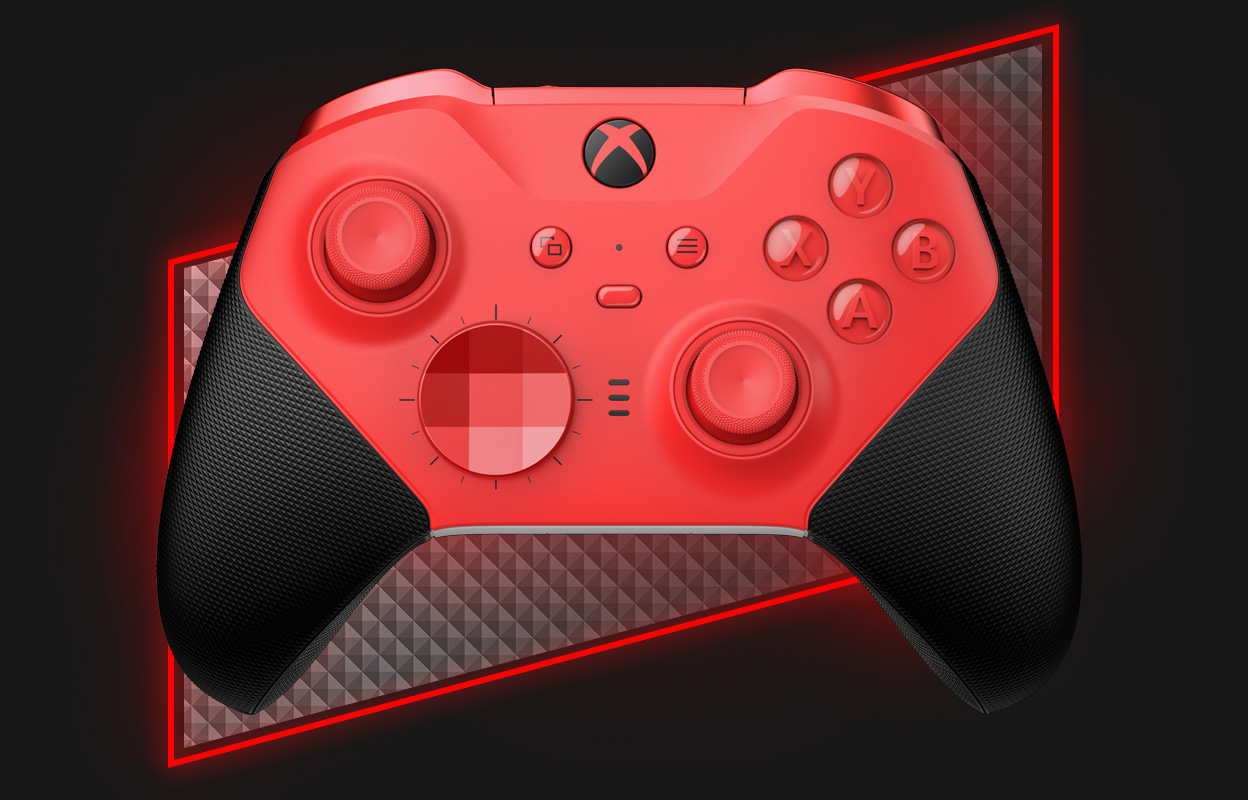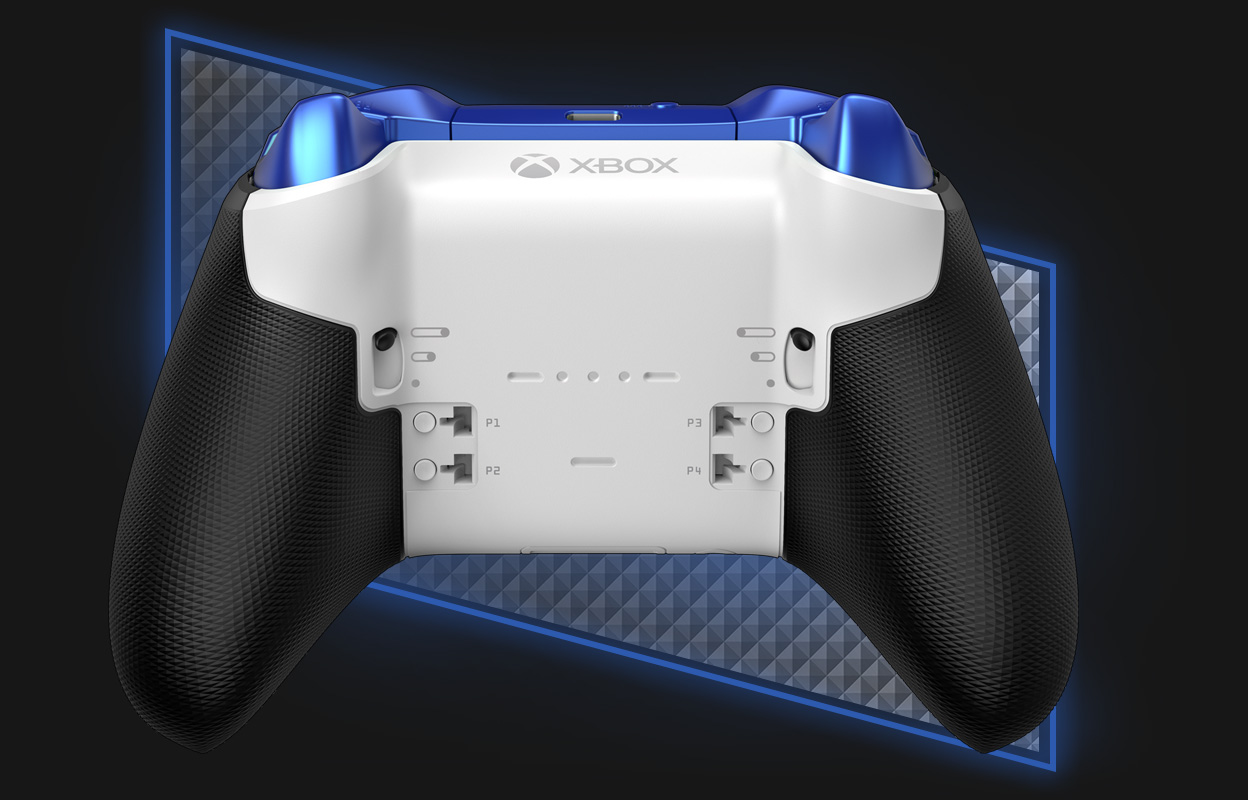 Optimized for you
Enjoy limitless customization with exclusive button mapping options in the Xbox Accessories app
Designed for extended gameplay
Stay in the game with up to 40 hours of rechargeable battery life and refined components that are built to last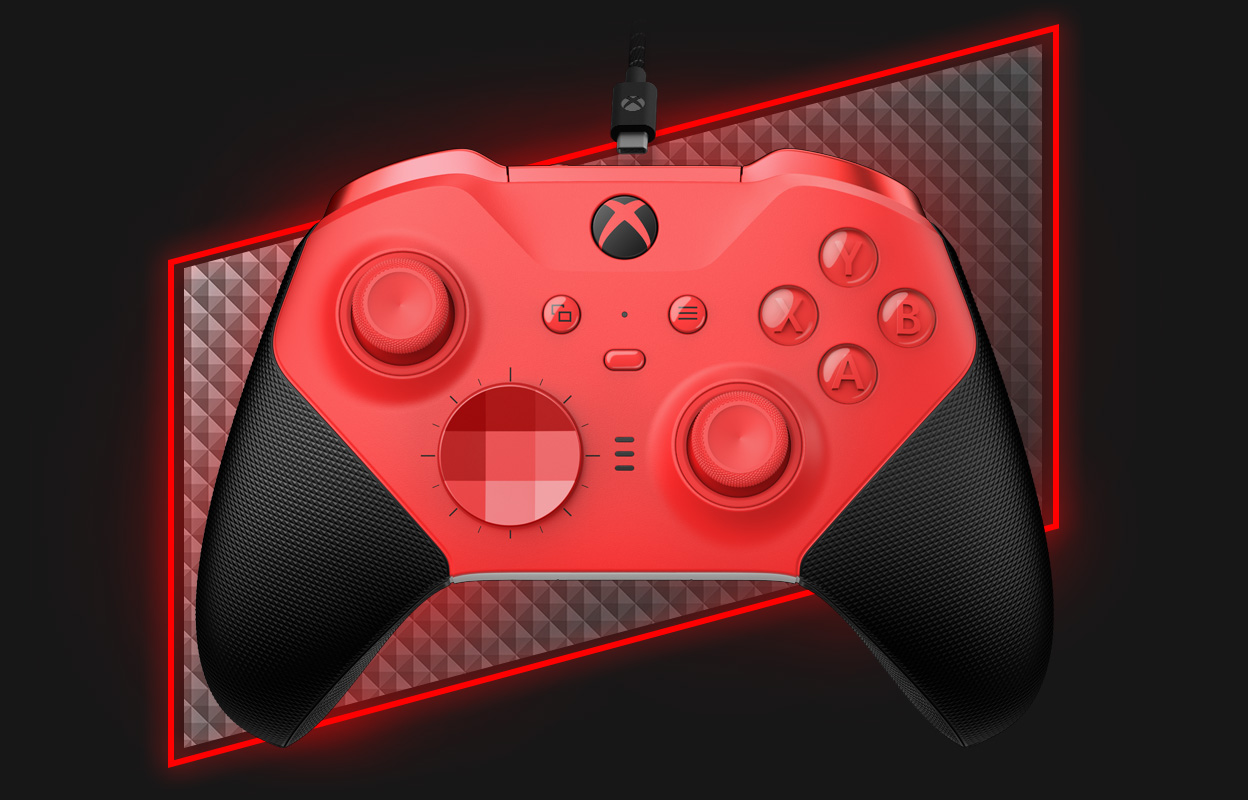 Switch between devices
Use Xbox Wireless, Bluetooth, or the included USB-C cable to play across your Xbox Series X|S, Xbox One, Windows PC, and mobile

| | |
| --- | --- |
| System requirements | For use with Xbox systems and PCs running Windows 7 or later. Windows 10/11: requires Bluetooth, included USB cable, or Xbox Wireless adapter (sold separately). Windows 7 or 8.1: requires included USB cable; some functionality not supported. Drivers available at xbox.com/xboxone/PC-controller. |
| Xbox Accessories app requirements | Available on Xbox consoles and Windows 10/11. |
| Audio | Includes 3.5mm stereo headset jack. Also compatible with the Xbox One Stereo Headset Adapter and all other Xbox controller accessories made by Microsoft. |
| Haptic feedback | Features Impulse Triggers and rumble motors. Motor control can be adjusted in the app. |
| Weight | 345g (+/- 15g) when using with 4 paddles, faceted D-pad, and standard thumbsticks attached. |
| | |
| --- | --- |
| Connectivity | Connect to Xbox consoles with Xbox Wireless, or using the included 9' USB-C cable. Wirelessly connect to Windows PCs, tablets, Android, and iOS devices using Bluetooth, or with the included 9' USB-C cable. Connect to Windows 7 or 8.1 PCs with the included 9' USB-C cable; some functionality not supported. |
| Thumbstick control | Use the included thumbstick-adjustment tool to manually change thumbstick tension, with 3 tension settings to choose from. Adjust thumbstick sensitivity curves with the Xbox Accessories app, or swap thumbstick inputs so that the left thumbstick controls the right thumbstick input and vice versa. |
| Battery | Internal, rechargeable battery with up to 40 hours of battery life per charge. Battery life varies with usage and other factors. |
| Assignable buttons | A, B, X, and Y; D-pad up, down, left, and right; Left and right bumpers; Left and right triggers; Left and right thumbstick click; 4 paddles. |
Compare Xbox Elite Series 2 Controllers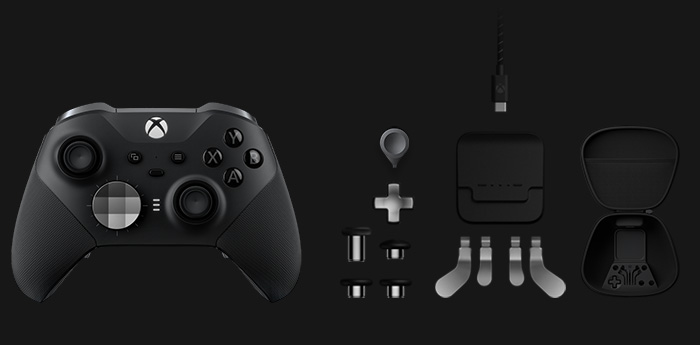 Elite Wireless Controller Series 2
Whats included
Xbox Elite Wireless Controller Series 2
Thumbstick – adjustment tool
Charging dock + USB-C cable
Set of 4 paddles: medium (2), mini (2)
Additional thumbsticks: classic (2), dome (1), tall (1)
Additional D-pad: standard
Carrying case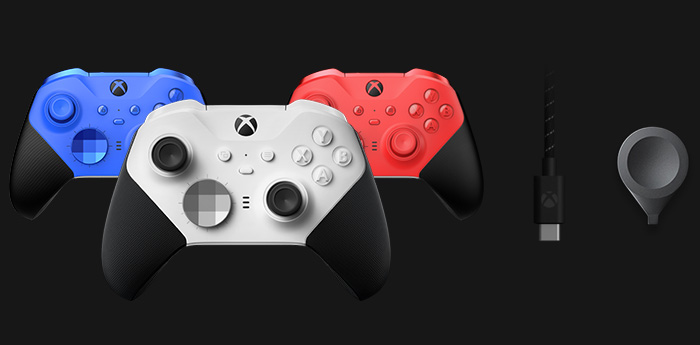 Elite Wireless Controller Series 2 – Core
Whats included
Xbox Elite Wireless Controller Series 2
Thumbstick – adjustment tool
USB-C cable
Shared features:
Adjustable-tension thumbsticks | Shorter hair trigger locks | Wrap-around rubberized grip | 40 hours of rechargeable battery life | 3 custom profiles | Custom button mapping with the Xbox accessories app | Play across devices