Build Your Own Steam Deck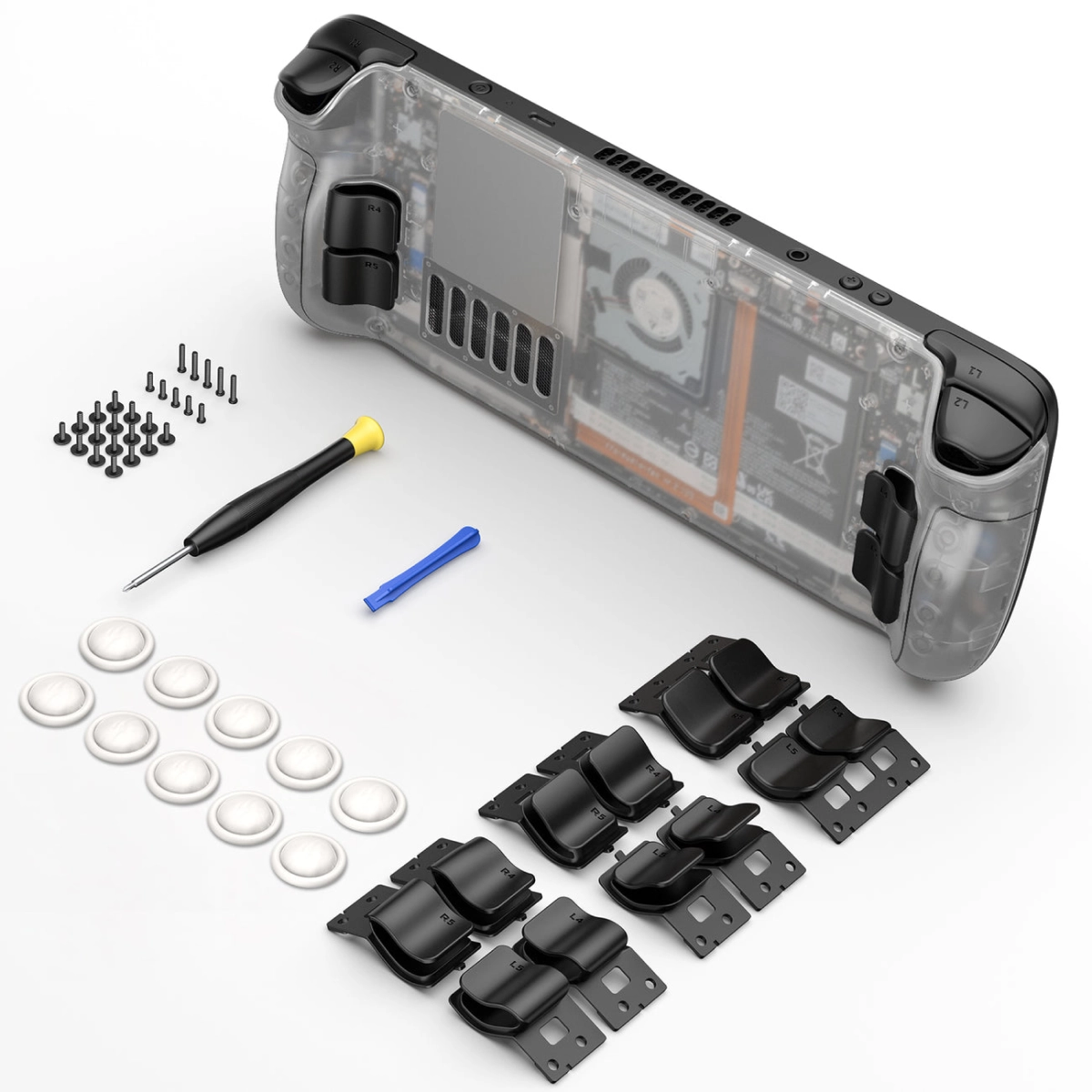 What Is a Steam Deck?
Steam Deck is a portable handheld gaming device designed to bring the power of PC gaming into your hands. Unlike traditional handheld consoles, the Steam Deck is designed to offer a complete PC gaming experience with its built-in gamepad controls, a 7-inch touchscreen, and the capacity to run AAA games. Plus, it serves as a versatile platform suitable for all types of games: indie titles, big-time game franchises, or complex strategy games, Steam Deck has got you covered. Moreover, with the rising popularity of the device, steam deck modding has become increasingly common among enthusiasts. There's a growing community exploring Steam Deck mods and upgrades to further enhance the device's capabilities.
The product was produced by Valve Corporation, an American video game developer and digital distribution company, known for creating iconic games such as "Portal", and "Counter-Strike", and for the development of Steam.
The Valve Steam Deck was released in December 2022 and can be used in multiple ways:
Portable Gaming: The primary function is to offer a full-fledged PC gaming experience on a handheld device so you can play your favorite games anywhere, anytime.
Docked Mode: With a dock, sold separately, it can be connected to a TV or a computer monitor for an enhanced gaming experience and the ability to use external controllers or a mouse and keyboard.
SteamOS & Other Applications: The device runs on SteamOS, a Linux-based operating system developed by Valve, but can also be installed with other game stores or software and used for non-gaming activities such as movie streaming and web browsing.
Hardware & Software
The heart of the Steam Deck is powered by a custom APU (Accelerated Processing Unit) developed by AMD for handheld gaming that combines a powerful quad-core, eight-thread Zen 2 CPU with RDNA 2 architecture for the GPU. This high-performance combination ensures a fast, smooth, and visually rich gaming experience, allowing you to handle the latest AAA games with a level of visual fidelity that rivals many desktop gaming rigs. especially when combined with the right Steam Deck upgrades.
Th unit comes with 16 GB LPDDR5 RAM, providing the necessary high-speed memory for multitasking and the efficient operation of demanding games and applications.
With a 7-inch LCD panel featuring 1280x800 pixel resolution and 400 nits peak brightness, Steam Deck offers sharp, vibrant visuals even in bright environments, while its 60 Hz refresh rate and multi-touch capabilities provide smooth gameplay and versatile interactions with games and apps.
The Steam Deck runs on a new version of SteamOS, Valve's proprietary Linux-based operating system. The interface is optimized for handheld gaming and designed to give you quick access to your games and Steam Community features. However, you can also install other game stores or software, turning your Steam Deck into a portable PC.
The device is equipped with a robust set of inputs, including two thumbsticks, a directional pad, ABXY buttons, two shoulder buttons on each side, and four additional buttons on the rear. The inclusion of two trackpads and a gyroscope further opens the door for innovative steam deck mods and enhanced controls. The unit provides haptic feedback for an immersive gaming experience.
For those seeking enhanced game control on the Steam Deck, we offer an upgraded Joystick Module. Leveraging Hall effect technology, this electromagnetic joystick is not only super smooth but also resistant to stick drift, ensuring precision in gameplay. Boasting a patented design. Additionally, this upgrade is energy efficient, consuming 50% less power than its predecessor, and offers a hassle-free drop-in installation without the need for soldering.
In terms of storage options, the Steam Deck features five options to match different user needs. The base model is equipped with 64 GB eMMC storage running over PCI Express 2.0 x1. For gamers seeking faster speeds and more storage space, the mid-tier variant offers a 256 GB NVMe SSD, and the high-end model ramps up to a 512 GB NVMe SSD. Both of these options utilize the faster PCI Express 3.0 x4.
Mega Modz takes Steam Deck's internal storage to the next level and offers 2 additional models:
The High-End Pro Model, featuring a colossal 1TB NVMe SSD
The High-End Pro Max Model offers a staggering 2TB NVMe SSD
These top-tier models operate using the lightning-fast PCIe Gen 4 x4 Interface. Designed for optimal performance, they come embedded with advanced features such as SLC Cache & HMB, ensuring rapid game loads and seamless multitasking experiences.
All five models maintain compatibility with the M.2 2230 interface, ensuring consistency in the device's internal storage mechanism.
Which Steam Deck Should I Get? Mods & Upgrades
With various available Steam Deck modding services you can fully personalize the look and feel of the Valve Steam Deck via the Custom Creator platform. Let's take a look at all the available custom Steam Deck cases and more.
Starting with the body, you can choose from a variety of Steam Deck skins or hard cases. The Steam Deck custom shell offers different colors and designs to suit your style, while a hard case can give your device an extra layer of protection with a touch of personality.
The analog sticks can be swapped for different colors or even different textures. This means you can choose a pair that best matches your comfort, style, and gameplay preferences. The A B X Y buttons, View & Menu buttons, D-Pad, and Back buttons follow suit. You can choose from a rainbow of colors to make these buttons pop or keep them sleek and professional; it's entirely up to you.
The trackpads can also be personalized. Whether you want to add color or stick to a minimal design, the options are all there. The trackpads are an essential part of the device, offering an additional control scheme, so why not make them just as unique as the rest of your Steam Deck?
The L & R triggers and L & R bumpers aren't left out of the fun either. You can change their colors to match or contrast with the rest of your device. You could opt for bright, playful colors or choose a darker palette to suit your taste.
Finally, round it off by giving your back buttons a personal touch. Be it the Steam Deck cover or a custom Steam Deck skin, let every element of your gaming gear reflect your style and personality.
Is Steam Deck Worth It?
Here are some key benefits of choosing the Steam Deck:
Top Hardware and Design: The Steam Deck's ergonomics and build quality cater to any gamer out there. Furthermore, the design prioritizes serviceability, allowing users to replace the thumbsticks if required - a rare feature in the world of handheld gaming.
Own Operating System: The Steam Deck runs on its own operating system designed for ease of use and efficiency. It allows users to navigate their games and apps seamlessly, ensuring an optimized gaming experience.
Excellent Value for Money: Starting at an impressively affordable $400, the Steam Deck offers exceptional value for its performance.
Thriving Community Support: The Steam Deck is supported by an active community on various forums, including Steam itself.
Versatility and Gaming Variety: With the Steam Deck, your gaming experience extends beyond the device itself, its expansive game library allows you to delve into a rich array of indie titles, retro classics, and AAA blockbusters. An option to change your Steam Deck hard case or upgrade it with a custom skin makes it even more versatile.
Despite the Steam Deck's numerous impressive features, it also has its share of drawbacks.
Poor Battery Life: Under heavy load, it can deplete in just one and a half hours. This is especially concerning when playing AAA titles at mid to high settings, with the battery rapidly depleting at 60 frames per second.
Display Shortcomings: Despite a reasonable resolution and refresh rate, the bezels are slightly too large, and the screen lacks brightness, contrast, and vibrancy. When compared side by side with the Nintendo Switch OLED, the latter's display appears significantly superior.
Not Enough Accessories Included: Despite shelling out for the premium package, buyers still need to purchase a separate USB-C to HDMI adapter to connect the Steam Deck to a TV or monitor.
The Steam Deck has been widely appreciated by the gaming community and industry, particularly for its impressive ergonomics and intuitive control layout. Its lightweight design and sculpted rear shell make it comfortable to hold for extended gaming sessions. The controls, including thumbsticks, D-pad, and face buttons, are positioned in a way that facilitates natural and comfortable gaming, even if their placement may seem unconventional at first glance. The analog sticks are especially lauded, providing an accuracy reminiscent of full-size PlayStation or Xbox controllers.
Another of Steam Deck's standout features is the almost flush rear buttons, impressively integrated into the shell of the device. Despite requiring some time to adapt to, users have found these rear buttons incredibly useful, even opting to use them exclusively in some games.
The Valve Steam Deck's primary competitors are:
Nintendo Switch: Arguably the most popular handheld gaming console, the Nintendo Switch's hybrid design allows it to be used as a handheld device or docked to a TV. Its catalog includes a unique blend of first-party Nintendo games, third-party titles, and indie games.
GPD Win 3: This handheld gaming device from GamePad Digital is essentially a miniature gaming PC, complete with a Windows operating system. It's geared towards those who want a full PC gaming experience in a compact, handheld format.
Aya Neo: Aya Neo is another handheld gaming PC that comes with Windows 10, allowing it to run a vast array of PC games. It features an AMD Ryzen 5 processor and has controls similar to traditional gamepads, making it a formidable competitor.
Once compared to the competitors, Steam's own software makes a world of difference as it offers a console-like experience for users that's smooth and easy to navigate.
Its own OS allows your entire Steam library to be installed, with most games running like a dream. Sure, there might be a few games with compatibility issues, but tricks like 'Proton', a compatibility layer, allow you to run Windows games on this Linux-based system.
SteamOS also leans heavily on community involvement. Users can upload their own custom controller profiles and key bindings.
The area the Steam Deck loses to the Nintendo Switch is the screen, as NSW OLED is much superior in color vibrance and peak brightness.
Overall, the deviceis a cutting-edge handheld gaming computer that offers the latest in hardware, software, and design aesthetics, while promising a seamless gaming experience for users on the go. Do not miss out on owning one of these!