Build your own Xbox One Controller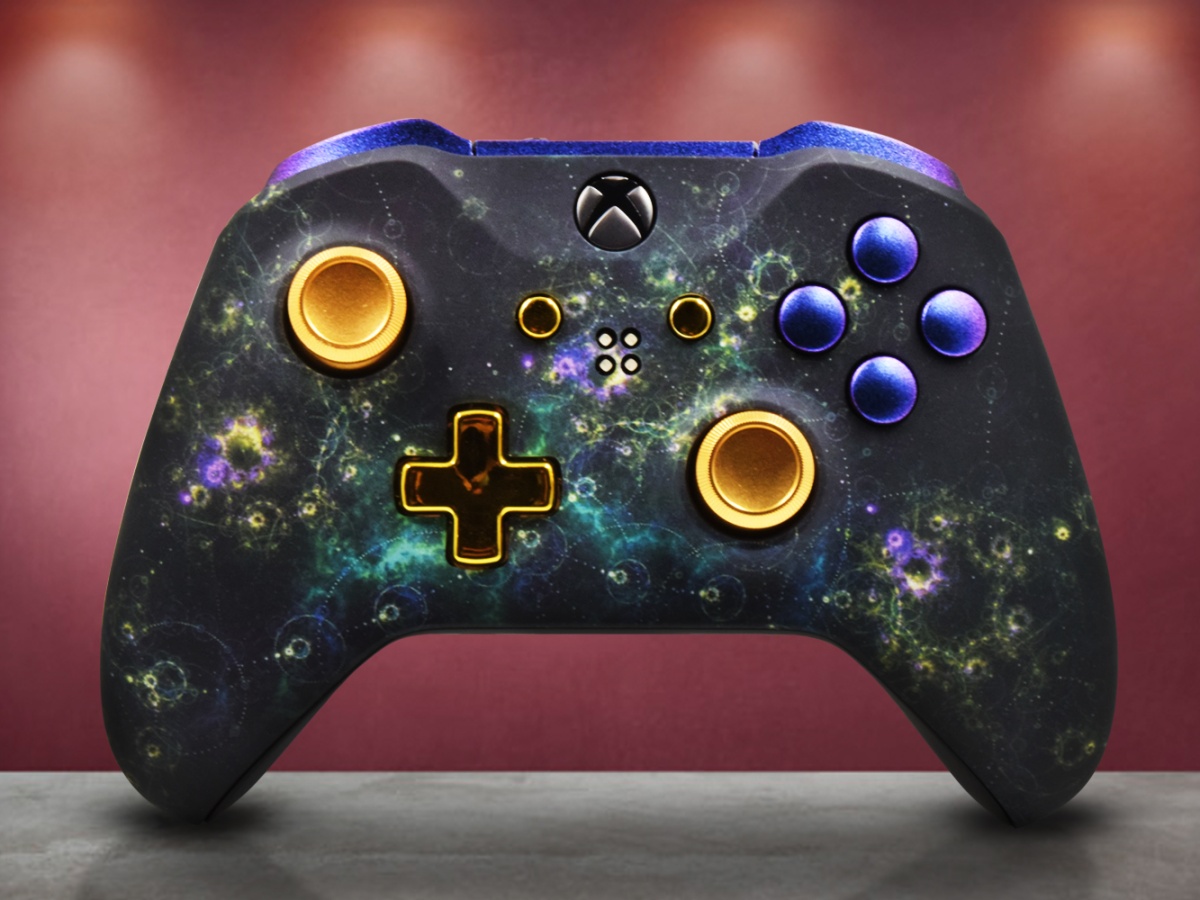 Xbox One Wireless Controller
With innovative technology delivered by the Xbox One S controller, released in 2016, you will boost your gaming performance to the next level and take advantage of all features that one of the most advanced Microsoft gaming pads has to offer. Xbox One S remote comes with a wireless and Bluetooth connectivity option so that you can easily pair the product with any gadget like a PC, a tablet, and even a phone. Another important upgrade offered by the Bluetooth feature is a longer, doubled range compared to the previous Xbox One controller model. The pad features a slightly redesigned shape that is referred to as being more "streamlined", a newly textured grip area for better comfort, and buttons remapping availability via Xbox Accessories App on Xbox One and Windows 10 systems. Sensitive triggers and thumbsticks along with an improved d-pad provide a better response level and help to have more control in the game. The product fits hands of all sizes.
Your Mega Modz Xbox Series X controller is available to be customized to your liking via exclusive design and performance upgrade options. The next-gen controller for the Xbox Series X system comes fine-tuned even further and now features a redesigned d-pad, gripped components for better usability, improved cross-device connectivity, and a simple way of sharing your gaming moments via the added Share button.
Customize your controller
The controller customizer allows you to equip your gadget with both functional and design features to get a truly custom-made Xbox One remote that will meet your performance expectations and won't look like other controllers out there. It is suggested that you visit our Informational Guide For Buyers that will provide you with the basic knowledge on how to choose the right options for the product.
Customization Extras
Our advanced platform offers an ability to completely configure the look of your remote and share it with your friends at any time. Creating a personalized device is a fun and exciting process that is completed in several steps with each step showing you available options for buttons and parts as you scroll down.
Remote Body
This tab will show you all available Xbox One designs divided into groups for your convenience.
D-pad
Select from different solid and chrome d-pad colors.
ABXY and Xbox Buttons
Adding custom colored buttons will greatly improve the look of the gadget and emphasize the colors of the shell.
Thumbsticks
Aluminum thumbsticks look and feel great and are definitely a must-have.
Grip Panels
This is a great option to add as side panels are a large part of the controller and adding a color of your choice to them will greatly personalize an overall look. By selecting a rubberized version you will also get extra anti-grip protection.
Battery Cover
The back of the remote is equally important as the front. Add a custom-designed battery cover for a stylish look.
Accessories
A variety of useful accessories is offered at this tab that will help you enjoy your new toy even more.
Specifications
General

Product Name:

Xbox One S Wireless Controller

Color/Design:

Choose Your Own

Compatible Platform(s):

Xbox One, Xbox One S, Xbox One X, PC, iPhone, Android

Connectivity Technology:

Wireless

Wireless Range:

40 feet

Bluetooth connectivity:

Yes

USB Receiver:

Yes

Included Accessories:

Not Available

Required Battery:

2 x AA type

Haptic Feedback:

4 Rumble Motors

Rumble Vibration:

Yes

Model Number:

TF5-00001

UPC:

889842084320

Feature

Customization App:

Xbox Accessories app available on Xbox One and Windows 10

Headset Jack:

3.5mm

Remap Buttons:

2 "Programmable Remap" Buttons are Optional

Paddle System/Pro Buttons:

Not Available

Interchangeable Components:

Interchangeable D-Pad Is Optional

Hair Trigger Locks:

2-Position Trigger Lock Is Optional

Adjustable weight:

Not Available

Indicator Light(s):

4 LED Lights Mod Indicator

Illumination:

Not Available

Modified:

Optional

Mod Switch:

Optional

Rapid Fire Mod:

Optional

Special Mods:

Optional

Turbo Buttons:

Not Available

Macros:

Not Available

Warranty

Standard:

90 Days

Extended:

1 Year

Other

Choking Hazard Warning:

Yes, If Interchangeable Components Added

Assembly Time:

1-7 Business Days