Sony PlayStation 5 DualSense Wireless Controller - Midnight Black
Model Number: CFI-ZCT1W Manufacturer Part Number (MPN): 3006392
About this product
Feel the Action with Haptic Feedback and Adaptive Triggers
Unleash your gaming experience with the Midnight Black Sony PlayStation 5 DualSense Wireless Controller. The controller's haptic feedback feature lets you sense and feel every action, making you more immersed in your game than ever before. With adaptive triggers, you'll feel the tension of your actions in-game, providing you with heightened accuracy and precision.
Enjoy Seamless Communication with Built-in Microphone and Headset Jack
The controller comes with a built-in microphone and headset jack, making voice communication easier. Speak with your teammates without the inconvenience of wearing bulky headsets. The headset jack also allows for private audio experiences, so you can immerse yourself and get lost in your game.
Get in the Game with Motion Sensor
The DualSense Wireless Controller comes with built-in motion sensors that track your movements and engage you in the game like never before. Feel like you're a part of the game and get lost in the action.
Available in Midnight Black
The sophisticated black color of the controller brings a stylish and sleek look to your gaming equipment.
Order Your PS5 DualSense Midnight Black Controller - Today!
Don't settle for an average gaming experience - enhance it with the PS5 Midnight Black Controller. Delivering unparalleled immersion and accuracy, this controller is a must-have for any PlayStation enthusiast. Order now and take your gaming to new heights!
Product Details
| | |
| --- | --- |
| Item #: | 00427 |
| Manufacturer: | SONY |
| Country of Origin: | China |
| Product Dimensions: | 2.6 X 6.3 X 4.2 Inches |
| Shipping Weight: | 1 pound/16 ounces |
| Product Dimensions: | 2.6 X 6.3 X 4.2 inches |
| Shipping Weight: | 1 pounds / 16 ounces |
| Customer Reviews: | 6 customer reviews |
| Date first available at Megamodz.com: | 9/26/2022 1:25 AM |
| Product Warranty: | For warranty information about this product, please click here |
| Shipping Info: | For detailed shipping information please click here |
Specifications
From The Manufacturer
Heighten Your SensesTM
Discover a deeper, highly immersive gaming experience1
that brights the action to life in the palms of your hands.
Bring gaming worlds to life
Haptic feedback2
Feel physically responsive feedback to your in-game actions with dual actuators which replace traditional rumble motors. In your hands, these dynamic vibrations can simulate the feeling of everything from environments to the recoil of different weapons.
Adaptive triggers2
Experience varying levels of force and tension as you interact with your in-game gear and environments. From pulling back an increasingly tight bowstring to hitting the brakes on a speeding car, feel physically connected to your on-screen actions.
Find your voice, share you passion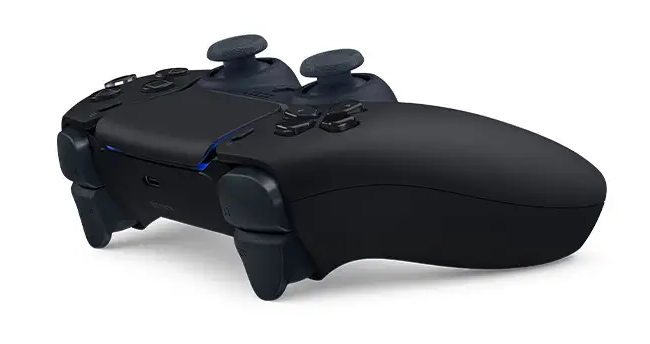 Built-in microphone and headset jack
Chat with friends online3 using the built-in microphone — or by connection a headset to the 3.5mm jack. Easily switch off voice capture at a moment's notice with the dedicated mute button.
Create button
Capture and broadcast3 your most epic gaming moments with the create button. Building on the success of the pioneering SHARE button, "create" offers players more ways to produce gaming content and broadcast their adventures live to the world.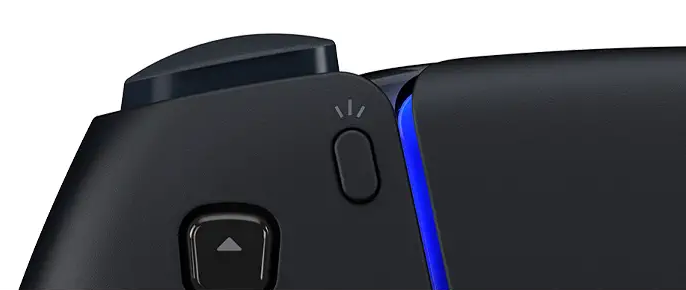 A gaming icon in your hands
Signature comport
Take control with an evolved, two-tone design that combines an iconic, intuitive layout with enhanced sticks and a reimagined light bar.
Familiar features
The DualSenseTM wireless controller retains many DUALSHOCK®4 features, returning for a new generation of play.
Build-in battery
Charge and play, now via USB Type-C®4.
Integrated speaker
Select games take on an extra dimension with higher-fidelity sound effects bursting from the controller.
Motion sensor
Bring intuitive motion control to supported games with the built-in accelerometer and gyroscope.
Compared to DUALSHOCK® wireless controller.
Available when feature is supported by game.
Internet and account for PlayStationTM Network required.
Cable not included. To connect or charge the controller use the USB cable supplied with the PS5TM console.