MegaModz Controller For Xbox Series X Compatible With COD Modern Warfare 2
About this product
Call of Duty Modern Warfare II 2022 comes with campaign, multiplayer and a co-op Special Ops mode. Improved graphics, vibrant colors, optimized map flow, new weapons selection is what you will experience during the game. The battle royale adventure comes with Warzone 2 that MW2 connects to. That's a lot of content to play and the Xbox Series X Multi-Mod Controller loaded with COD MW2 2022 compatible mods is the product you need to progress quickly.
The controller comes with the Reinforced pack including 12 mods highly effective in the game. Mods aimed at unleashing the true power of your semi-auto and single shot weapons are Rapid Fire, Auto Burst, Akimbo and Dual Trigger. Each of them has different mechanics, but all will improve your firing power and get you more kills.
To make sure you play 100% your way, you get to change between several default settings, use Tactical and Standard sub-modes, and program your own settings. All shooting mods are placed on the LED slot 1 on your controller.
Mods not affecting your shooting capabilities, bring special skills to your character movement arsenal. You can select from abilities like super fast weapons reloading, non-stop sprinting, more precise quickscopes and others. All non-shooting mods are located on LED slots 2 - 4.
And remember, with our Xbox XS MW2 compatible controller, it's you who plays the game, and not the game plays you.
Product Details
| | |
| --- | --- |
| Item #: | 00433 |
| Manufacturer: | Microsoft |
| Country of Origin: | China |
| Product Dimensions: | 6 X 4 X 2.47 inches |
| Shipping Weight: | 1 pounds / 16 ounces |
| Customer Reviews: | |
| Date first available at Megamodz.com: | 11/4/2022 11:30 AM |
| Product Warranty: | For warranty information about this product, please click here |
| Shipping Info: | For detailed shipping information please click here |
Specifications
From the Manufacturer
IMPROVE YOUR KILL / DEATH RATIO FAST
Cutting edge modifications for Xbox XS gaming controllers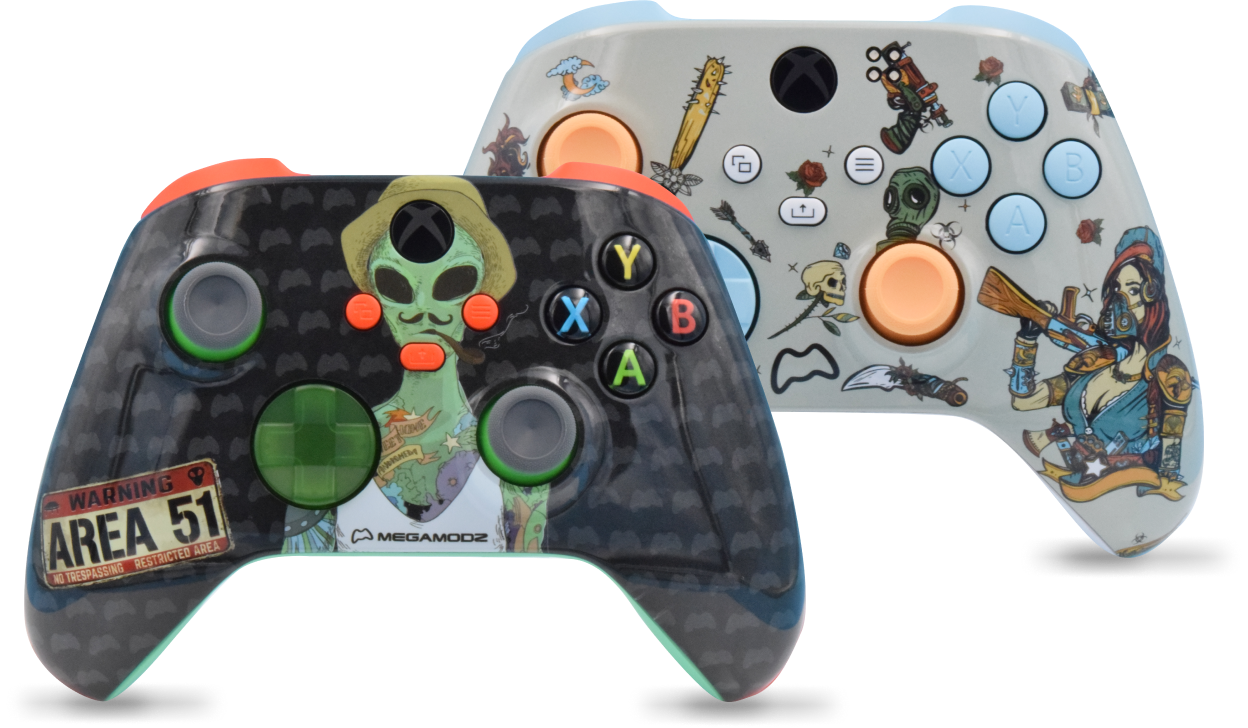 11+
Years in business

100,000+
Customers Served

180,000+
Controllers Built

20+
Performance Upgrades
14 CONTROLLER MODS FOR EXTRA SKILLS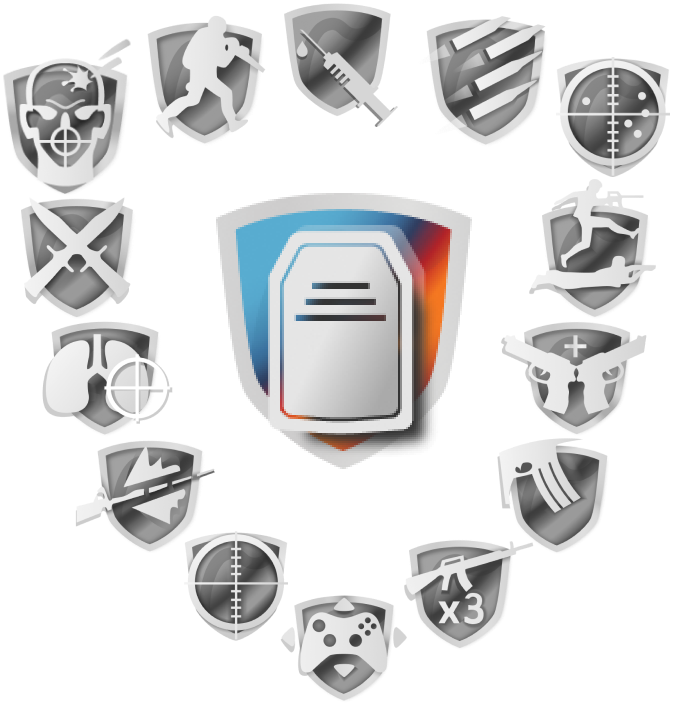 Aim
Better

Spot the
Enemies

Maneuver+
ShooT

Easy
Quickscopes

Aim
Better

Shoot
Faster
COMPATIBLE GAMES - COD, APEX, FORTNITE, BATTLEFIELD, DESTINY, PUBG
PROGRAMMABLE BACK
BUTTONS FOR PERSONALIZED CONTROL
Traditional Button Remapping
4 Ergonomic Buttons
Custom LED Indicator
COMPATIBLE WITH ALL VIDEO GAMES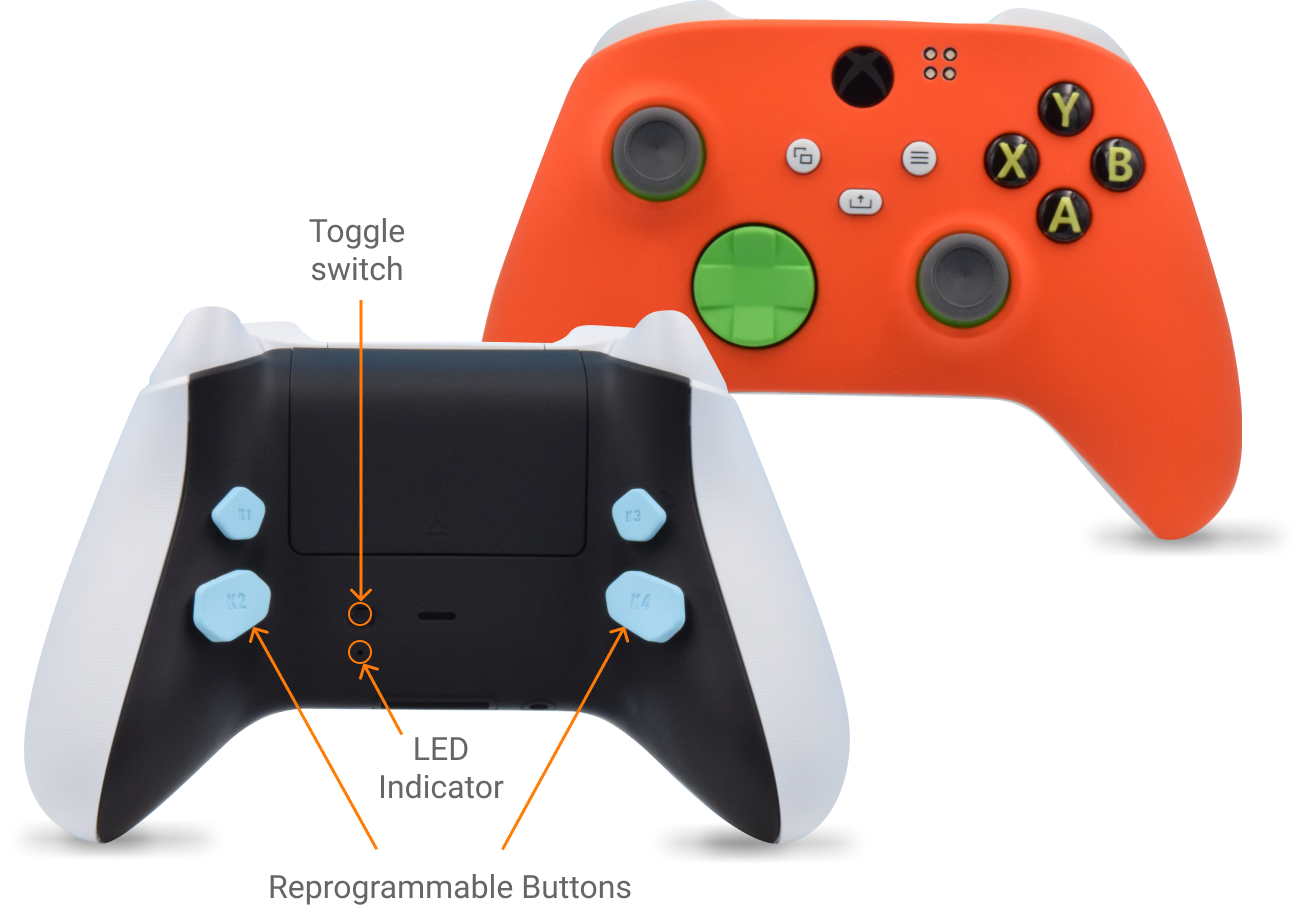 MECHANICAL SHOULDER & FACE BUTTONS FOR FASTER INPUT AND RESPONSE TIME

Increased in-game
control by 200%

4X Faster
input

More precise
feedback by 120%

4X Faster
response time
MEGA MODZ VS THE OTHERS
Hardware Upgrades Only Controller Brands

Other Modded Controller Brands
Marco inputs including Tubo
Popular pre installed mods
Exclusive mods (Armor Repair Assist, Auto Heal)
Hardware component upgrades
No pc or app needed to operate
Fan Community via own Forums