Meet The All-New Mega Modz PS4 Macro Controller - Personalize Your Gameplay Like Never Before
Spoiler Alert It's not hacking It is setting up instructions on Macro Buttons.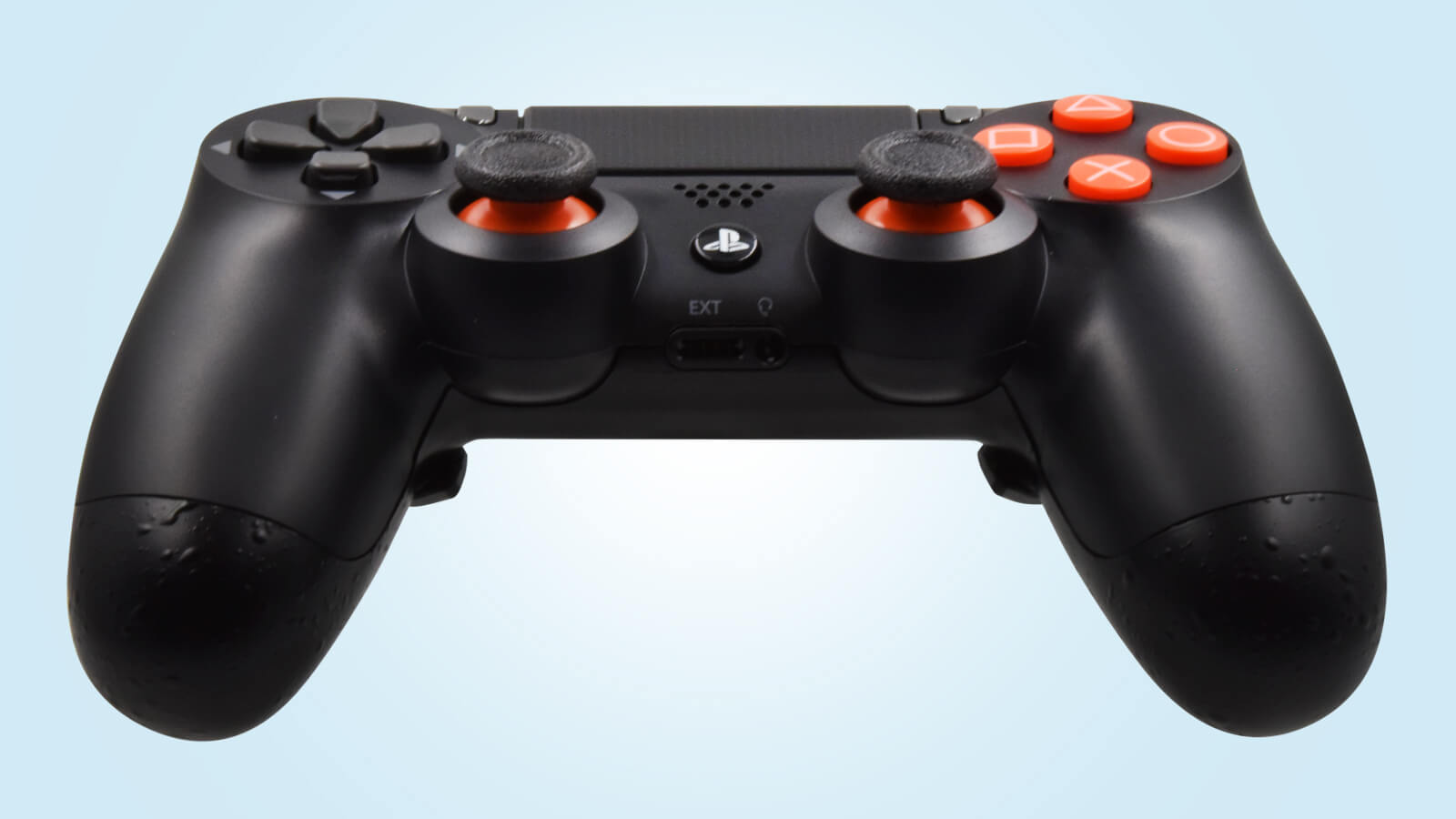 We are happy to announce a new exciting product our team has thoroughly been working on - the PS4 Macro Controller from Mega Modz. We have been known for producing state of the art custom and modded controllers for many years and recently started getting a lot of requests for Turbo Controllers. These are gaming pads with Turbo functions or Turbo Buttons that can be programmed to perform specific combos on a single button press. Our engineering and tech department decided to take it further and come out not only with turbo abilities but create an exclusive functionality that will allow having many additional exciting features that we called the Mega Modz Macro Remap.
You may wonder why you need this particular product and how it will take your gaming experience to an absolutely new level. Well, let's say that here, in Mega Modz, we believe a gaming controller should serve the user as an advanced gaming tool and produce lots of fun. The only way it can deliver both is when used as intended - to play games and better the experience without having to spend time on anything else. Therefore, the two main problems that we were committed to solving were a customization process user-friendliness and non-game-specific functionality. Both have been successfully achieved.
The Macro Remap Controller offers "on the fly" ability to customize macros with every programming operation being done through existing controller components such as stock and macro buttons, and a custom LED Indicator. It is a PS4 Pro Wireless Controller that doesn't require any additional software program for personalization, there is no need to connect it to a PC via Bluetooth or USB cable and spend hours figuring out programming steps and writing scripts. Furthermore, each macro function can be tailored to any game and any specific situation to give you maximum flexibility and freedom.
Before we proceed to the technical part, let us walk you through some terms you will need to know to better understand the functionality and capabilities of the controller.
— What are the input and output?
The input is basically a button press, a command that you give to your controller to be transmitted to the game. Inputs can vary in duration: a button can be simply clicked (100 - 150 ms) or it can be held down for a longer period of time.
The output is an action in a game translated from an input. For example, if you press "Fire-Button" on your controller (input), the character in the game starts shooting (output).
— What are macros?
A macro key or a macro button is a shortcut of button presses sequences that lets the user utilize multiple buttons presses easily on one Macro Button press.
— What Macros can be set up on a Mega Modz Controller?
Almost all controller stock button inputs can be paired and further configured on our Macro Mod. Every paired button can become a Turbo button (auto button mashing) or be able to perform double or triple tap automatically. The modchip can also hold down a paired button for any period of time with the duration of button presses to be adjusted in a programming mode. A simple button remap can be utilized on the product as well.
The controller is priced at $139.99 for a standard configuration and can be further personalized with different colored or textured skins, buttons and sticks to be appealing to your eye.
What Is The Difference Between a Macro Controller And a Modded Controller?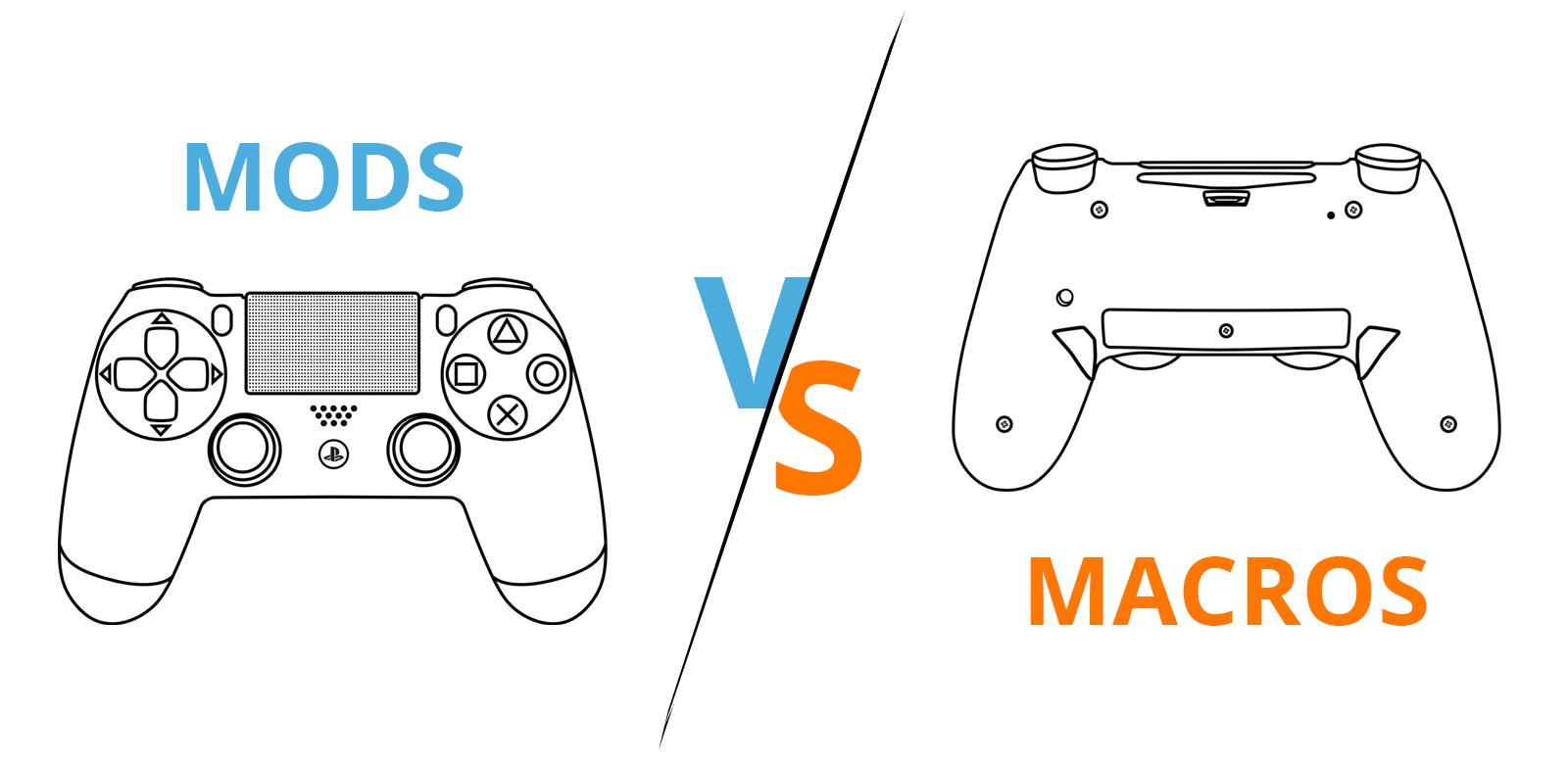 In a general sense, if we are talking about modding as a service done to a gaming controller, there is no difference between the two, as the Macro Controller gets modified using similar components such as modchip, LED Indicator and a mod button. Therefore, the macro controller is considered modded as well. The right question to ask here is what the difference is between Macros and Controller Mods. Some time ago we put together an educational article explaining common user's concerns, debunking myths and covering some other aspects of a modded controller function. If you haven't done so yet, it is well worth checking this article out.
While gaming mods and macros are two different functions, they have a lot in common. We can say that mods are pretty much pre-configured fixed macros with little to none options in terms of their programming. Usually, they are set up on existing controller buttons, and the only way to change it is to configure another button layout on the controller. Even though it sounds customizable enough, in reality, there are a lot of limitations when it comes to mods execution on different games. Most of the mods on the market right now have been created for FPS games and Call Of Duty in particular. All the mods are tied to the game button layout, and if the layout changes, the features simply lose their purpose and become irrelevant. By no means, we imply that not being flexible equals useless. Mods alone can give the user a great advantage over the opponents if used in First Person Shooters. Just think Rapid Fire or Drop Shot or many other popular features that have conquered gamers due to extra abilities added to their character's performance!
Macros, on the other hand, are very customizable features and can mimic many existing pre-configured mods. Another advantage of Macro Buttons, in particular, is the ability to set up macros on additional buttons and not interfere with standard game inputs. Here is what we mean by that: when you execute mods - you press a stock button, this particular stock button has a modified input now. Whenever you need to execute a standard input pressing the same button, you will have to disable a Mod first. This seems troubling since you lose precious time and concentration on that. As you already know, being a good player is all about timing, and these extra seconds can cost your character life. The good news is that being able to create modified inputs (macros) on additional buttons solves the issue completely. Here is a quick example: if you pair a Fire-Button to a Macro Button and make it a turbo one, you can enjoy Rapid Fire function on an additional button when your character is equipped with semi-auto or single-shot weapons or can press a stock fire button when a fully auto gun is in your arsenal (since Rapid Fire is not effective for this type of weapons). Voila!
The bottom line is that although mods are still a great option for FPS games, macros give the player freedom that couldn't have been achieved using mods alone. With macros, you can let your imagination go wild and really explore your inventiveness as you have no boundaries creating your very own personalized gaming experience.
Mega Modz Macro Controller Vs External Macro Adapters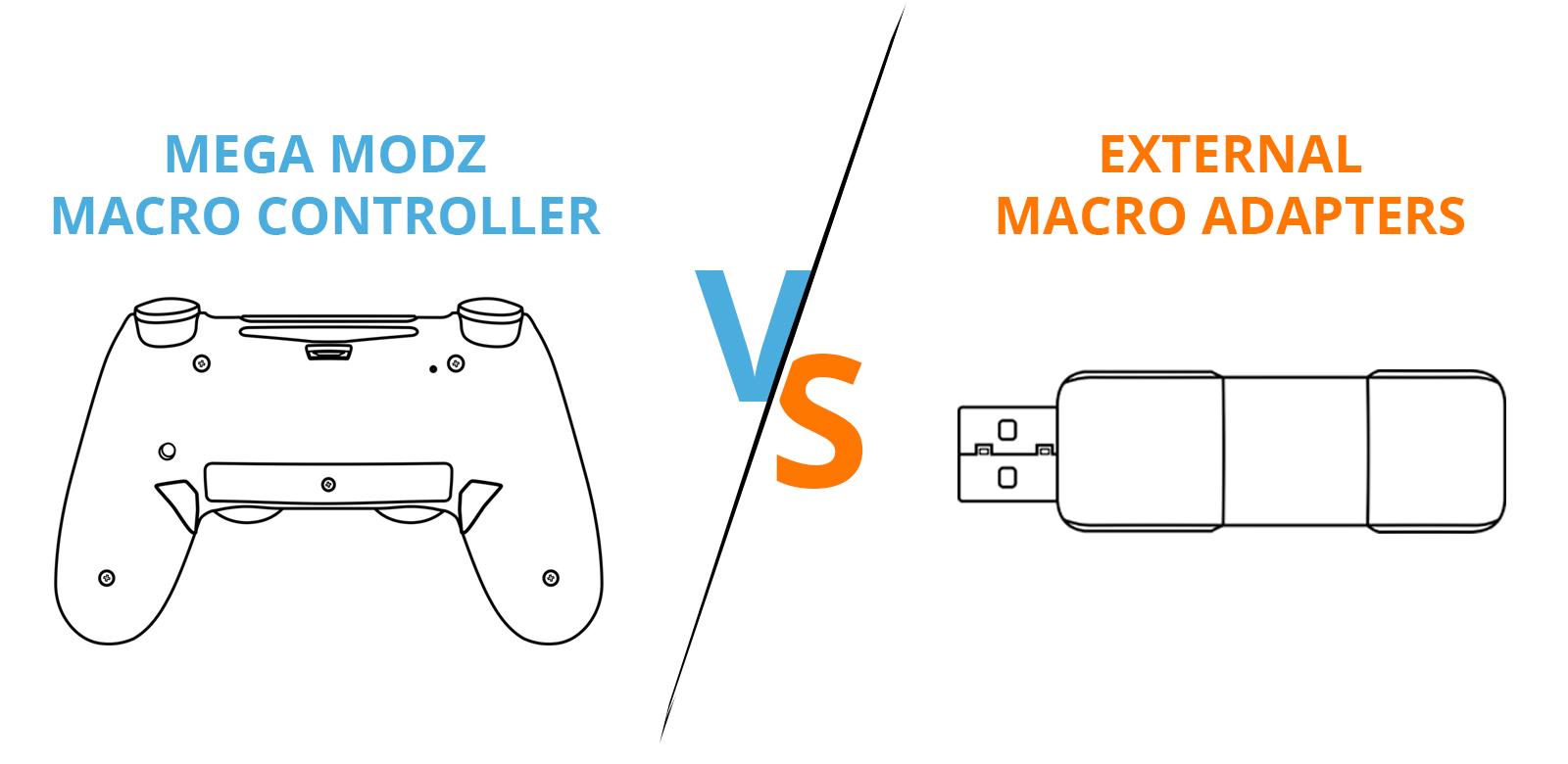 In case you are out of the loop about external macro adapters, you don't want to skip this paragraph. In a nutshell, there are two products on the market currently. The first one is Cronusmax, a cross-compatibility gaming adapter. It's a USB device that lets you use nearly any controller with nearly any PC or gaming system. It also comes with software that allows creating macros, however, you have to invest a lot of time and brain energy in learning the software program and be able to write scripts for macros.
If you are a regular user and that sounds complex and intimidating already, you may want to consider the Macro Remap option offered by Mega Modz. It comes with a simple setup allowing for every controller button to be assigned to the Macro Buttons, further configured and customized in a matter of seconds. Every configuration automatically gets saved and can be retrieved as fast as 2 seconds. But props to the Cronusmax for being a powerful gaming controller converter allowing the user to connect a PS4 controller to Xbox One and vise Versa among other gaming systems.
The second product offering similar functionality is the external paddle system called PS4 Strikepack F.P.S. Dominator developed by Collective Minds. It is a controller adapter that ads tournament button remapping option to its functionality as well as preset gaming mod packs that can be transferred from the software. Keep in mind, that downloading a firmware is required as well as connecting the device to a PC. The process of configuring mod packs also gets overwhelming, and if you prefer to play games instead of working your butt off understanding and operating the customization app, you would probably be better off with more simple user experience - the one that can be found on a Mega Modz Macro controller. Don't get us wrong, the Strikerpack is an awesome product that offers tons of customization options and comes out being relatively inexpensive. But don't get tricked by the device price, which is $40 depending on a retailer, as the overall cost may go up over time if you decide to purchase MODPASS, an annual subscription service that will cost you $14.99 a year. Even though the Macro Remap doesn't offer as many customization options as the Striker mod pack, it may completely satisfy your gaming needs once and for all.
What Can Macros Do For a Gameplay?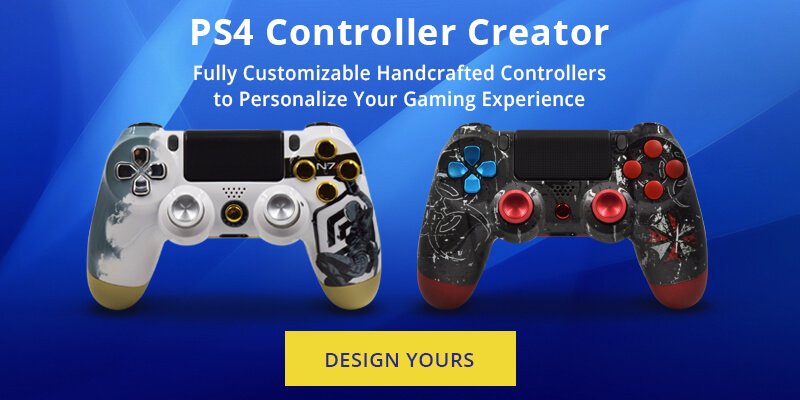 Now that the technical part is over with, you may still have some important questions left. Let us clear your doubts by answering the top 3 inquiries we get from users when it comes to a modded gaming gadget of any kind.
— Is it legal to use the Macro Remap?
The answer is yes. It is 100% legal, the Macro Remap functionality can only do as much as you can do with the stock controller buttons and your fingers but in a much more efficient way. Basically, it is a replication of the same button press by the user again and again in a super fast and timed manner.
— Is using a macro controller considered cheating?
The only idea that was driving us when working on the product was to help users to have even more fun while playing their favorite games. And we can say without boasting of it, that we've succeeded to build a product that is pure joy. Although some users will complain about unfair advantage over opponents while using the macro controller, it is worth mentioning that turbo controllers have been around since Xbox 360/PS3 times and many gaming pad brands have been licensed by Sony and Microsoft.
— Is Macro Controller worth getting?
The answer depends on whether you are a real pro or a casual player. If you are a very advanced gamer, then you probably won't need a macro controller, but if you are a casual player, a macro controller will help you to decrease the gap in gaming skills between you and a more skillful opponent, not to mention all the fun this controller brings.
Would you like to get one, what games you would want to try it on? Please share your thoughts in the comment section below.
Shop PS4 Macro Remap Controllers On Amazon