Ranked: The 5 Best Xbox One Modded Controllers - 2018 Review
The article talks about 5 best modded controllers on the market for Xbox One, their advantages, specs and pricing.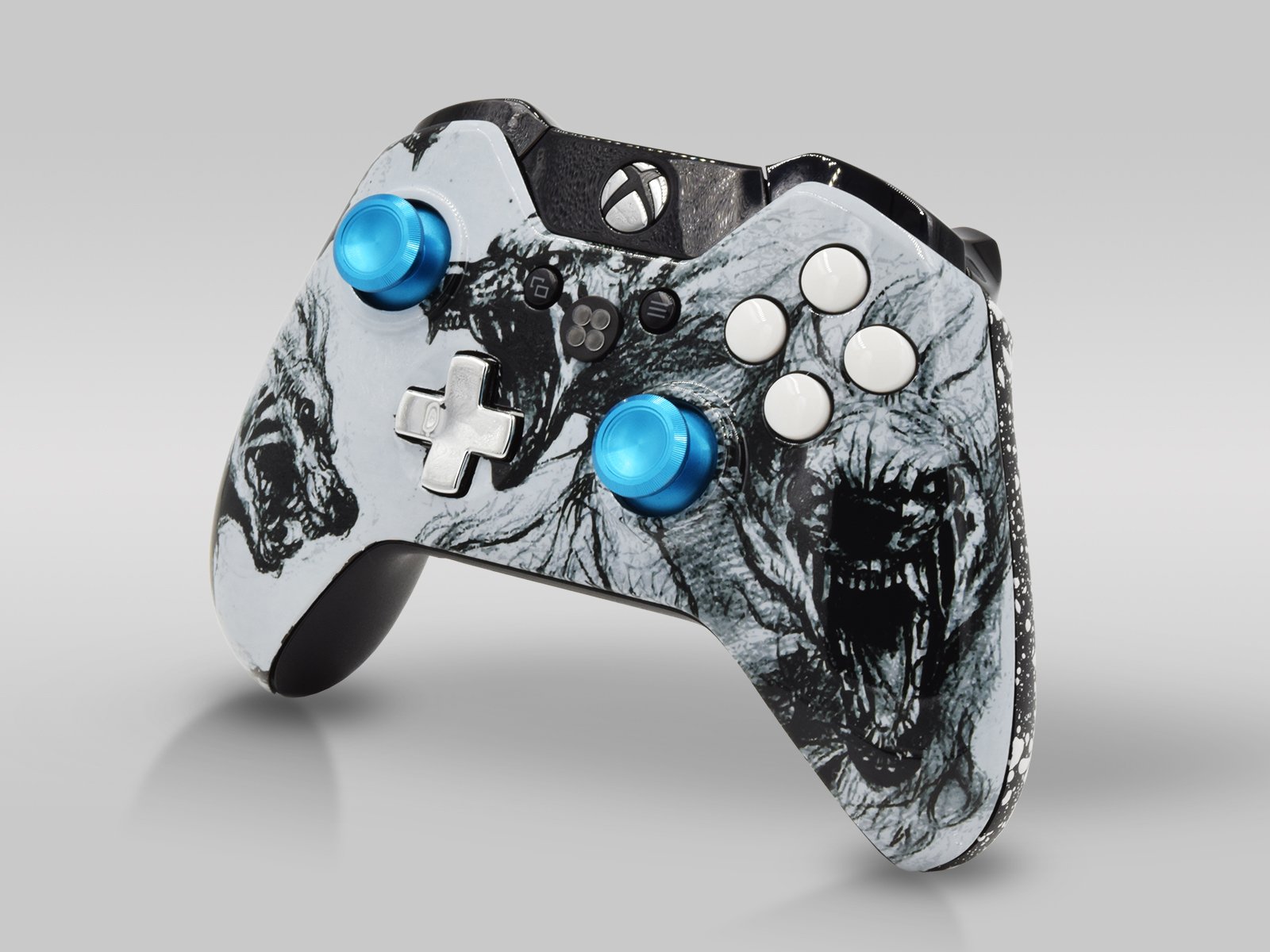 Video game industry offers tons of delightful digital content to everyone who wants to enjoy it. Regardless your age, beliefs, sex, politic and religious views, you will always find something to click with, and the next thing you know, you are 100% immersed in the world of virtual reality. Modern gadgets produced by Microsoft, Sony, Nintendo, and other companies ensure amazing user experience and continue to spark gamers' interest in new products.
Modded Xbox One controller is a gaming pad which performance has been enhanced via an installed modchip and other custom options. Also referred to as Xbox One Rapid Fire Controller, it comes with a wide variety of extra functions you may find useful in your gameplay.
Another relevant popular inquiry on search engines is "Modded Xbox One Elite Controller", since this gamepad by Microsoft won fans' trust immediately upon the release, and it keeps being in high demand.
And, lastly, If you ever started typing "Modded Xbox One…" you would have noticed Google suggesting to add the word "aimbot" to the phrase. The story about Xbox One Modded Controller Aimbot is one of the sweetest online myths that still has not been debunked. The best way to get a good understanding of all three products and their technical specs is to read a great expert summary also available on our blog.
In this review, we will speak about the best Xbox One modded controllers that money can buy on the current market, as picking the right product today is quite a challenging project. The industry that enormous can easily confuse and scare off any buyer by the limitless choice of options offered. Many online product reviews cover gaming pads, sold on Amazon and similar platforms, are not very helpful for the buyers. We will be talking about hi-end, state-of-the-art Xbox One modded controllers here that are available via a dedicated online store and can't be found on sites offering anything from socks to artifact coins.
The professional team working for one of the most reputable modding companies - Mega Modz Planet, gathered together to deliver the readers the complete top 5 Xbox One Modded Controller List. Our customer care reps, technicians and editors thoroughly tested a lot of 2018 controller models to give you their expertise and help with choosing the best Xbox One gamepad for your budget and needs. You may be 100% confident that each out of 5 products that made it on the list has been carefully reviewed and given the overall score based on the criteria below. Here are 4 factors that affected the ranking:
1. Performance
The main reason to buy a modded controller is a wish to improve the gaming skills of your character and make a difference in your ratings. Controller performance is its ability and functionality to level up your gameplay via special mods and features added.
2. Universality
Regardless a super advanced functionality a controller may be offering, a gadget will have no practical use if it's not compatible with the games you play. A product universality is its compatibility with popular games on the market.
3. Customer Feedback
User experience is what it ultimately comes down to. This criterion is based on the reviews of the actual buyers and their experience using the product as well as the feedback from social media reflecting customers opinions on the gadget design.
4. Value For Money
Justification of the price is as important as the performance of the product. We measured price vs quality to give you an objective assessment of what you get for your buck.
Before we take a more detailed look at Xbox One mod controllers that outperformed the rest, here are a couple of things for you to know to clear off any confusion. In this review, you will see the Xbox One Elite Controller that is not modified in terms of additional modchip installation, but it definitely deserves to be on our list. It is a highly functional device built for pro gamers featuring dozens of options to regulate product responses and performance. Coming with built-in software customization options and a variety of swappable components, the gamepad simply doesn't need to be modified any further. It's already perfect as it is, the only beneficial enhancement, in our opinion, would be custom faceplates.
Another contender, Resident Evil custom-designed Xbox One S Controller, is also not upgraded with a modchip, but it has been given credit as it features several hardware improvements. that makes it stand out from the competition. Our team is currently working on Xbox 1 S controller version modchip: it will have the same functions as its predecessor with a couple of software tweaks. More info on that will be revealed upon release so stay tuned!
Now let's unpack the Top 5 Xbox One Modded Controllers List starting with the fifth place.
5TH Place
Carbon Fiber Xbox One Rapid Fire Controller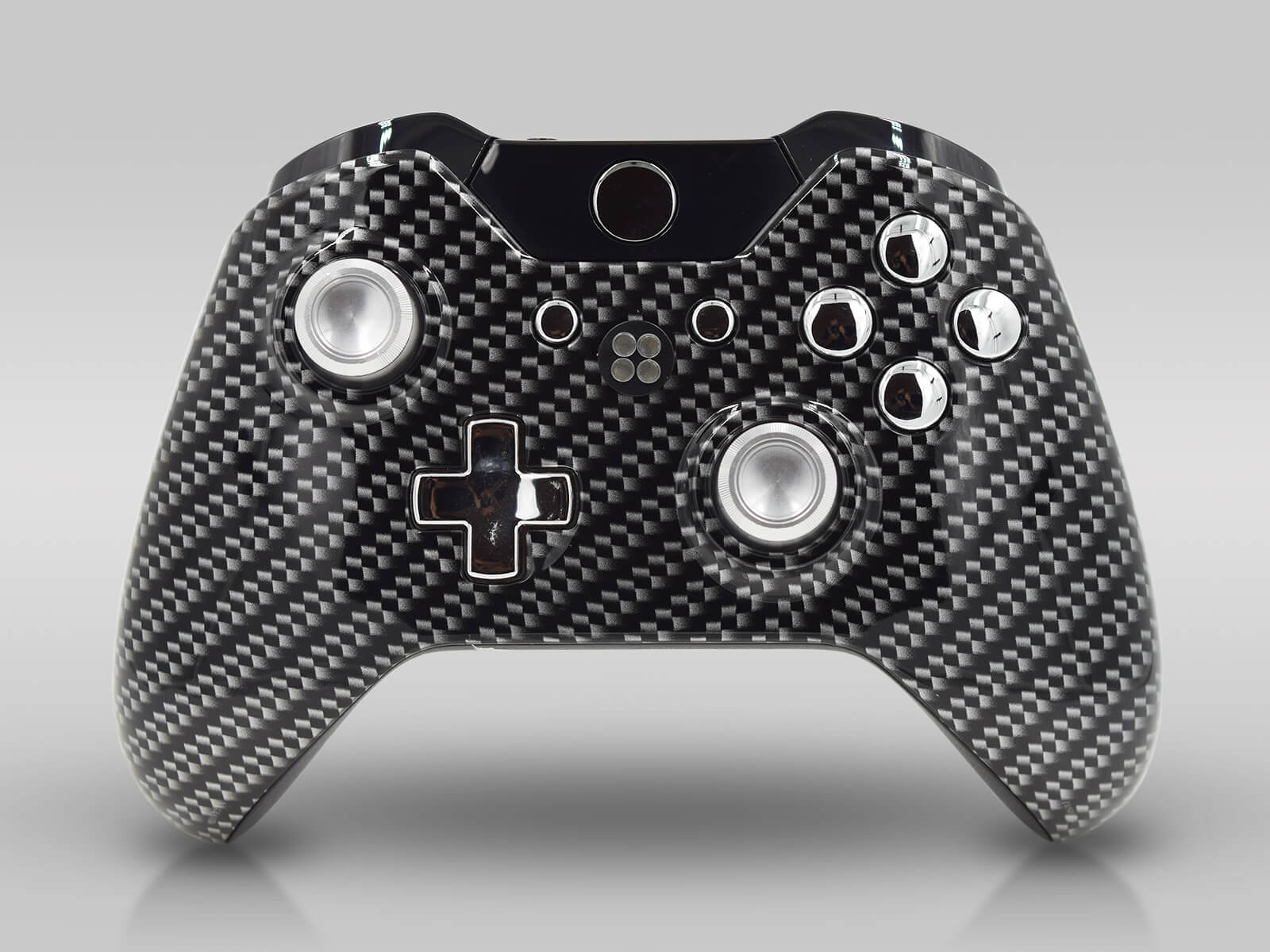 On the fifth position is a hydro-dipped modded product featuring all times customer favorite Carbon Fiber pattern in classic black and grey colors. The product look has been enhanced with aluminum and chrome silver buttons and parts, while the default functionality has been diversified via our latest Rapid Fire technology. Rapid Fire is compatible with practically every shooting game on the market such as Call of Duty, Battlefield, The Division, making the controller a pretty universal gaming pad. Taking into consideration the total price of $113.92, it gets a high score in the "Value for Money" category and is recommended to everyone appreciating manly designs and basic functionality.
4TH Place
Xbox One S Controller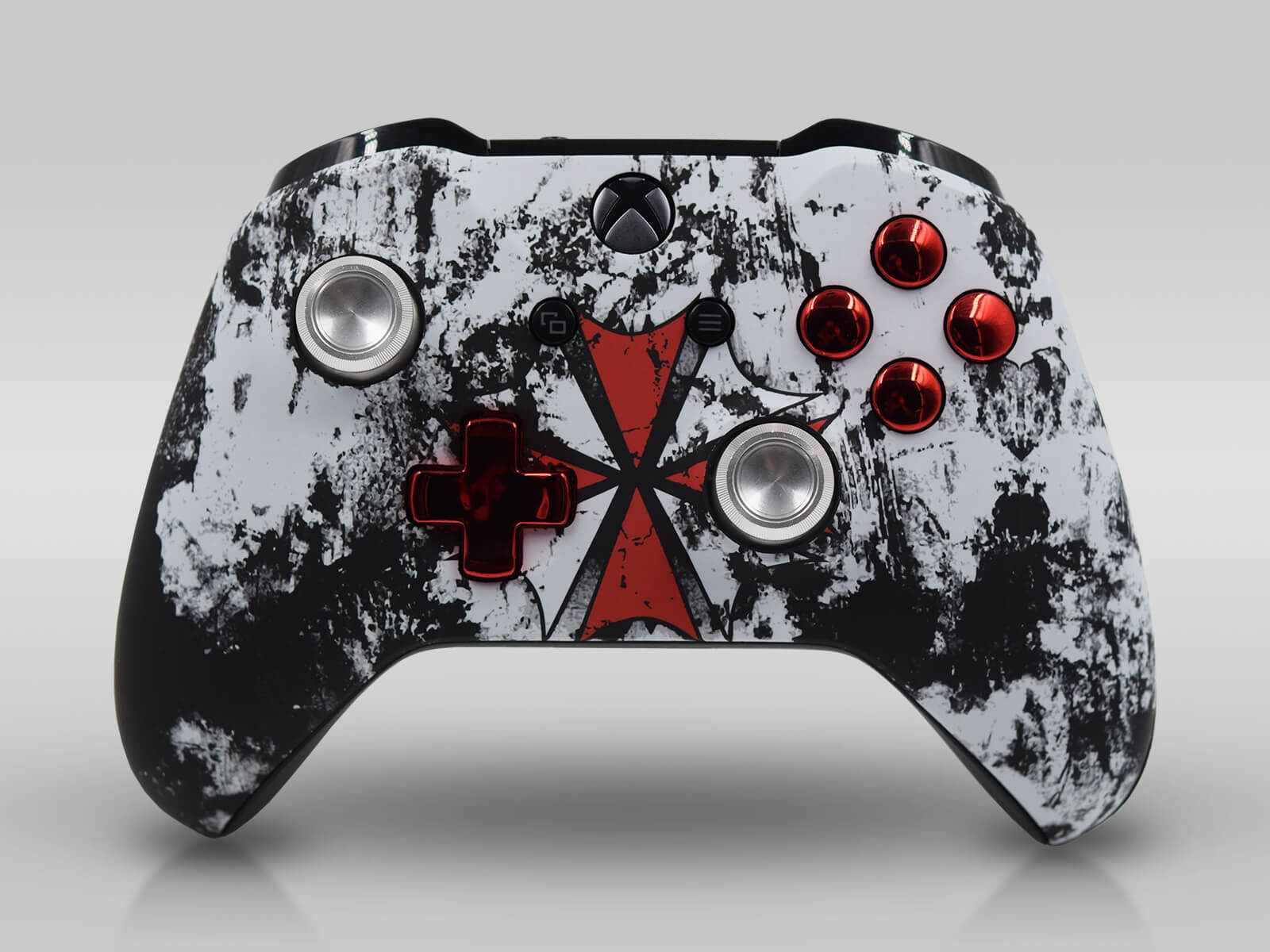 The next product on the list scores the highest among other controllers in the "Value For Money" category with its less than $100 price tag, but this is not why it made it to the top 5. Its amazing look featuring a custom Resident Evil design with a carefully thought out mix of chrome red and silver buttons, analog sticks, and the d-pad have generated a large number of likes and shares on various social media pages. This product is an S version of Xbox One gaming pad that comes unmodded in terms of gameplay enhancing perks, and it makes it a winner at the Universality category as well as it can be used with any video game on the market just like a regular controller.
3RD Place
Skull Heads Design For Xbox One Elite Controller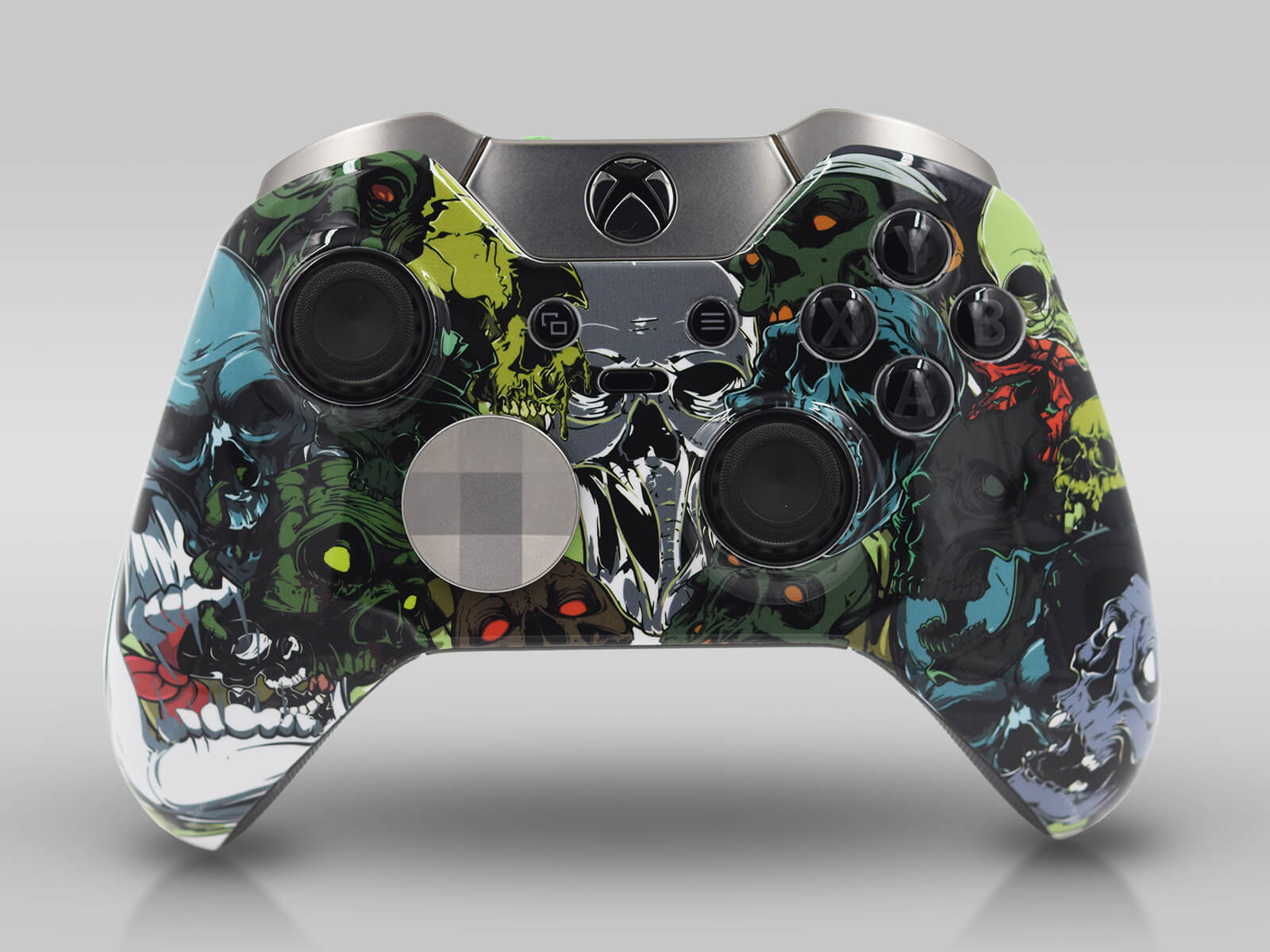 Right in the middle can be found the only Xbox Elite controller that made it on the list. Upgraded with a custom Skull Heads front shell, the pad scores the max 100 points in "Customer Feedback" nomination due to its appealing aesthetics and available factory performance upgrades. It comes with no additional mods but is it loaded? Absolutely. Microsoft included so many customizations in the product via its removable components, an ability to adjust about anything from button mapping to their sensitivity levels, 2 user profiles option etc, that it makes the gamepad the most universal one out of all five rivals. Racing, sports, fighting, shooting or any other gaming genres? It will get you covered. The product is the first generation of Xbox Elite controllers and rumor has it Elite 2.0 is being in works. Mega Modz will have it upgraded with mods to make it compatible with a variety of popular games, with more details to be revealed upon Elite Xbox One 2.0 gen official release.
The only con of the controller is a pricey $164.99 tag, however, Xbox Elite functionality cannot be cheap by definition.
2ND Place
Xbox One Destiny Modded Controller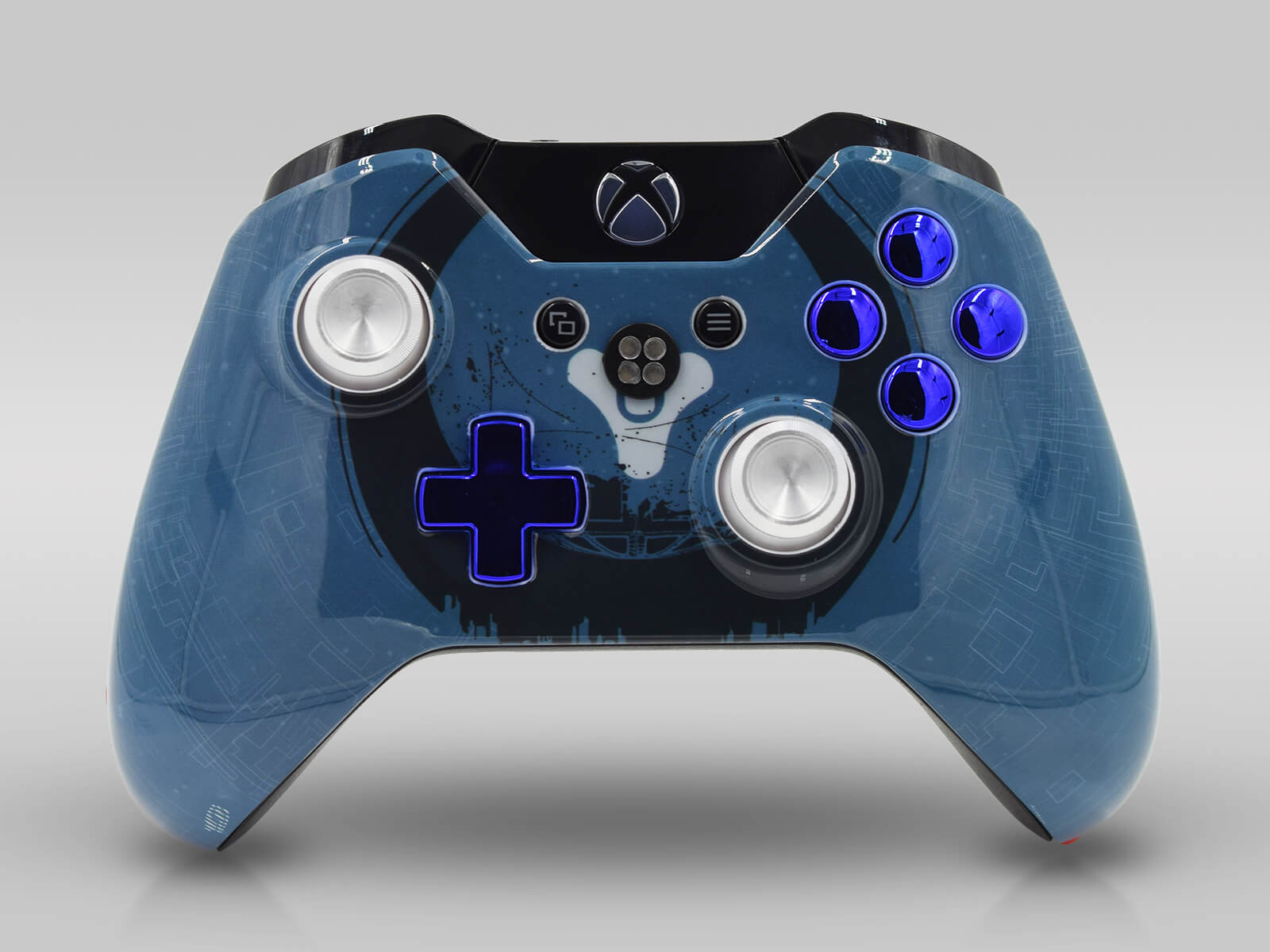 Second place goes to an Xbox 1 controller loaded with both exterior and interior upgrades. Hands down, this product is one of the best sellers on our website at all times. Delivering Destiny themed shell design along with silver, aluminum and chrome blue custom buttons, d-pad and analog sticks, the product was built to makes a statement. And speaking of the gaming performance boost, it comes with the Fate multi-mod pack including the following mods: Auto Burst, Quick Scope, Jump Shot and Auto Sprint. Each mod provides a specific skill you will use in your gameplay to achieve impressive results. The product works on Destiny 2 and the first series installment (Destiny), not to mention all included mods pack work equally great in Call Of Duty and Battlefield games. Priced at about $141, the controller is a pure bargain and would be a perfect choice for the FPS fans and for those looking for a few effective mods to elevate the performance.
1ST Place
MegaMod Zombie Wolves Xbox One Modded Controller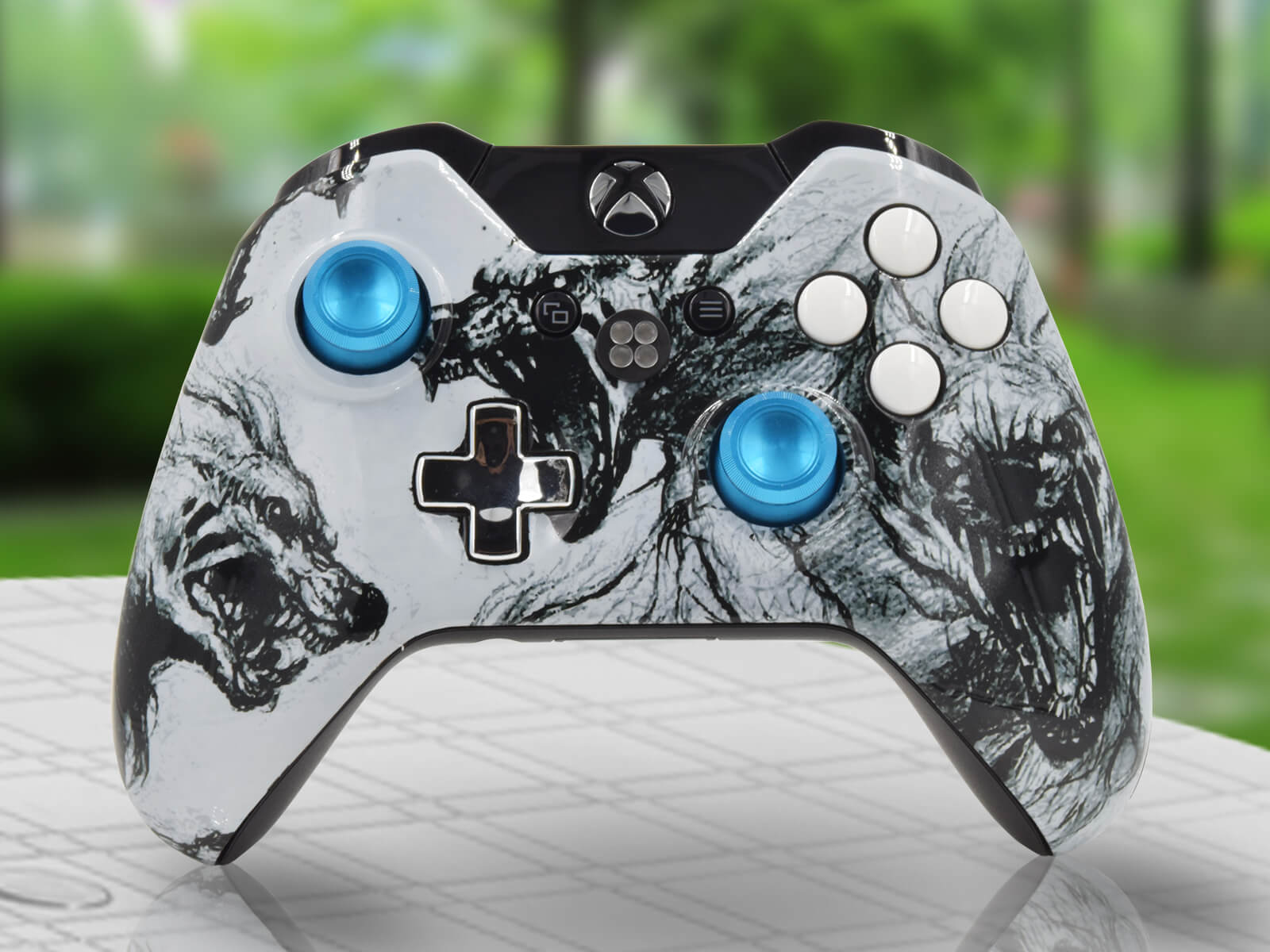 Here is the clear winner! Featuring a unique custom Zombie Wolves design and color, chrome and aluminum custom components, this controller tops the list. The product scored the highest in "Performance" and Customer Feedback" as it comes with the ultimate all-in-one MegaMod Pro package. It also looks the best according to the majority of followers and has received a great positive reaction on all social media pages and the website. MegaMod Pro is a powerful package including 15 features available for Xbox One controllers. You will be able to enjoy them in all major shooting games on the market including Call of Duty, Destiny, Battlefield. For many other FPS, the controller will also help to reach greater results, the only downside is that fewer features will work with less popular titles. Another useful detail about the mods is that they are completely undetectable online so your account and all your personalizations are safe. You can also satisfy your obsession with aim assist feature with this product, as one of the included mods (Zombie feature) turns it into a modded Xbox One Controller with Auto Aim functionality (COD only). Such an offer with spectacular design and mods technology can't be cheap, you will have to shell out roughly $180, but this gadget is very well worth every cent.
Our list summed up 5 of the best-modded controllers for the Xbox One console, from lightly modified models to the loaded products. The choice is yours to make, just be sure that great mod you've been looking for, is here on the list.
Product Name
Carbon Fiber Xbox One Rapid Fire Controller
Xbox One S Controller
Skull Heads Design For Xbox One Elite Controller
Xbox One Destiny Modded Controller
MegaMod Zombie Wolves Xbox One Modded Controller
Picture
Price

$113.92

SEE IT

$96.94

SEE IT

$164.99

SEE IT

$141.93

SEE IT

$181.93

SEE IT
Overall Score
332
350
355
358
370
General
Color/Design:
Hydro Dipped Carbon Fiber
Custom Design Resident Evil
Custom Design Skull Heads
Custom Design Destiny
Custom Design Zombie Wolves
Compatible Platform(s):
Xbox One, Xbox One S, Xbox One X, Windows 7/8/10 PCs and Tablets.Wired PC/Tablet use requires micro-USB cable (not included) and drivers. Wireless PC use requires Xbox Wireless Adapter
Xbox One,Xbox One S, Xbox One X, PC
PC,Xbox One,Xbox One S, Xbox One X
Xbox One, Xbox One S, Xbox One X, Windows 7/8/10 PCs and Tablets.Wired PC/Tablet use requires micro-USB cable (not included) and drivers. Wireless PC use requires Xbox Wireless Adapter
Xbox One, Xbox One S, Xbox One X, Windows 7/8/10 PCs and Tablets.Wired PC/Tablet use requires micro-USB cable (not included) and drivers. Wireless PC use requires Xbox Wireless Adapter
Connectivity Technology:
Wireless
Wireless
Wireless
Wireless
Wireless
Wireless Range:
20 feet
40 feet
30 feet
20 feet
20 feet
Bluetooth connectivity:
No
Yes
No
No
No
USB Receiver:
Yes
Yes
Yes
Yes
Yes
Included Accessories:
-
-
Carrying case, USB cable (2.7 m), 6 thumbsticks, 2 D-pads, 4 paddles
-
-
Required Battery:
2 x AA type
2 x AA type
2 x AA type
2 x AA type
2 x AA type
Rumble Vibration:
Yes
Yes
Yes
Yes
Yes
Model Number:
EX6-00001
TF5-00001
HM3-00001
EX6-00001
EX6-00001
UPC:
-
889842084320
885370902297
-
-
Feature
Customization App:
Not Available
Xbox Accessories app available on Xbox One and Windows 10
Xbox Accessories app available on Xbox One and Windows 10
Not Available
Not Available
Headset Jack:
3.5mm
3.5mm
3.5mm
3.5mm
3.5mm
Paddle System/Pro Buttons:
Paddle System With 2 Buttons Is Optional
Not Available
4 stainless steel paddles
Paddle System With 2 Buttons Is Optional
Paddle System With 2 Buttons Is Optional
Interchangeable Components:
Not Available
Optional
Paddles, D-pad, Thumbsticks
Not Available
Not Available
Hair Trigger Locks:
Not Available
No
Yes
Not Available
Not Available
Adjustable weight:
Not Available
No
No
Not Available
Not Available
Indicator Light(s):
Yes
No
No
Yes
Yes
Illumination:
Not Available
No
No
Not Available
Not Available
Modified:
Yes
No
No
Yes
Yes
Mod Switch:
Yes
No
No
Yes
Yes
Rapid Fire Mod:
Yes
No
No
Yes
Yes
Special Mods:
Optional
No
No
Optional
Optional
Turbo Buttons:
Not Available
No
No
Not Available
Not Available
Macros:
Not Available
No
No
Not Available
Not Available
Warranty
Standard:
90 Days
90 Days
90 Days
90 Days
90 Days
Extended:
1 Year
1 Year Warranty Available
1 Year Warranty Available
1 Year
1 Year
Other
Choking Hazard Warning:
No
Yes, If Interchangeable Components Added
No
No
No
Assembly Time:
3-5 Business Days
3-5 Business Days
N/A
3-5 Business Days
3-5 Business Days