Custom Xbox One S Controllers: New Designs and Hardware Upgrade
The stock look of Xbox One S gaming pad can be tailored to your own taste with just a couple of clicks via our leading Controller Creator platform.
Any person even remotely familiar with the video gaming industry has heard about custom controllers at least once in their lifetime. And those of us who are gamers and spend significant time holding an Xbox gaming pad in the hands, have come across the subject a lot of times probably. So what do these two magic words mean and what's the secret of the enormous popularity of the product?
The history of Xbox One controller customization service started in 2014 with the appearance of the first generation of Xbox 1 gaming pads. Back then, the controllers maintained the original layout of the Xbox 360 pad featuring several tweaks in the design. The shape of the product was rethought, the analog sticks, shoulder buttons and triggers were redesigned plus the new vibrating system inside the triggers allowed a better, more haptic response.
The aesthetics of the new version of Xbox One controller immediately created a demand for more customization options. That's when the most modding companies on the market came out with a feature called Controller Creator. Hey, even Microsoft Corporation didn't want to miss on the opportunity to get their share in the field and introduced their Xbox Design Lab two years later.
Controller Creator is a powerful online platform that allows building your controller from scratch using various colors, textures and other design elements. Our website will walk you through the customization process to ensure a delightful, hassle-free customer experience. You will be able to see how the look of your Xbox One S controller changes immediately once you select a custom option via an advanced photo-realistic functionality.
Basically, you will act like a designer mixing and matching custom Xbox 1 pad components before you come up with your own unique color scheme. The process is very simple: you will start with a basic looking controller and go on by trying custom options for the body and all the main product parts such the directional pad, face buttons, analog sticks, side grip panels and a battery pack. The number of all possible combinations is enormous and gives a lot of room for the imagination to run wild.
The grand total for a custom-built Xbox One S controller varies starting at $60.00 and goes up with every added feature. A well-customized product can easily cost over $100.00 depending on the selection of the upgrades. Options prices vary from $2.99 for a custom colored Xbox button to up to $29.99 for stainless steel 6 pieces interchangeable thumbsticks.
A body of the pad is the base for all further customizations and our selection includes a range of exclusive design shells that are divided into several main categories based on the type of the finish. On our website, you will find solid and chameleon colors, hydro-dipped shells, a variety of chrome finishes and exclusive custom design skins for your Xbox One S gaming pad.
Solid colors come in a slew of either glossy or matte finish monophonic options to choose from. The main difference between finish types is that matte option normally feels softer and provides better grip.
Chameleon shells group offers a selection of shells featuring two color tones with one color smoothly flowing into another one. The chameleon finish will change the main color of the shell depending on how and even where you look at it. We create this class of shells using a special pearl pigment that breaks light into many separate components thus creating a chameleon effect.
Chrome Xbox One controller shells have always been one of the customer favorites delivering a great variety of finishes from classic gold or silver to funky pink and purple shades. The finest pigment added to the paint makes the shells of this class deliver an expensive, complete look of the gadget.
Hydro-dipped color shells are a strong choice for those who want to be on the safe side in terms of controller body appearance, but keep a custom, fun product finish at the same time. Carbon Fiber, Skulls, Splatter and many other hydro-dipped designs have been on the market for a while and have always pleased the buyers with non-fading, bright colors reached via a complex, multi-step painting process.
Custom designs offered for the controller body come in a variety of unique, exclusive finishes featuring various themes, from famous comics series based ones to sophisticated artworks. The list of custom finishes is constantly growing and here are some of the newest additions available for purchase.
Joker Custom Body For Xbox One Controller
Joker design shell for Xbox One S controller comes featuring a maliciously smiling Joker face on the left-hand side. Coupled with a black surface, Why So Serious inscription and a splash of mixed colors, the shell is a strong choice for those who don't like to play it safe. To further enhance the design, we have added custom white face buttons and the d-pad along with aluminium red analog sticks.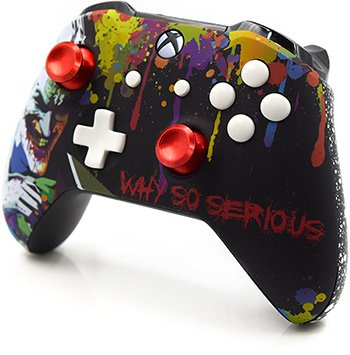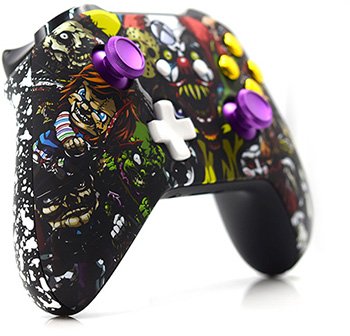 Halloween Party Design
This shell has a lot going on with the images of the major horror movie characters painted all over it. You will find the maniac Jason from Friday, the 13th, the evil killer doll Chuckie, malicious Jigsaw and many other famous monsters captured on it. Chrome gold ABXY buttons, white menu buttons and the directional pad along with chrome purple analog sticks are a great addition to the aesthetics of the skin.
Cannabis Leaves Anyone?
It is 4:20 somewhere and we are not an exception. Check out this cool addition to our line of custom designed shells for those who are free of judgement. Yellow, red and green cannabis leaves painted on a black surface, the signature 420 sign with yellow d-pad, chrome red ABXY buttons, aluminum red sticks create a fun, unusual shell to be put onto your Xbox One S gaming controller.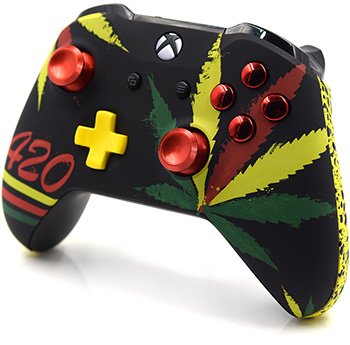 Xbox One S Wireless Controller: What's New
In comparison to an original Xbox One wireless controller, S version features the variety of aesthetic and performance enhancements. A 3.5 mm headphone jack, improved texture on the grips underside, Bluetooth connectivity and increased wireless range level up the abilities of the gadget. New button remapping option offered via Xbox Accessories app provides an easy and quick way to configure the controller stock commands any way you wish.
Like any other trend in the gaming market, the controller customization service has its supporters and haters. What's your opinion, is the game worth the candle?