Best Xbox Elite Controller Series 2 Settings For Fortnite
Xbox Elite 2 Controller offers great capabilities to customize the pad's performance so that you will get the maximum benefit when playing Fortnite.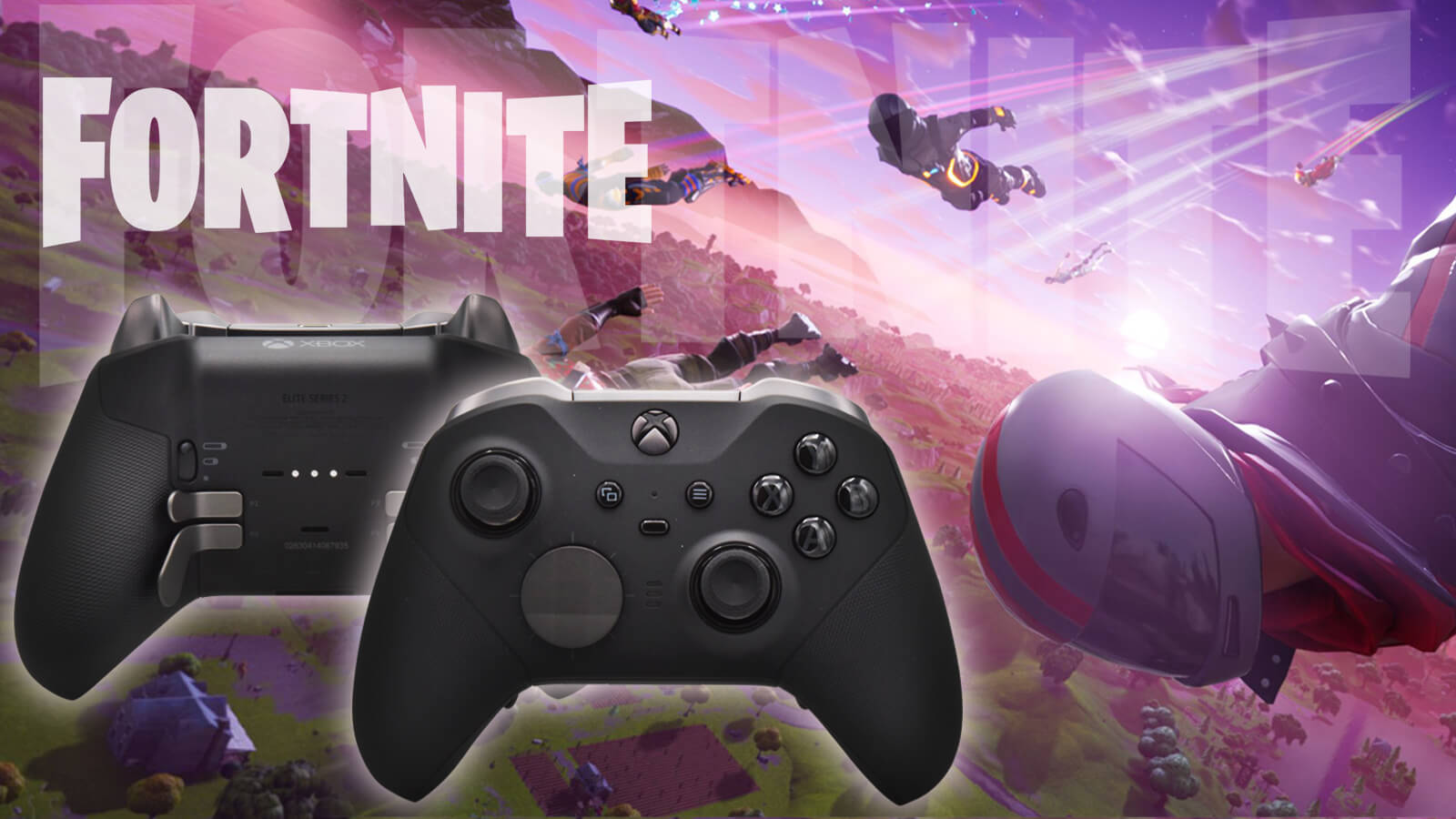 In this article, I will share the details on settings I personally use for my Elite 2 controller to get the best results in Fortnite video game. I will explain all menu options in the Xbox Accessories App, what settings for Elite 2 controller there are, and what they actually do.
Some quick facts about the controller and the game first:
Microsoft Xbox Elite 2 controller was released in early November of 2019 at the price of $180. At launch, it immediately won the fans' hearts with its sleek design and a large variety of customization options available on the controller physically and through the Xbox Accessories App. Compared to the v1, the Elite 2 controller comes with a better build, more solid and upgraded look, more features to personalize the experience. Elite 2 pad most important pros are a super long 40 plus hour battery life, newly added charging dock (one hour to be fully charged), redesigned rubber grips that should fix a fairly common issue with the v1 grips, 3 stage trigger locks compared to 2 stage ones in the v1, one more user configuration profile (a total of 3 now), tension controlled sticks and, a Bluetooth connectivity. The biggest Elite v2 con is, probably, a price tag.
Fortnite is an amazingly engaging battle royale video game that came out in 2017. With over 250 million accounts registered for it, the game stays the most popular released title of its genre currently.
And now let's get started with the best Xbox Elite series 2 controller settings for it:
MAPPING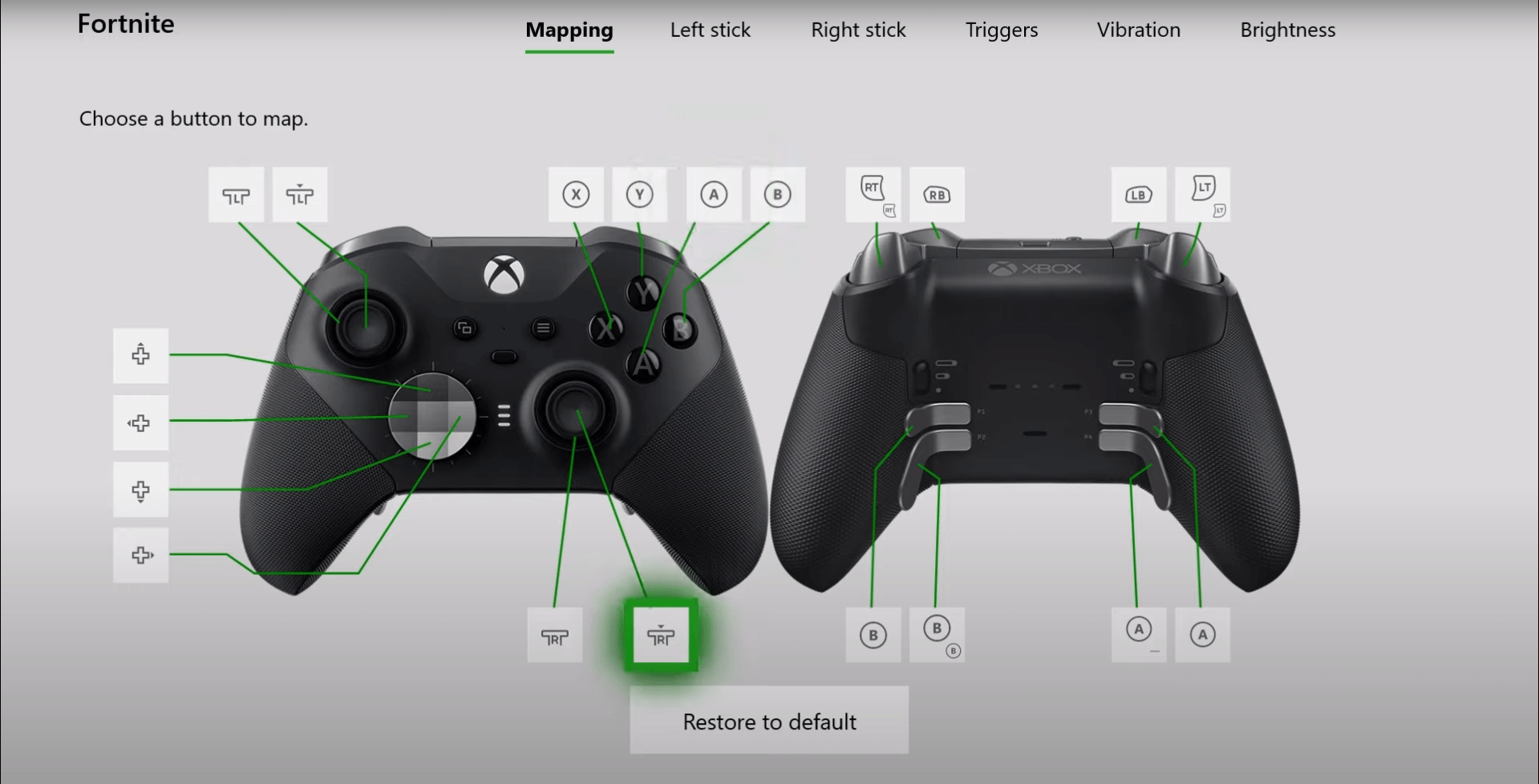 Starting off with the key bindings, you can bind any button to any other button that you want. I personally prefer all my buttons the same as they would traditionally be: the left stick is a left stick, down d-pad on the down d-pad, etc. But if I were to change, let's say left on the d-pad, I could change it to anything I wanted - Left Stick Right, View, Menu. I personally don't find any use in changing it to any of these - I'm fine with the standard key bindings on the controller.
LEFT STICK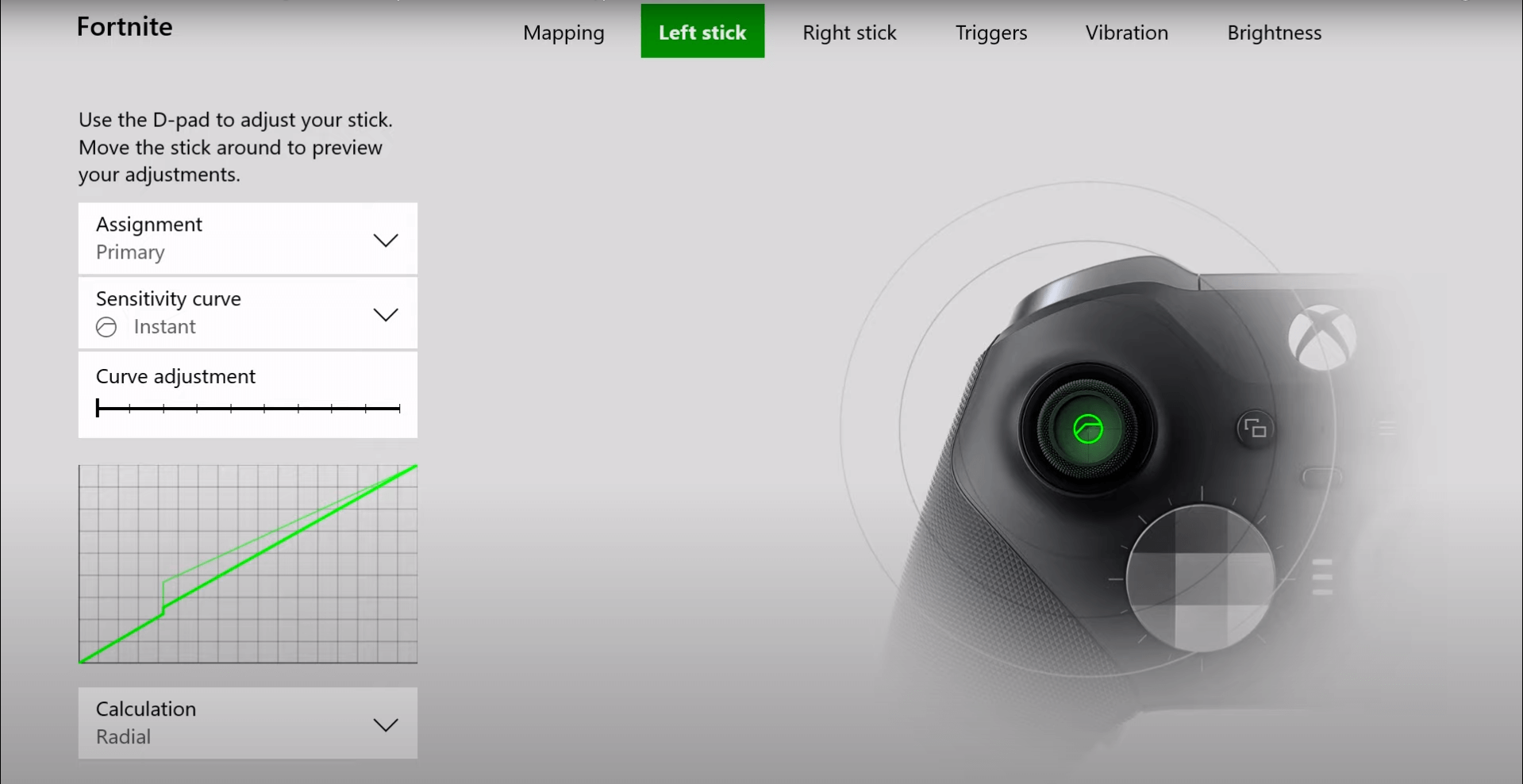 Under the Left Stick, I've got the Sensitivity Curve on Instant, and the curve adjustment on the lowest setting. Basically what the Sensitivity Curve Instant changes is an aim acceleration. As you can normally see (on your Xbox App Settings Menu screen), on the bottom on the left there is a green graph, and on the right-hand side, there is another graph to show you exactly what the controller is doing.
The green one represents Instant Curve, and the gray line represents the default standard. You will be able to immediately see the green line start popping up on the right-hand side graph, while the gray one won't even be there because it won't be registered yet, but it will happen eventually. The green line (Instant) gets registered way before, so if you want to move your character quicker to essentially improve your reaction time - that's what it's gonna do. I have it on the lowest setting, as I don't want it to be too drastic to the point I will have involuntary movements.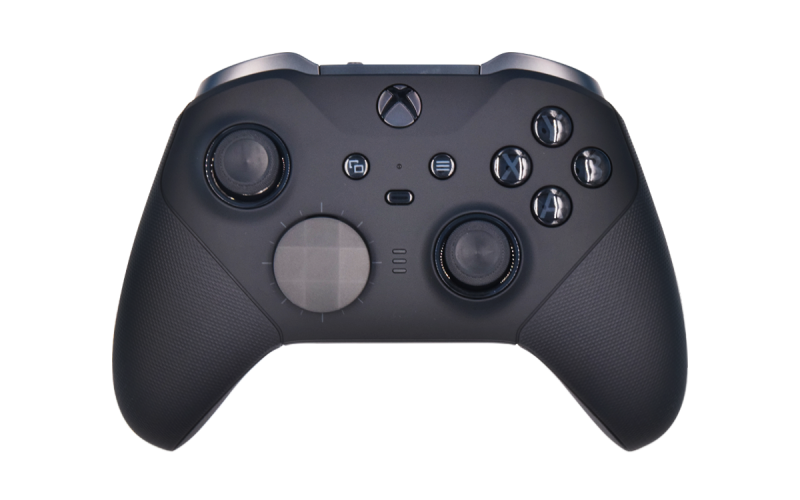 You Save: (18%)
buy now
SHIPS FREE
3-Day Delivery
Next is the Calculations which I'm using on Radial, as I personally find it to be the best setting. Radial is based on the radius of the full or half circle movements made by the thumbstick. Independent Axes is based on the X and the Y-axis - basically up and down and the left and right movement. True Diagonals would mean true 90 degree diagonals based on the X/Y axis. Calculations are all about your diagonal movement. I found some information on Reddit and I was told that the only time you don't need to use the Radial Calculation is when you use Default Acceleration for the thumbsticks. I was also recommended to use Radialis when having Sensitivity Curve on Instant, Smooth, etc.
Going on with the axis dependent, I was suggested to think of a joystick as a square instead of a circle, with non-radial. In order to hit max speed diagonal, you need to be able to reach the furthest point, since the joystick is physically a circle you can never hit those corners. That tip kind of gives you a better idea of what these 3 settings do, especially Axis-independent.
RIGHT STICK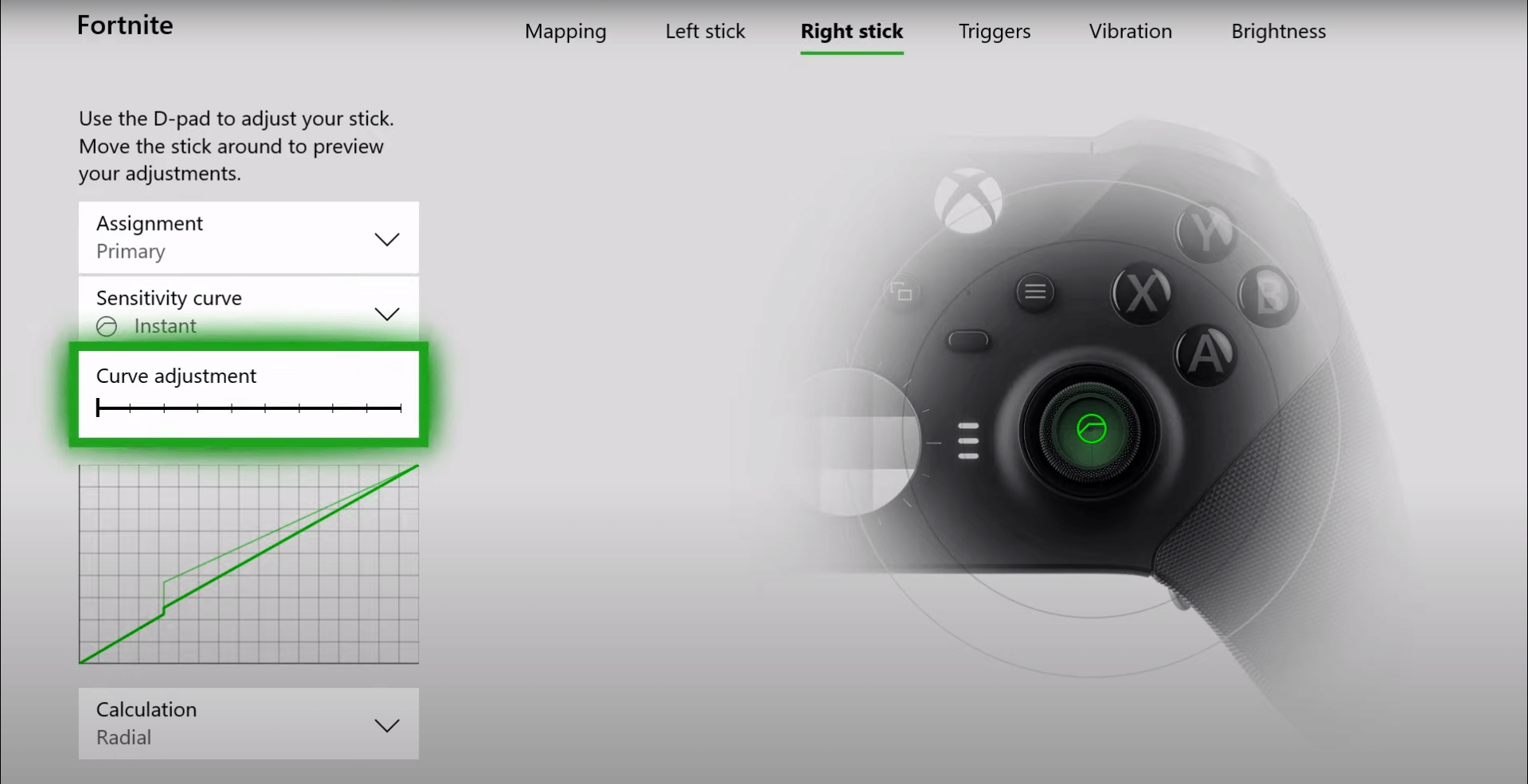 Getting to the right stick, I've got the Sensitivity Curve on Instant once again and the Curve Adjustment on the lowest section. It's mainly about having a faster reaction time and minimal movement at the start. Yet again I've got the Calculation on Radial.
I've got the Xbox One thumbstick tension at this point of time a half try Xbox 360 one. The mid-way mark between the 360 and Xbox One wasn't bad, felt a little bit smoother, but I do like my snappy effects and am going to keep it like this for now.
TRIGGERS
I've got the trigger stops on the setting where it needs the least amount of pressure, but personally I just put on 0/1 just in case it does make any difference.
VIBRATION
This I have completely off. The main pro of doing so is to save the battery on your controller. I know some people feel more comfortable to feel the vibration, but if you have it off, it gives you more steadiness. Think of it, when it vibrates it could move the position of your thumbs! You may be thinking I am a bit too deep into it, but I've played with vibration off for the past 5 years and I feel comfortable
This is really all to talk about the controller. I also forgot to mention to use 2 Kontrol Freeks, Vortex, it's a high rise Convex shape of a Kontrol Freek. I hope you guys enjoyed the read and will these settings be useful for you as well!