Become a Pro Gamer: THE DEFINITIVE GUIDE (2021)
This Guide provides a strategy on how to turn your gaming skills into a career. The use of a systematic approach and techniques that work will allow you to get the first results fast.
Who Is a Pro Gamer?
Most of us think a pro gamer is someone who plays video games for a living.
But here is where the tricky part comes in.
Are you considered a pro only if you are paid by a team or sponsors and compete in esports tournaments?
Or can you be counted as one if playing video games is not your full-time job, but you still make money doing it?
In other words,
Is Streamer a Pro Gamer?
Here is our take:
Any activity that involves playing video games and monetizing it is a career.
There are tons of ways to do it nowadays, especially if your charisma game is strong and marketing skills are on point.
But here's an overlap.
While any pro gamer can be streaming on a side (actually a lot of talented streamers made it to a team using their streams as a way to get noticed), -
Not every streamer is an actual professional player.
Obviously, streaming has become a big part of the industry.
It's a great marketing channel and is included in tactics, but is not the primary focus point of the tutorial.
This Guide gives a strategy aimed at Pro Gamers, those of you who want to feel the taste of being on a tournament scene, feel the adrenaline coming from the crowd, and climb up to the top of the league.
What motivates people to become professional gamers?
PROS:
You get paid to do something you love
Good income (and lots of ways to earn)
Fame and recognition
Love for competing (video games are designed for it)
Meeting lots of like-minded people
Traveling the world (tournaments in different locations, flights, hotels, adventures together with your crew)
Sounds exciting and somewhat idolizing, doesn't it?
To balance it out, here come not-so-appealing aspects of going pro.
CONS:
Long hours of practicing every day
Short career path
Low income (if you are a mediocre or below player)
Opportunity cost (think education or other, "solid" career you could pursue)
Stress (constant stress to be the best, competing in front of a crowd, lots of competition)
Health issues (possible lower back and eyes problems)
As you can see, the list is quite controversial which leads us to the next part.
Common Fears Of Starting a Career In Esports
As tempting as the idea of becoming a pro player sounds, it bumps into a large wall of fears.

Let's see if they have any solid grounds for them.
1. It's cringe
Not everyone gets the amount of effort put into reaching a pro-level.
Some can say pro gamers' job is to press buttons and entertain the viewers.
But is it true? Is there really no prestige (or money) in esports?
It's completely the contrary.
The industry is as competitive and lucrative as ever, where only the best and the "nerdiest' gamers succeed.
This brings us to fear #2.
2. I am simply not good enough
Yes, esports is profitable only if you are very good.
For some, it's a natural talent (still requires time and dedication), for others it can be developed (more time, more effort).
How do you know if you can pursue a pro gaming career?
For example, a great indicator of your potential would be reaching the top ranks of any ladder by yourself.
You can also ask your circle for an honest, unbiased opinion about your performance.
Make sure these are people who you can 100% trust though.
3. Success is not guaranteed
The opportunity cost factor starts to kick in when you fear that playing video games won't get any skills that will be transferable to another career.
It's true you don't take a standard path such as getting a college degree or a regular job.
(Although now degrees in esports are available, and this trend will be getting stronger.)
But you will develop a lot of skills (ability to focus, train your mindset, manage stress, be disciplined, work in a team, etc) to be used in other fields.
And, most importantly, you get to progress by doing what you truly love. It's much more fulfilling as opposed to a "secure" career.
Add a strategy to the equation, and you will get results.
And this is guaranteed.
4. I don't want to sacrifice my life
Well, success in any field comes with a portion of the sacrifice.
But don't worry, you will be having fun with your friends if you want to.
The thing is that your priorities will change once you get immersed in the esports culture, so will your definition of "fun".
Another aspect to consider here is that a pro gamer career is rather short.
Ask yourself a question "Are several years of my life that I will spend having my career a priority, worth it for me?"
If the answer is yes - great, keep on reading.
If this sounds like an immense commitment, this is not the right path for you.
5. Gaming won't be fun anymore
Many participants worry that once gaming becomes a job, the whole concept of it will stop making sense.
Indeed, hours of playing the same title and staying focused can make you start craving escapes into the real world.
But here is the deal:
If you know how to keep the balance, get support, and do not skip on the activities that fulfill you,
You won't get fed up with gaming.
6. Toxic Community
The pro-gaming world can be toxic.
There is a lot of drama, immaturity, stupid jokes, negativity, fake personalities. Much of it is caused by the age of the gamers, they are teens mostly.
But here is the kicker:
Esports is no different than any other industry out there. An absolutely hideous drama can happen at any office in any field.
As long as you position yourself right and build the relationship within the industry effectively, you will avoid most of the toxicity.
The bottom line:
We think you'll agree with us that the majority of these fears are just negative stereotypes (most likely created by gamers who weren't able to make it).
Stay focused, use the tactics provided and you won't have to worry about any of the above.
How It All Started
40 years ago the Intergalactic Spacewar Olympics of 1972 was held at Stanford University. This is the official start of the industry.
Yes, it's that old.
80ies and 90ies brought new technology and more ways to play.
1996:
QuakeCon took place in Texas with hundreds of attendees, media coverage, and even Activision sponsorship.
Cyber Athletes Professional League (CPL) was born that took esports to a new level
1998:
Starcraft by Blizzard came out and made South Korea a trend-setter in the industry of esports competitions globally.
The 2010s:
Massive growth. Prize pools, a number of tournaments, players, and fans have skyrocketed.
2011:
The start of the Twitch era united viewers and players on one platform. It also made it possible for players to wake up famous overnight.
Nowadays:
Esports is as serious as ever- teenagers can now win 1 mln dollars in prize money solely. Even more, can be earned from other sources.
Colleges started pushing degrees in e-sports.
For example, over 25 universities in the US are offering scholarships for esports degrees topping $25k at Arcadia:
University / College
Location
Teams
Scholarship Amount
Arcadia University
Glenside, Pennsylvania
League of Legends
Hearthstone
Overwatch
Rocket League
$25,000
Robert Morris University
Chicago, Illinois
Super Smash Brothers
CS:GO
Overwatch
League of Legends
Rocket League
$19,000
Valparaiso University
Valparaiso, Indiana
League of Legends
$4,500 - $14,000
Ohio State University
Columbus, Ohio
Overwatch
League of Legends
$3,000 - $12,000
Bellevue University
Bellevue, Nebraska
League of Legends
Overwatch
Hearthstone
$1,000 - $11,000
Concordia University - St. Paul
St. Paul, Minnesota
League of Legends
Overwatch
NBA 2K
Rocket League
Hearthstone
$9,000
Esports Industry Is Booming
It's officially mainstream, folks.
Check out the data below:
ESports market revenue worldwide from 2019 to 2024
In 2020 esports generated almost one billion dollars revenue globally.
The number should increase by 1.5 times by 2024 according to the forecast.
ESports audience size worldwide from 2019 to 2024
The industry had over 400 mln viewers around the world in 2020 and keeps growing.
You can see, the peak hasn't been reached yet, it will continue to boom.
Complimentary products and services are rapidly developing: online passes, tickets to events, subscriptions, merch. More gaming content creators and related jobs appear every day.
New opportunities that are not even available today will be arising.
That said, it's a great time to enter the industry.
Esports Best Games
Let's see trends and numbers to find out where the fame and money are.
Total Prize Money Earned By Esports Players Worldwide 2015 - 2020
Year
Prize Money Earned
# Of Players
# Of
Tourna­ments
2015
Dota 2
$31 mln
1k
227
League of Legends
7.7 mln
1.9k
309
CS:GO
6.2 mln
3k
707
SMITE
3.7 mln
252
42
StarCraft II
3 mln
501
690
2018
Dota 2
41.4 mln
1.2k
174
CS:GO
23.3 mln
4.7k
1018
Fortnite
19.8 mln
1.4k
176
League of Legends
14.5 mln
1.9k
188
PUBG
8.3 mln
1.5k
123
2019
Fortnite
71.5 mln
2.9k
393
Dota 2
47 mln
1.3k
223
CS:GO
21.9 mln
3.9k
834
PUBG
11.2 mln
1.4k
112
Overwatch
9.5 mln
1.2k
58
2020
CS:GO
15.8 mln
2.9k
579
Arena of Valor
9.5 mln
255
13
Dota 2
9.3 mln
953
148
Fortnite
8.5 mln
1.6k
115
League of Legends
8.3 mln
1.7k
107
* Data source Top 100 Highest Overall Earnings - Esports Player Rankings:: Esports Earnings 2020 tournaments and prize pool data is affected by COVID but shows trends
Key findings from 2015 - 2020 data:
Dota 2 has experienced a 50% steady increase in the number of players and total tournament prize money won.
CS:GO (Counter-Strike: Global Offensive) has gone through an immersive 300% growth in total earnings, 30% growth in the number of players and tournaments.
Fortnite had the biggest cumulative player earnings just in one year after joining the esports scene.
Dota 2, CS:GO and Fortnite are leading the way.
Streaming Games
If you choose to build your gamer presence via streaming, the list of most popular games differs:
Popular Streaming Games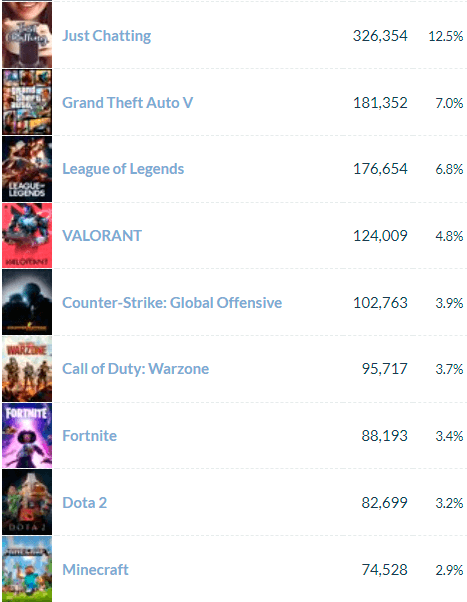 * June 2021 data
Age Of Pro Gamers
It is no secret, a pro gamer career is short.
However, career length and top achievements vary from individual to individual. They will directly depend on your effort and strategy.
Let's see what the golden age for esports player is:
Pro Gamers Age & Best Esports Games
Data source: esportsearnings.com/, all-time data
* Keep in mind, these are statistics on tournament earnings solely. Any income made off other sources of income is not taken into account.
Key findings from the infographics:
Pro gamers officially start earning in tournaments at the age of 16 -17 (16 is a legal age anyways)
The results keep improving and reach the peak at around the age of 20, where it stays on a peak until 24 - 25. The career typically begins to decline once you turn 25.
Younger gamers start off well in Fortnite
Dota 2 and CS: GO are leading the way among more mature players (70% play Dota 2, 30% are in CS: GO)
Most prize money was made by players 19 - 25 y.o. in Dota 2 and CS:GO
Why This Age Range
Gaming is a high-paced environment. Oftentimes you gotta make decisions and move your fingers in a matter of split seconds.
At age of 25, the speed of the body and brain goes into the next stage where the reaction time slows down.
It becomes harder to compete with teens who have much faster cognitive abilities.
It doesn't mean your career stops then, but most likely you won't be taking top places in competitions.
With that comes the most popular question:
How Much Pro Gamers Make
Your earnings will depend on the number of money-making channels in use. The more you have, the more you earn.
Here are the most common ones.
Prize Pools:
The first way is to win cash prizes at tournaments.
We took the last 3 years of the world top 500 players earnings in prize money solely:
How Much Esports Players Make Per Year
They range from $60,000 to $260,000 (the average is $145,400) per year if you make it to the top 500 list.
By the way, the biggest cash prize in history was distributed from the 2019 Dota 2 International Tournament:
| Game | Total Prize | # Of Teams | # Of Players |
| --- | --- | --- | --- |
| Dota 2 | $34.4 mln | 18 | 90 |
The 1st prize was $15.5 million and each player got $3.1 million.
2021 Dota 2 The International 10 has a $40 mil prize pool, nice!
Team's Salary:
Once you get recruited by a team, you are entitled to a salary.
It depends on sponsors, team level, terms in the contract, etc
The reported average salary of an esports team player is $3,000 - $5,000 monthly.
Income From Streaming
Other ways of making extra cash come from streaming and social media.
Sponsorships
One of the most popular approaches is to get sponsored to play a particular game on stream. Earnings here vary from 1¢ to $1 per viewer hourly all the way to infinity for top streamers.
A quick calculation here:
For 10,000 viewers, you can make anywhere from $100 to $10,000 per hour of gameplay.
You can also include sponsored videos here (roughly $5,000 per 30-sec ad on Youtube).
Paid Subscriptions
You can offer subscription services to your Twitch channel at $4.99 per month, and get 50% into your pocket (the other 50% goes to Twitch).
If you manage to attract more than 10k viewers for each stream, you will get 70% for yourself.
You have to be consistent though to get this level of viewership.
Here is some stats for motivation:
STREAMERS WITH THE MOST VIEWERS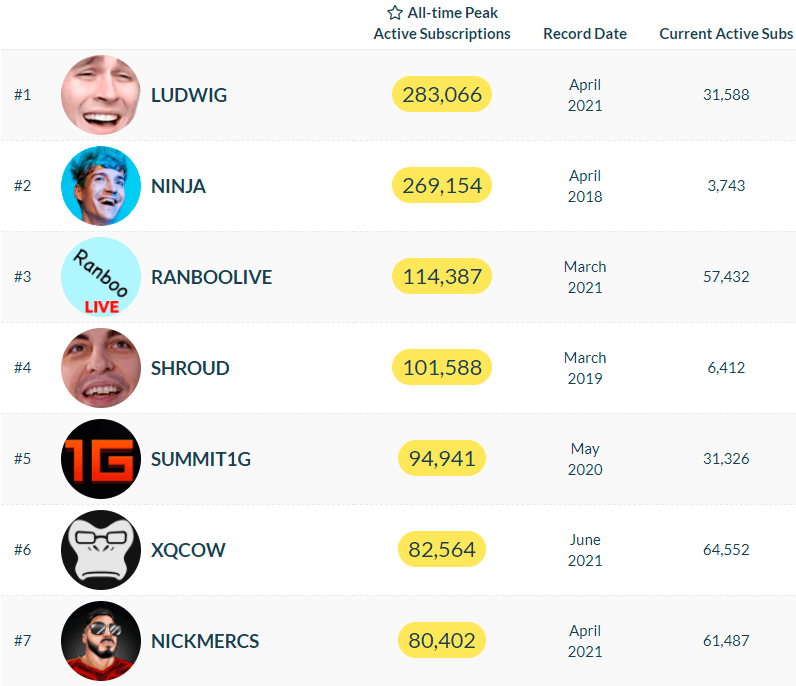 The historic record in Twitch subscriptions belongs to NINJA. From his subs alone he was making close to $1 mln monthly. His subs decrease from 270,000 to 7,000 doesn't affect the fact he is the top paid streamer to this date.
He is now at $17 mln followers on Twitch, $50 mln net worth, multi-million contracts with sponsors.
Donations
Donations are the oldest form of getting money from your fans. The good thing about it is that all of it goes directly to you.
The largest recorded donation ever received on twitch was $57,000 USD made to Sodapoppin, a popular World Of Warcraft streamer.
Ads
You can add pre-rolled or in-stream ads just like Youtube on our channel.
CPC (Cost Per Click) normally ranges at $2- $3 per 1000 views.
Affiliate links
You add affiliate links offering a discount for your viewers when shopping on affiliate sites. You get 3% - 10% off each sale and fans get to save money. A win-win.
Merchandise sales
Can be your own merch with your logo or anything engaging that fans will want to buy. Your personal brand has to be somewhat established by that point.
1. Start Climbing the Ladder
Once you've chosen your game, get prepared to play hundreds of matches to reach the highest level possible and make a name for yourself.
2. Join a Team
Step two is to join a team and start playing with it against other teams. No more competing with random players.
This is when you start participating in tournaments and competitions and build your status as a pro esports gamer.
3. Level Up In Competitions
In this step, you continue progressing with your team or change it and join another one.
Whatever works better for you on your path to reach a semi-pro league - you do that.
4. Woo-hoo! You Are a Pro Now
Once you are competing on a semi-pro level, you get to play against experienced players.
You continue to rank up and, congrats, you can consider yourself a true pro gamer.
Here is where the fun reaches its peak as you are now fighting for a spot among the best from the best, the Elite.
4 Milestones
On the Path From an Amateur To a Pro
How To Pick Your Game
It's not as simple as it may look. Imagine that in order to become not just good, but the best, you will have to play the game for hours every day.
Trying to master several games at the same time with the intention to make up your mind later is not rational as it will be a waste of effort.
Focus on your long term goals and use the following 3 criteria to make the choice:
You have to like the genre and the game

You will be playing it a lot. You don't want to be stuck with gaming content that doesn't make you fall in love with it or motivate you.

You have natural skills for it

If you enjoy several titles, but are naturally better at one of them, stick to that one. It will help you become a pro faster.

Game vitality

There are 2 common strategies here: choose a well-established game or a rising star.

A well-established title with a proven history of achievements, tournaments, and prizes is a safe and guaranteed way to go. On the downside, they are super competitive.

A new, prospective game has fewer newcomers but there is always a risk you won't stand the competition and disappear from the esports scene (use data from Chapter 2 to see trends).
Select Your Gear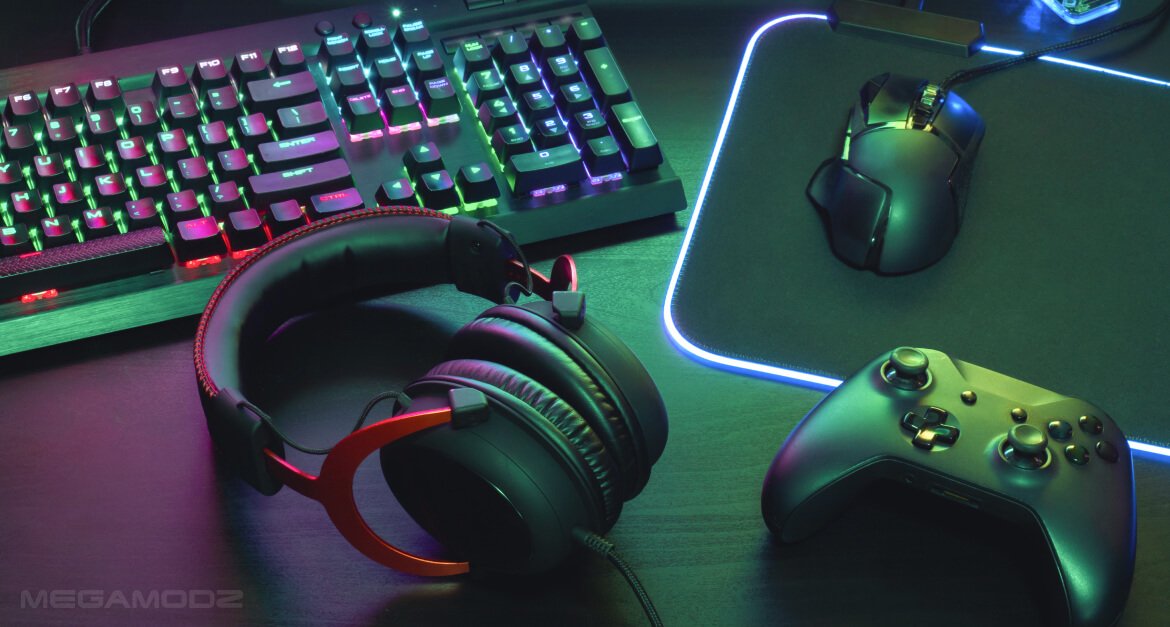 To become unbeatable, you need the best gear. Saving on equipment may end up costing you a chance or require more effort from you.
The gaming peripherals market is full of options you can choose from. You can research what other pro players recommend and why. This will help you choose products that 100% work for you.
Your setup as of an aspiring gamer will include the following must-haves:
Top-spec PC

It has to be capable of handling games above 150FPS with no lag.
High-performance monitor

Here you are looking to get a 144Hz monitor with a 1 millisecond response time.
Mechanical gaming keyboard

It's recommended as it is the fastest, the most durable, and tactile of all keyboards on the market.
Gaming mouse

Whether you prefer a mouse or a controller, it will be the continuation of your hand. Make sure to choose a model that fits your hand size, grip, and feels overall comfortable after playing for hours.
Gaming headset

Hearing your teammates well and making sure they hear you clearly is very important. A pro headset will make you feel as immersed in the game as ever, which will help you to perform your best.
Gaming chair

This component often gets overlooked while it shouldn't be. Think of your spine, back, neck, and arm muscles - all these will be restrained from hours of play. Gaming chairs are engineered to take care of these issues and prevent them from becoming a problem that can negatively affect your performance

Now that you've got your setup ready, it's time to start grinding!
Practice. Practice. And More Practice.
The truth is this is going to be your main activity for hours per day.
Practice can get boring, very boring, but you still have to be able to keep your focus and keep grinding out your skills EVERY DAY.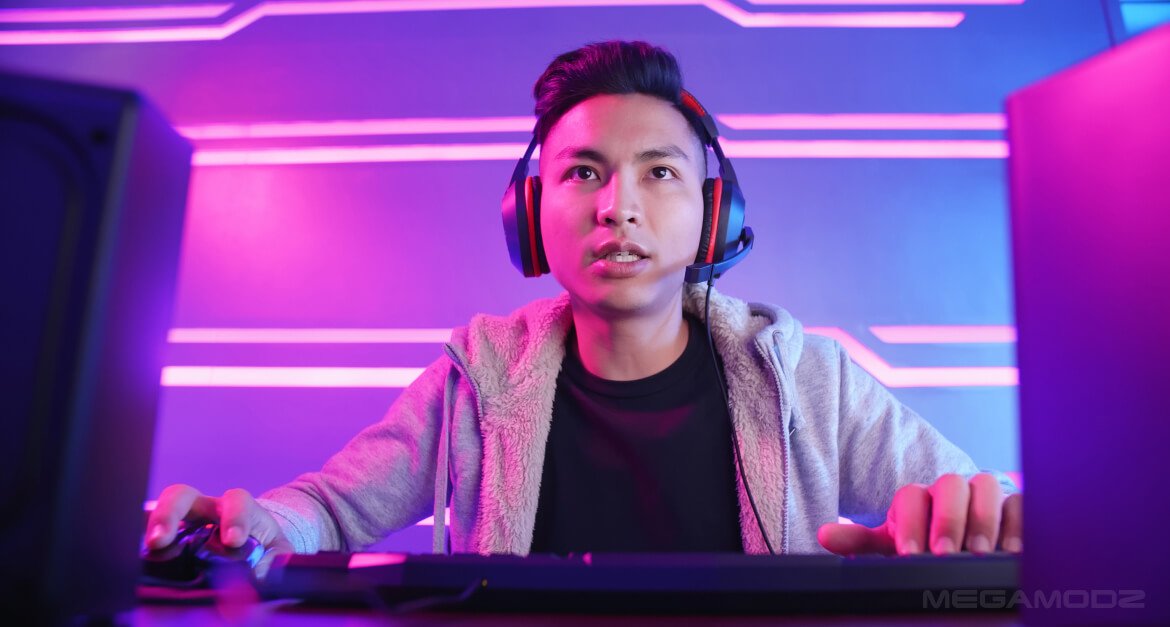 The problem with many is that they fail once their passion turns into a job. But if you employ two effective tactics, your training will be a breeze.
1. Create a Practice Schedule
Forget about motivation when it comes to training, it will start running low at some point.
What you need to build your practicing routine on is DISCIPLINE.
A smart schedule is designed to help you with this and take care of 2 other issues many aspiring esports players run into:
Being unable to either dedicate themselves
or on the contrary
Trust me, thousands of talented gamers fall into this trap.
It hurts to see years of great potential wasted due to the lack of commitment or excessive training.
With that, comes the next part.
How Many Hours You Should Practice
The actual amount of hours will depend on your daily to-dos. Whether you have school, sports, or other commitments - you will be tweaking your schedule based on them.
But the secret to quickly ranking up in a competitive ladder is to treat your practice like a job.
A full-time one.
The common recommendation is to dedicate anywhere between 8 to 10 hours per day to play.
This time will also include breaks where you get up from the chair, move around, have a bite, etc.
It's important that you don't go to the extent of losing focus while training (remember the burnout factor).
Therefore we do not recommend playing excessive daily hours (12+) unless you are part of a team and train for a tournament season.
Speaking of the team practicing...
Team Training Schedule
When you join a team, you also add team practice, scrims, and matches training (if any) to your schedule, and keep practicing solo.
Do not panic:
By that time your mindset and skills will level up so much that advancing the gaming routine will be a pleasure for you.
Depending on a team's objectives, your schedule may vary. The typical scrim hours for pro players include:
4 - 6 hours per day, 5 - 7 days per week for team play, scrims.
Add more hours per week (about 10) for tournament training.
Add actual matches during the active season.
Add the time needed for preparations, team meetings, or other activities related to team play.
Now you get the idea of how your schedule will look once you are with a team.
I am not going to lie to you -
It will be challenging, but so rewarding at the same time.
2. Train Strategically
Train Strategically
This is the second very important training tip for you.
You strategize and stay intentional about practicing so you get better with each session.
Here are the steps:
Master the game mechanics

Every esports game includes many variables and mechanics you need to learn and incorporate into your gameplay. You master every aspect to the point it becomes a reflex.

Things like the last hitting, aiming accuracy, maximizing actions-per-minute, or whatever else the game requires to get a kill - you have to nail it.

For example, if your game of choice is CS:GO, you will learn nade lineups (throwing grenades), all callouts, and pop flashes. Even rifle spray patterns.

Research strategies and techniques

While you keep improving in step 1, you start researching more game strategies. This is your mission now - to always be on the lookout for new tips and techniques.

Keep checking tutorials, interviews, reports for your game.
Watch other pros play on popular platforms

You want to play like them. So what can be more efficient than observing them play on Youtube, Twitch, and others. It will help understand the pattern, or special finger movement, or even gear setup? Everything goes

Plus often they share their insight on why they made a certain decision in a situation. It will give you new tips to use in your gameplay.

Implement what you learn

Every time you learn something new, make sure to try it in action the same day or put it in your calendar. Otherwise, you will forget.

You can dedicate a few hours per week to research and then implement the stuff you learned into your gameplay.

Play with the best

Always try to find gamers who are better than you to play against or alongside them.

By doing that, you will progress tons faster.

The technique was employed by KoreanDJ who made a remarkable rise to one of the top players in 2006 -2007 and stayed in the top 30 gamers throughout his whole 10-year career.

The concept of the tactics was to money matching the best pro gamers so he could play against them and eventually pick up your game.

You have no other choice but to improve when learning from the best.

Learn from your mistakes

You replay your own matches to identify the mistakes and fix them.

Do not underestimate this tactic, it is very powerful and is widely used in many industries.

Athletes, actors, bloggers, even politicians watch their performances to find the weak spots and work on them.

Benchmarking technique

How do you know you are getting better?

Simple. You are now beating those who you couldn't win last week.

Benchmarking is a great way for keeping track of your progress.

Once you notice your improvement overall, you focus on improving your weak areas.

First, you identify them and then dedicate time to work on each one exclusively.

For example, you can dedicate one week to practice accuracy only, or tactics or teamwork.

This way you get to fine-tune your skills to perfection (or almost:).

Now that you've got your practice schedule figured out, it will be very easy for you to follow the next tip which is
3. Stay Balanced
Balance is the key. No matter how cliche this sounds, this is 100% true.
Here is a real-life example for you.
David is a close friend of mine whose career as a pro gamer was looking bright. He was super dedicated to gaming and even researched homeschooling.
He managed to build his class schedule so that he had enough time for both studies and gaming.
He trained in LOL (League of Legends), reached Plat 1, and then switched to Overwatch that was in its early infancy back then. As the game mover from Alpha to Beta, he already built a name for himself in the community.
Needless to say, he didn't have much of a social life during that period and spent much time inside.
What happened next is he started college and played college-level Overwatch teams. It was that time that the game went live.
He probably felt he's been missing out on social life, and once he met new friends in college, he started to party.
He tried to balance it out, but you can only last that long with little sleep and a chaotic schedule. The game was requiring more time and so did the life outside of it.
To make the story short, there was a great contract laid out for David that ended up getting signed by another player.
The talent was there, the dedication and a strong start but he was no longer able to keep up.
So How Do You Stay Balanced?
Without feeling the life passes you by.
Simple.
You create a system where your top priority activities come first, others follow.
Here is the approach you can use:
Start with hours required for competing. Your primary goal steps (practicing, gaming strategy improving, networking)
Include non-gaming important activities (schooling, work, etc)
Add healthy body maintaining activities (sleep, food intakes, sports)
Include other "refueling" activities (meeting friends, studying..)
It's super important to understand that you don't exclude any off-screen activities that fulfill you, from your life. Otherwise, you are at risk of repeating David's story.
A recent study tells that a well-balanced schedule has a healthy mix of steps aimed at achieving goals and activities that energize you.
This is the type of schedule you want to build for yourself to be able to keep your mental focus, motivation and prevent burnouts.
Remember that your body has a limited amount of energy. Use it wisely!
Be Intentional On Social Media
Here you want to get all channels with your gamer name: Twitch, Twitter, IG, Youtube, etc.
And when registering for a platform, you stay selective and do it with a goal in mind (and not because the channel is hyped up).
Ask yourself the following questions:
"How can this platform help me achieve my goals?"
"What kind of content will work the best and can I deliver it on a regular basis?"
"Do I need help with this and what kind?"
Once you get on a platform, you create a strategy (tips on that in a minute).
You start working on the content.
You focus on building your fan base.
And later down the road, well-thought social media accounts will make you look more appealing for sponsors, subs, and donations.
Get Streaming
Streaming platforms such as Twitch are an excellent way to showcase your gaming talents and get noticed.
Some streamers actually made their way into the esports arena through streaming.
Another great idea is to add all your best gameplays to Youtube, for example. This is going to be your golden collection for advertising your strengths to the audience.
Make sure to set up Youtube and Twitch to earn revenue from viewers regardless of the viewership size at the moment.
What Is Your Message
The way you present yourself matters.
You do need to spend a little time and create a sharp bio for yourself highlighting your uniqueness.
The same goes for your photos. Think of the signature colors you will be using through all your channels, your avatar pic. Whether it be a logo or a photo? (we recommend using a photo as it gives a more personal touch).
Will it feature your face, half body, or full body?
You only have one chance to make a first impression - make sure your profile pic conveys a message about yourself.
What is it you are trying to tell about your gaming persona to the world with this photo? It has to communicate your strengths and uniqueness.
It's a great idea to get help from professional people with some starter photos (it's tons of freelance sites with low pricing upwork.com, 99designs.com, etc
Below are examples of great looking pro-gamer profiles.
Check out how professional they look and how sharp their intros are: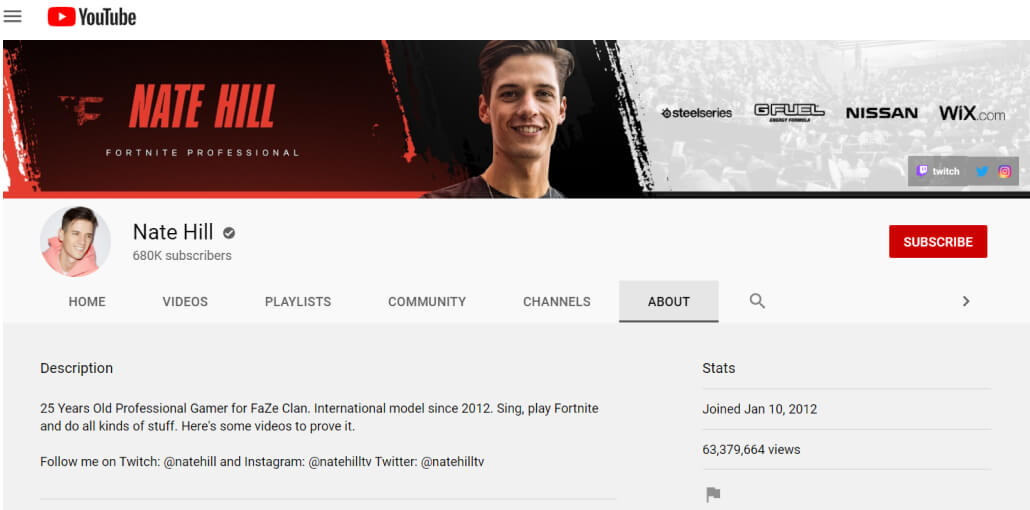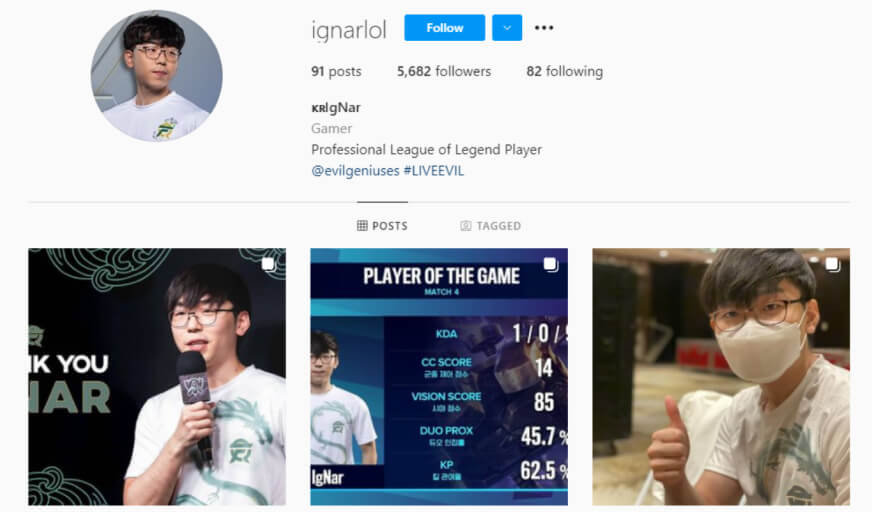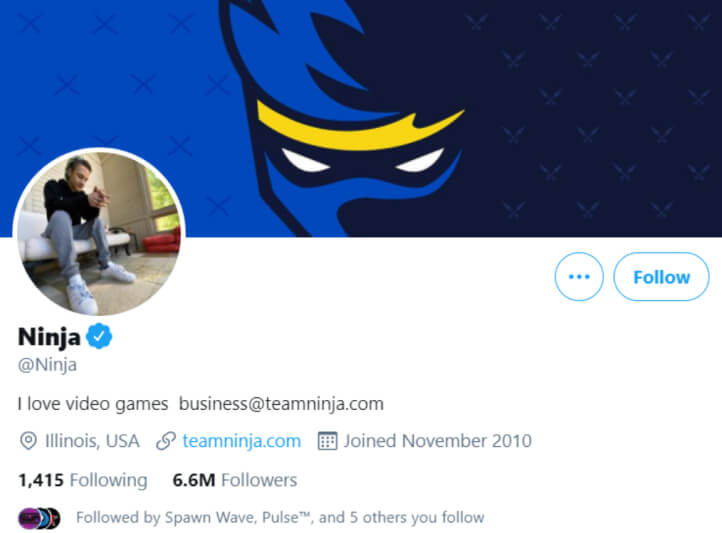 You've got your accounts set up and looking nice.
Now what?
Work On Your Gamer Image
Start thinking about your public image strategy. The best strategy is to build up your reputation that revolves around your strengths as a gamer.
Putting yourself out there for the sake of it will not only not take you where you want to be, but will harm you.
Let me give you an example.
You've been streaming and have a dozen Youtube videos uploaded with each generating less than 100 views. Does it do you any good? No.
You will have people interested in you much quicker by having one video with several thousand views. This is how you use Youtube strategically - by uploading your very strong gameplays or a compilation of the best moments highlighting your talents.
Your goal is not just to upload content regularly, but to do it so that every new piece of content strengthens your online presence.
If you don't have new content that will add more value to your gaming persona, it's ok to skip posting. It's better to be not regular than useless or boring.
This way you will be increasing your followership much faster and stand out more for sponsors and scouts.
Imagine them deciding between you and another gamer who is on the same level as you.
If your social media game is stronger, the number of followers, likes, and viewers is greater - they will choose you.
Are You Projecting Yourself The Right Way?
Showcasing your strengths in the game is important, but you also need to make sure your online persona keeps up.
These are 3 tips to help you with that:
Increase your general erudition

Keep up with the events in the world, read the news, and be aware of the latest trends. You can dedicate 15 min of your time scrolling the news feed and read about what's trending.

Example: Not long ago I was watching Ludwig play on Twitch, and he was debating about the cons n pros of the Covid 19 vaccination.

This was very engaging and was getting viewers more hooked on his persona.

Work on your vocabulary

You don't want to use "this is awesome" or "this is pure cringe" all the time. You want to show yourself in the best light possible.

So you open up the dictionary and learn some new words or read some good literature.

Being well-spoken increases your authority for the audience and people from the industry.

Be careful about what you share

Keep in mind that everything you say or do on social media goes viral and may affect you in a very negative way.

We all remember a scandal when Jarvis, a member of the FaZe clan, posted a video of him using an aimbot. Although he was assuring he did it to entertain his viewers, he got permanently banned from playing Fortnite.

And imagine you saying some careless comments about gender, or nationality, or anything of that nature. They can pop up later even if you delete them.

Can't think of a more sad way to end the career.

Just remember, you have to stay intentional about everything you do to gain and maintain a strong reputation. It has to work for you, not against you.
Your Circle Is More Powerful Than You Think
People you surround yourself with, shape you and make you become like them.
And that's a fact.
Being around other gamers who share the same passion and ambitions will help you to progress faster.
Not to mention, you build useful connections this way.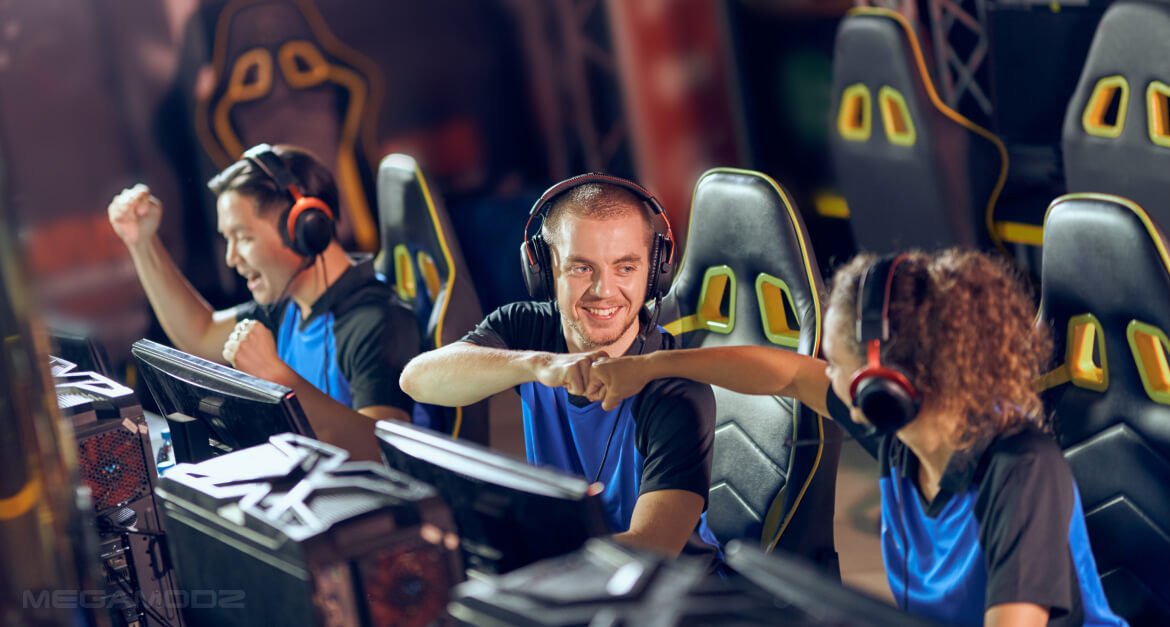 Once gaming was a hobby for you, most likely your idea of having fun was to hang out with your school friends, attend parties together, etc.
Now that you are becoming a pro, everything will revolve around gaming.
So before you get engaged in any activity that will take a good amount of time, you may want to ask yourself "Does it bring me closer to my goal?"
Wait... But what about having fun?
Of course, you will be having a good time. It's an important part of keeping the right balance, remember?
But surrounding yourself with gamers will make you kind of re-consider what fun is.
Once in esports culture, you will be feeling fueled by things like your accomplishments in gaming, for example.
It will be a different sense of fulfillment.
Gaming Houses
A gaming house is a great example of a productive environment.
Why do you think gamers start living together?
They do it so they get up every morning and immediately emerge into a productive atmosphere.
The trend has expanded to other industries as well, take Tik Tok bloggers.
Because it works.
Network With People From The Industry
It will open many doors for you.
It's important that you understand that being good at the game is half the battle. The other half is networking.
Practice shows a 56% higher success rate for gamers who start networking from the start.
Unless you are a true diamond and can't help but get noticed, you are all set.
In all other cases, you have to build connections. The sooner the better.
Where Do You Get Connected?
Check out forums, streaming sites chat rooms, join lobbies, private channels in Discord, team games. You never know where luck may find you.
If you present yourself right and get noticed, it is your ticket to a higher-tier team (in the next chapter you'll learn how to find teams).
For now, let's focus on your immediate circle.
With that, comes a very important part.
How To Turn Your Parent Into Supporters And Why This Is Important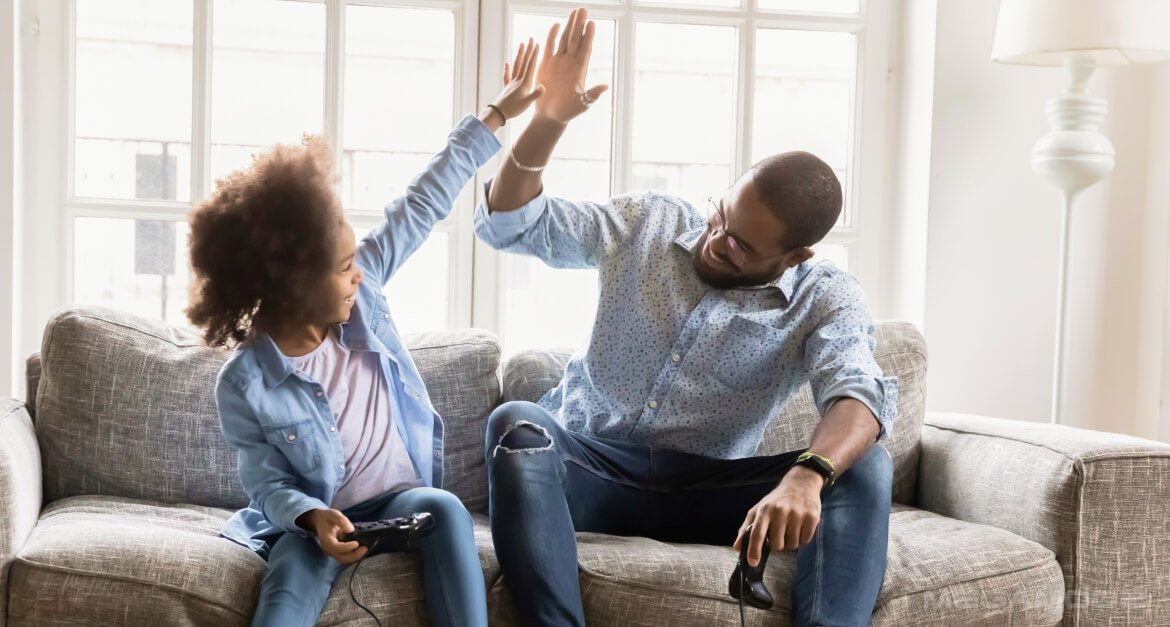 The role of your parents at this stage in your life is unquestionable.
They can be either your supporters or the greatest source of disturbance that will drain your energy and focus.
If your family supports you, it's a huge help at the rise of your career because you will have your basic needs covered (food, accommodation) and get continuous moral support.
Do you want to see your folks on your side?
There are 2 main strategies to help you with that:
1. Let them know your plans and make them engaged in your success from the get-go.
What are the two main things your parents want to see in you?
They want to ensure you are securing a solid future for yourself. And they want to see you happy.
Obviously you won't have any difficulties showing them you are happy with becoming a pro gamer.
It will be much harder to explain to them the choice of career though. They don't know the industry and the opportunities presented in it.
Here is where you have to do some work on educating your parents about esports. You want to educate your folks about all current and potential opportunities in esports.
You want to be very specific and present them with numbers and facts showing the growth of the field, college degrees and scholarships in e-sports, and other relevant details you can think of (you can use the stats from Chapter 2).
At first, they may be very resistant. But you slowly win their trust by demonstrating your success and moving up the competitive ladder in the game.
A number of studies prove that parents usually start to provide you with all kinds of support once they see your progress.
2. Keep your gaming ambitions private and either have a part-time job or register for part-time classes in college.
And you spend the rest of your time gaming.
With this approach, you take the pressure of dealing with your parents out of the picture.
They stay happy as they see you taking a traditional path and demonstrate your ability to be responsible.
And you are doing your thing quietly.
By the time you feel that you need to devote more time to gaming, most likely you will have progress that you can share. This is when you talk to your parents.
The point of the conversation is to convince them that you are serious about your pro-gaming career.
You will have to provide them with some proof (straight industry facts won't work here):
For example, show them your stats of wins in tournaments, social media, and stream numbers, sponsorship deals, earnings off gaming (if any).
They are your best potential investors. Work with them.
If this option is out of the picture, you can approach your other relatives or friends.
They already know you. All you have to do is persuade them.
With that, it's time to move to the next step.
The most common way to climb the ladder is to start with a lower-tier pro team. You will build your reputation and keep winning so eventually you will get scouted by a top pro team.
Where To Find Teams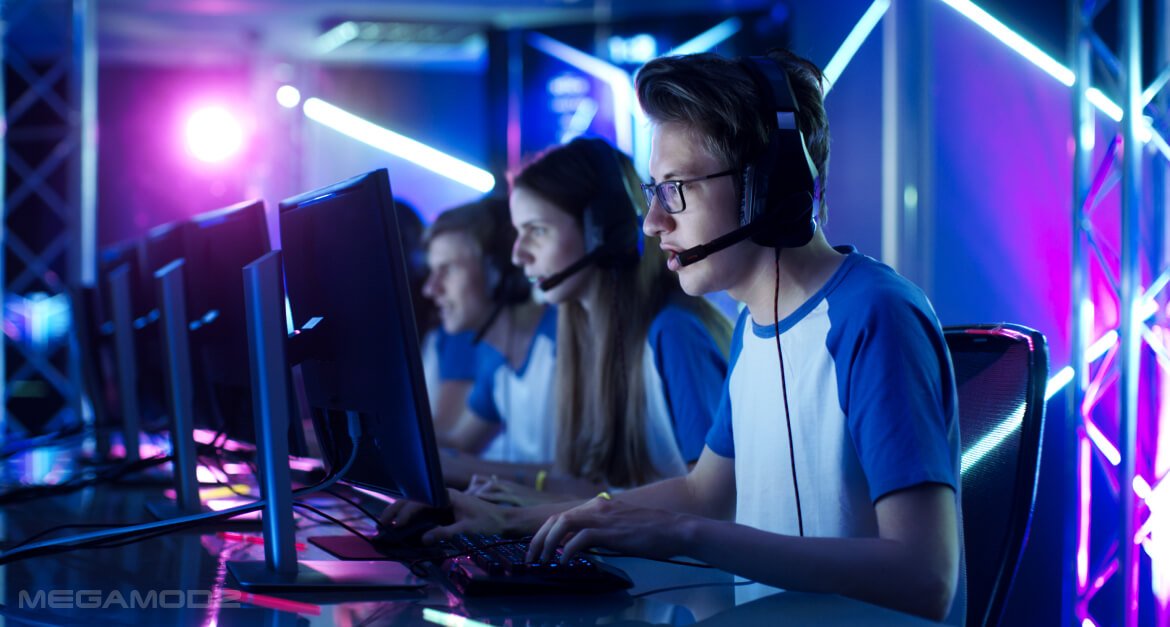 Use the following strategies to get yourself a spot:
Use sites like teamfind.com, Steam groups steamcommunity.com, steamladder.com, gaming forums, subreddits, Discord services to find teams, reach out to them and stay tuned for their openings for new team members or tryouts.
Attend local gaming events (tournaments, competitions).
Try online gaming leagues (ESEA, ESL). This will also help you get comfortable playing with viewers and build stress management skills.
Build your own team. If all else fails, and you do have a group of people in mind, you can start your own team.
Add Value To The Team
Once you've joined a team, you begin to work on creating your value to it.
How do you do it?
You are a great player and help the team to win
You are punctual and respect your teammates' time
Communicate efficiently which means you say what you expect and want from your teammates in any given situation, off game or in-game. Do not assume they know what you mean - talk to them clearly.
How To Handle Conflict
You will be spending a lot of time with your team members.
Naturally, disagreements will happen. An ability to resolve them quickly is golden.
Follow these expert tips, and you will earn yourself a great reputation in the community.
If you focus on protecting relationships in the team, you realize that not every situation is worth being talked about. Some topics can do more damage than good.
For example, losing a valuable member over an argument is not worth it.
State the facts and listen to all parties
Different people can have different visions of the situation. You need to make sure everyone is on the same page. This way the conflict may be resolved through a simple facts-stating process.
Staying calm and not raising your voice will help you to understand what really happened without emotions impairing your judgment (and making you say some things out of anger). Remember you can't take it back once you've said it.
Know how to lighten a situation
Take that pressure off everyone. It's not the end of the world! The best way to do so is to make them laugh.
For example, you can start telling a fun story you were in altogether, so your teammates get emotionally engaged.
Once you come to a common ground, close the subject forever. Do not bring it up, better focus on the new team achievements.
Now that you've mastered the relationship within a team, it's time to cover
Pitfalls With Sponsors And Contracts
Once you reach a certain team level, you start dealing with a corporate and legal aspect of the business.
This is going to be a whole new layer of difficulties you've never dealt with before.
Here are a few pitfalls you should be aware of so you won't be taken advantage of.
Sponsors are interested in a team that wins most of the time. Sometimes their expectations are not realistic and put a lot of pressure on players.
If you don't deliver, they lose interest in investing in you.
Another common thing is that they can promise more they can deliver just to get a successful team on board.
Situations when sponsors pull out of deals without fulfilling the obligations or underpay gamers or anything of this nature, happen all the time.
You don't want to add to these stats.
But don't worry, we've got you covered.
The detailed tips on what to look for and what to avoid when signing a contract will save you tons of time and nerves (and money).
Do Not Sign Before You Read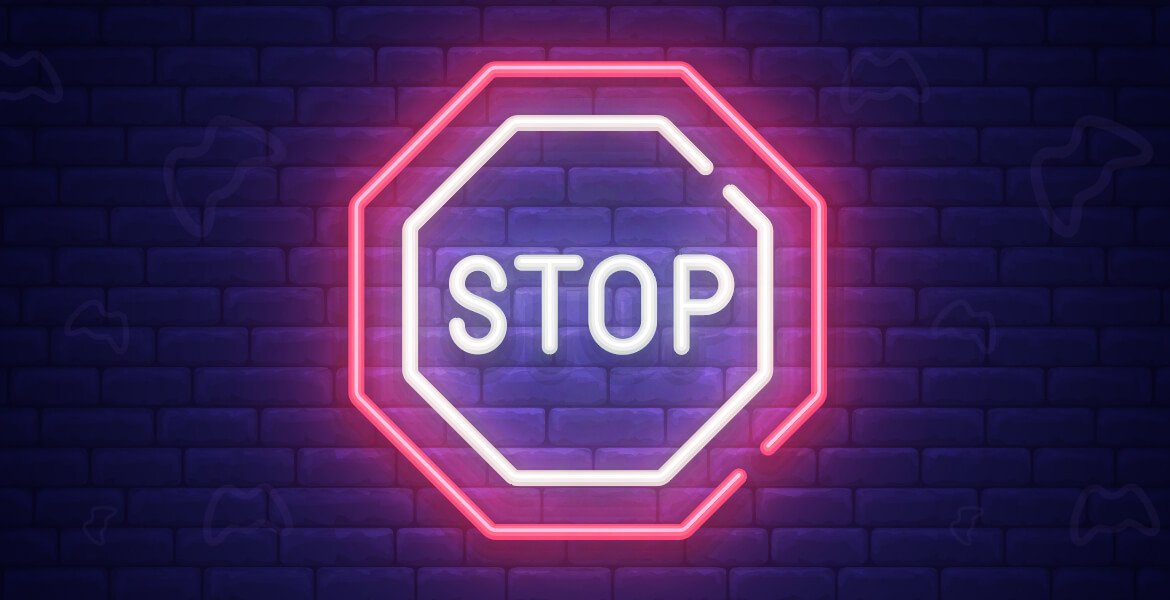 Once you get presented with a contract, take your time to carefully examine it.
You want to clear answers to the following questions:
1. Does the contract contain specific numbers or % or defined variations on your salary, proceeds from the winnings, and other related pro-gaming activities?
You want to see exact figures on how much you will be making. If you have one question on your income left, do not sign it until it becomes crystal clear.
2. Does the contract provide all expenses and types of services the sponsor is responsible for?
Here you want to find a clear list of all things you are covered for: lodging, travels, medical expenses. Ideally, you want to see figures or the range intended to be spent on each position or you risk getting not the best gear, accommodations, etc.
3. Does the contract clearly spell out both parties' rights and responsibilities?
You want to understand what's expected from you and how you will be covered or not covered in various circumstances. Such as team's wins and failures, expectations on your performance, any unforeseen issues arising, etc.
4. Does the document state all provisions on the contract such as length, renewal, breach, and termination?
Questions to be answered in this part are:
How long is the contract for?
What is the buyout price should you want to leave early?
How long before the contract ending date to get a renewal or non-renewal notice?
5. Does it mention any promo and advertising events, usage of your content, and/or likeness?
Check if you are obligated to attend promo events or grant access to your images, allow using your likeness, be guided on how to maintain your presence in social media, and be allowed to monetize it.
The bottom line is that if you are able to find all these aspects laid out in a clear manner, with specific numbers and/or defined variations, with a list of all provisions and terms - you are good.
You can go ahead and sign it.
But if you:
Have the feeling the contract is very one-sided
Don't have a clear idea of how much you will be earning, or what's expected of you and your sponsor
Came across vague definitions such as "professional" (who defines what professional is); or alarming words such as "lifetime", "exclusive"
Do not sign it.
How To Stay Motivated. Dream to Goal Technique
Your pro gamer dream will heavily depend on you winning all the time which adds a lot of pressure.
How do you stay motivated during the low moments?
Simple. You turn your dream into a goal and keep your focus on accomplishing it with daily steps.
Here is a powerful technique:
You create a 1 - 5 year plan of your career progress.
It is going to include all important milestones to go through in order to achieve the ultimate goal.
1. Set Your Goals
Write down where you want to be in 1 - 3 - 5 years from now. Make sure to fill in details and specific numbers wherever you can. The main idea for the goal is to be measurable and achievable (setting unrealistic goals makes no sense).
Share how you see yourself in terms of gaming skills, number of wins, team experience, number of tournaments participated, branding/social platform presence, income.
General statements like "I want to be a successful pro-gamer", "I want to have a well-established social media presence in 3 years" won't work.
For example, let's take social media. Here is how your 1-year plan may look:
In 12 months I want to have:
10k followers on Twitch, 100 subs, 100 viewers per stream
5k followers on Youtube, 5k viewers per video
3k followers on IG/Twitter/Facebook
$1,000 monthly steady income off my social channels etc...
Numbers shape a goal. Do you see how much more feasible your dream starts to look?
2. Set The Steps
These are actions you need to do to reach each goal from step 1.
You fill in the specific moves to be made and get an action plan.
For example, to reach the goals set in step 1, you need to:
Have 2 Twitch streams per week
Add 1 video to Youtube weekly
Post twice per week on IG/Twitter/FB
Post on community forums 3 times per week etc
3. Outline The Sub-Steps
Now that you see all goals and steps to take, it's time to fill in the gaps on smaller actions.
You add all things you can think of at the moment, and you continue adding more sub-tasks as they arise. Trust us, they will be popping up as you progress.
For example:
Figure out your target audience and prime times for streaming/posting: (Male teens 12 - 19 y.o., most active 5 pm - 12 am weekdays, 1 pm -1 am weekends)
Schedule 5 - 7 pm Wednesday and Saturday for streams.
Post on IG/FB/Twitter Tuesday and Sunday 5 - 8 pm.
Post on Youtube every Sunday at 1 pm.
Edit videos for Youtube once per week Sunday 9 - 12 am.
Research what type of content generates the most shares, likes, comments.

Post that type of content on your social media.
Leave comments to get the most interest in popular threads etc.
As you see, there are many sub-steps you will need to take on a daily basis. And this is just a social media aspect.
Add practicing, researching game strategies, networking and you will get overwhelmed with tasks unless you plan everything.
4. Check your results
To see how close you are to your goals, set time periods to check your progress and numbers. For example, you can see how well you are doing every 3 months.
It will help you review the strategy, notice areas you need to focus on the most or improve, and identify the ones that require less attention from you.
How To Handle Stress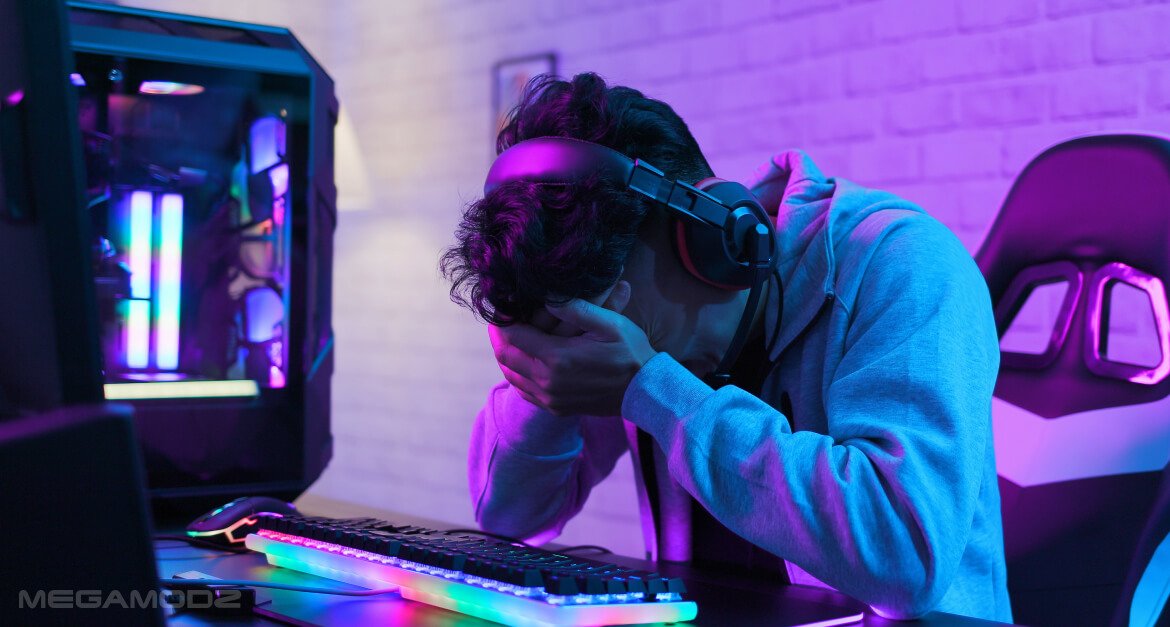 Stress can eat your energy and focus away very quickly.
You must train your mind to deal with it efficiently.
First, let's identify what causes it.
Stress-causing factors can be divided into 2 large categories: mental and physical.
Mental Factors: Social Pressure
It comes from your closest circle, parents mostly, and society in general.
Parents do tend to express great concern about you being a gamer which puts not needed pressure on you.
The pressure from society comes in a form of feedback on your achievements and gaming persona.
Finally, you get stressed out by having to win all the time.
As if this wasn't enough, you are exposed to physical aspects as well.
Here they are:
Physical Factors I: Excessive Practicing
Long hours of practicing.
They can be especially exhausting during the prep for tournaments (up to 12 - 14 hours per day). Once coupled with reduced rest time and inconsistent food intakes, you start feeling the negative effects on your body.
Physical Factors II: Performing On Stage
This one is probably the most intense and addictive type of stress of a pro gamer.
Did you know that gamers experience a level of stress similar to those of sports athletes?
Playing in front of a crowd makes your body produce a lot of adrenaline. If your heart is jumping out of your chest and you are sweating a lot, you are too stressed out and need to take action.
How To Deal With It
There are tons of stress management techniques.
But it's much more effective to choose 3 - 4 ones that click with you and make them a part of your routine.
These 3 approaches are advised and used by actual esports athletes. They do these things to ensure their stress level is under control, especially before competitions.
1. Mental Focusing
You tell yourself you will do your best in the game and program your brain for winning. The most important aspect here is to eliminate distractions, especially right before going on stage.
You turn your cell phone off and you get disconnected from the world so that no message or call can throw your focus off.
Make sure you warn your close circle about this habit of yours, so everyone stays cool.
2. Box Breathing Technique
You've heard the phrase "Take a deep breath" a thousand times. But have you actually tried it once?
I bet you haven't.
It's a simple, yet super effective method to normalize your stress level almost instantly.
The technique involves inhaling at the count of four, holding the breath for a four-count, and then exhaling at the same speed, holding your lungs empty for four-count and starting over. You can do it several times until you feel relaxed.
Try it now, it works like a charm.
3. You Have To Move
Physical activity is a proven way to reduce stress.
By all means, it should be included in your regular routine (remember the Stay Balanced section).
And during the competition season, when the cortisol levels are the highest, it is a must-do.
It doesn't have to be a gym or heavy workout. Any activity moves the fluids around your body, helps to produce hormones of happiness, and decreases your stress automatically.
The only criteria here is for you to enjoy it - think dancing, stretching, bicycling.
How To Improve From Failure
There will be winnings and failures in your pro-gamer life.
They may be not your fault even, it can be your teammates.
Losing your heart and soul for every failure is not a smart use of your energy.
If you realize that every failure brings you one step closer to success - you have a mindset that is your powerful tool.
You may wonder how it can bring you closer to your dream ?
Here is how:
You can learn new tricks or pick up strategy tips from it.
Let me give you an example:
Imagine being in the middle of a game and realizing it's a lost case.
Most likely your first reflex will be to vent on your teammates or yourself or get disconnected from what's happening on-screen.
But instead of doing that, you put your focus back to the screen and start experimenting. You give yourself that freedom to try new things and see how they work out for you.
Basically, you get an experience that will make you a better player as opposed to just getting upset.
Here is another example:
Instead of leaving the game after you get killed by an obviously more skillful player, you stay and watch them do their magic.
Here you accomplish 2 in 1: watch the pros play and deal with a failure in the most efficient way.
Try it as soon as you can and you will see how emotions will take over. So you will try again and again until you train your mind to handle it in the most beneficial way.